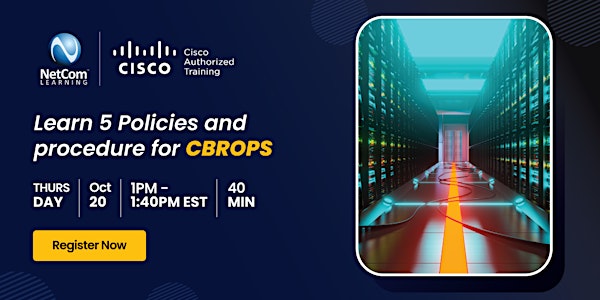 Learn 5 Policies and Procedures for CBROPS
Join this FREE webinar and learn how to prepare for the Cisco CBROPS exam by starting with management concepts, along with security policies
About this event
Join NetCom Learning for the instructor led virtual session on "Learn 5 Policies and Procedures for CBROPS".
Cybersecurity specialists and associated job roles are some of the most in-demand security positions today, and the Cisco CBROPS exam is a crucial part of proving your skills for any cybersecurity job. Join this FREE webinar and learn how to prepare for the Cisco CBROPS exam by starting with management concepts, along with security policies and procedures.
This webinar will cover the latest risk management concepts and best practices for securing organizational assets. Understand the importance of managing incidents, identifying endpoint vulnerabilities, and various ways to limit the effects of intrusions. You will also learn the difference between the Cyber Kill Chain model and Diamond Model of Intrusion, plus the importance of patch and configuration management.
Date :Thursday, Oct 20, 2022
Time: 1 PM – 1:40 PM EST
Register Now : https://bit.ly/3OP3mTx
Key highlights of the session:
Securing organizational assets
Handling incidents
Identifying endpoint vulnerabilities
Limiting the effects of intrusions
Q&A with the speaker