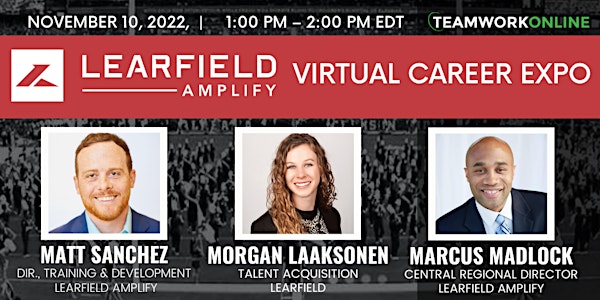 Learfield Amplify Virtual Career Expo Presented By TeamWork Online
Learfield Amplify and TeamWork Online invite you to this virtual event featuring interaction with high-level sports executives.
Refund Policy
Contact the organizer to request a refund.
About this event
WHAT YOU NEED TO KNOW:
Invest just one hour of your time, Thursday, November 10 at 1- 2pm ET. Invest in your career. Just 1 hour of your time.
Join the senior management team at LEARFIELD Amplify and Teamwork Online and explore a rewarding career In college athletic ticket sales and development. This Virtual Teammate event allows attendees to interact with LEARFIELD Amplify's Leadership Team and other Executives.
This session will start with an introduction of who they are and share more on what makes up Amplify with their Ticket Sales, Development /Fundraising, and Seating team. Attendees will go into break out sessions with executives for more personal interaction. You will have the opportunity to ask the leadership team and others questions about the overall landscape of sports hiring and how to make yourself standout.
At LEARFIELD Amplify, our mission is to provide high-value expertise, world class solutions, services, and experiences to our partners and their fans, building the largest, most engaged fan bases in sports. Join a dynamic company in a growing industry filled with talented professionals and opportunities for career growth.
TICKETING
LEARFIELD Amplify brings over a decade of expertise supporting ticket sales to drive fan engagement for your live events. Our team partners with nearly 45 college athletic departments and professional organizations across the country. We help our partners win by building the goals, objectives, and strategies to drive revenue and attendance.
DEVELOPMENT
Our development services are designed to complement university development offices by providing additional touchpoints to key growth segments of our partner's prospective donors. Development services focus on philanthropic giving and can expand to support any type of campaign based on a university's needs.
SEATING
Over the last 25 years, LEARFIELD Amplify has grown into the market leader for semi-permanent stadium seats by providing a product that allows sports fans to enjoy their game day experience to the fullest.
LEARFIELD Amplify Representatives:
Buffy Filippell - Founder (TeamWork Online)
Matt Sanchez, Director of Training & Development
Marcus Madlock, Central Regional Director
Craig Fink, National Director of Development
Kyle McGuire, Executive GM (Central – Ohio State & Iowa)
Alex Wirkkala, GM (West - TCU)
Patrick Ryan, Executive GM ( East - VaTech & University New Hampshire)
Morgan Laaksonen, Recruiter (Corporate)
***Note: To provide the best experience possible, tickets for this event will be capped, therefore we recommend that you purchase your tickets early.
TeamWork events make it easy for employers to connect with you and you with them. Unless upon purchase you email us (events@teamworkonline.com) by purchasing a ticket, you agree to allow TeamWork to provide attending employers access to your profile information for two days prior to and two days after the event. Similarly, TeamWork will share attending employers' contact information with ticket purchasers within two days after the event.
Your registration provides you an opportunity to request a complimentary ticket to a 2023 Professional Bull Riders event. The deadline to request your ticket is June 30, 2023. Please reach out to Ross.Grippin@learfield.com and include a copy of your registration confirmation to request a ticket for a 2023 PBR event. This offer excludes Unleash the Beast World Finals and Teams Championship events.
Refunds, Exchanges and Cancellations:
TeamWork Online will provide a refund if, and only if, a refund request has been made in writing to TeamWork Online no later than 72 hours prior to the event. Otherwise, all sales are final. All written requests for refunds must be made through a user's personal Eventbrite account. Exchanges will not be provided of any kind. Should an event be canceled or postponed TeamWork Online will notify attendees in writing and do everything within its power to provide a refund.