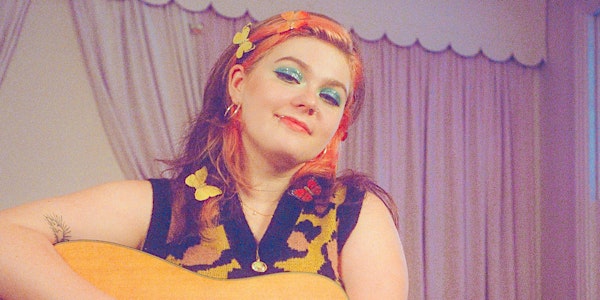 Leanna Firestone
with ‌Abby Cates, Grace Gardner
Date and time
Monday, July 31 · 7:30 - 11pm EDT.
Location
DC9 Nightclub 1940 9th St NW Washington, DC 20001
About this event
Leanna Firestone
FACEBOOK | INSTAGRAM | TWITTER | SPOTIFY
In 2020, the worst year of everyone's collective consciousness, I started making TikToks. At first, I was just talking about anime... but eventually I started singing, which is my passion, end game, and dream job. (I know, the lamest origin story ever.) But from these TikToks, I started to release music and things inevitably snowballed and people started to really care about me and my music. Because of this support, I was able to live my dream. My greatest musical achievements to date are: my song "Strawberry Mentos" reaching 5M streams, "Least Favorite Only Child" reaching 4M streams, my EP, Y/N peaking at #8 on the US singer-songwriter iTunes Charts, having a song of mine play while two people made out during an episode of Love Island UK, and getting 2nd place in my 8th grade talent show with my song "Stars". Most notably though, I put out my debut EP Y/N (pronounced Your Name), launched my first round of merchandise, and dropped my debut album Forward / Slash in 2022.
Abby Cates
WEBSITE | FACEBOOK | INSTAGRAM | TWITTER | SPOTIFY
Abby Cates is a singer/songwriter currently residing in Nashville, Tennessee. Cates started performing in musicals at the age of seven and plays a variety of instruments including guitar, piano, and ukulele. She began to garner an impressive social media following as a teen, uploading covers and snippets of original music Instagram. She later gained more prominence through TikTok, finding inspiration during the Covid-19 lockdown, and she continues to grow her online community on all social platforms. Cates released her debut single, "roadtripsong" in June 2021. 
 Cates makes music for the girls, gays, and they's. She hopes her songs make you feel something to fill the void of constant existential dread of being a human in the world today.
Grace Gardner
Raised in the cow-ridden outskirts of a Texas city, Grace Gardner is pushing the boundaries of the singer/songwriter genre. Her writing takes on an evocative nature, poignantly penning about her frustrations in relationships, society, and at herself. While her music adopts many of the genre's characteristics, she's found inspiration in her parents' taste in 70s and 80s rock, in the folk roots of her southern upbringing, and in the jazz she was surrounded by while residing in New Orleans, Louisiana.
Grace incorporates more complex instrumentation, taking after her favorite band, Fleetwood Mac. Grace herself can play ten instruments but also weaves orchestral, brass, percussive, and software-based elements into her creations. Along with being a singer, songwriter, and instrument player, Grace is also a producer, music educator, and arranger. She currently resides in Austin, TX, where she eats a breakfast taco every morning on her balcony.