Description
Building Invincible Companies with Alex Osterwalder
This month's Lean Startup Night, hosted by ESMT Berlin, features Dr. Alex Osterwalder in a session on "Building Invincible Companies." We'll kick the evening off with beer and networking, followed by an introduction with Lean Startup Summit EMEA director Thijs Sprangers and a few words by president of the ESMT Entrepreneurship Club Demis Estabridis. Alex Osterwalder will then take the stage for the evening's keynote. Stick around after Alex's session to keep networking over more beer and a few slices of pizza.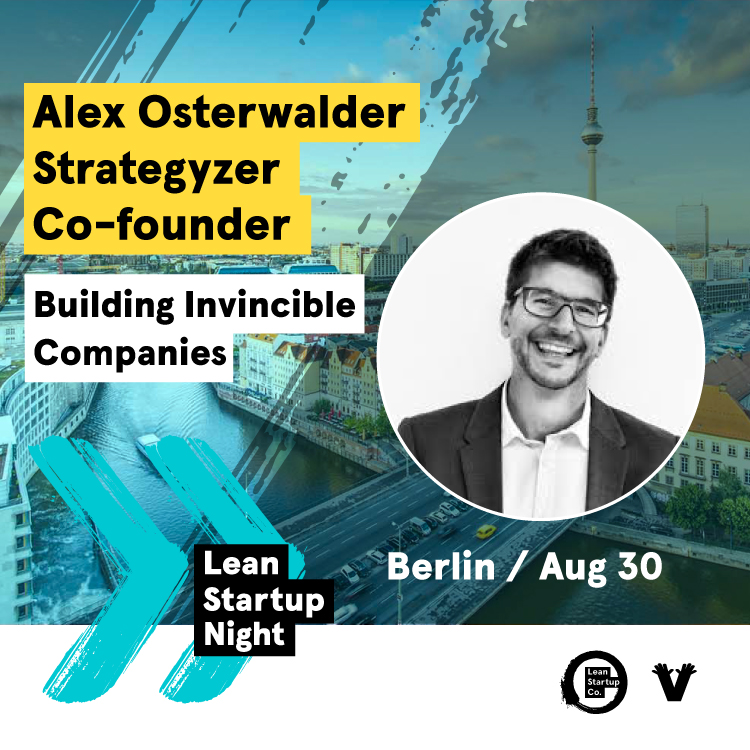 More on Alex Osterwalder's session: Alex will provide early insights into the rough content of his forthcoming book "Invincible Companies" (Nov 2019). He will outline a series of Business Model Mechanics that allow established multinationals and startups to develop better business models. Business Model Mechanics are a powerful way to codify competitive strategies that help companies compete beyond better technologies, products, and services. In this hands-on lecture, Alex will also outline how senior leaders can best position their organizations to design an innovation culture, innovation portfolios and the corresponding organizational structures. And finally, you can expect to learn about a new concept that helps companies visualize if they are ready for the future or if they should fear disruption.

More on ESMT Berlin: Placed in Berlin, one of the world's most vibrant startup cities, ESMT is the Business School with the mission of developing entrepreneurial leaders who think globally and act responsibly.

Lean Startup Night is a meetup series designed to help our community connect and swap ideas with one another while learning the nuances of the methodology from our expert network. Each Lean Startup Night is hosted by our network of ambassadors and features a different panel talk, fireside chat or presentation with a mentor from the Lean Startup community and local innovation champions. Learn more about the Lean Startup Night meetup series here.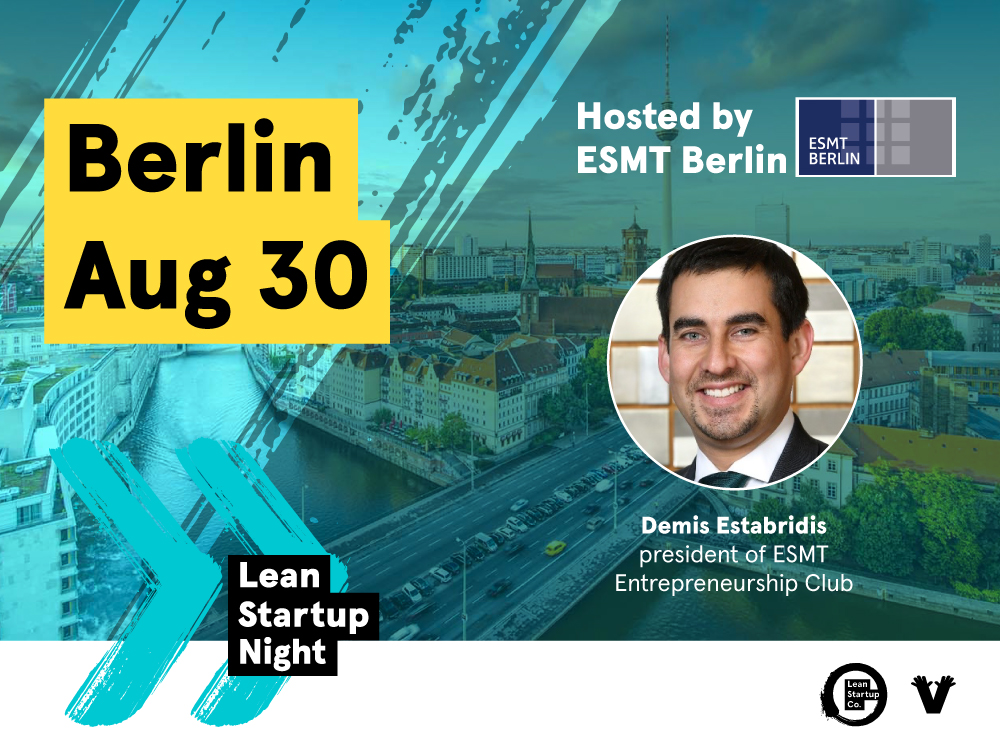 Program:
6:30pm - Doors open: registration, light snacks, beer and networking

7:00pm - Welcome and introduction to Lean Startup basics with Thijs Sprangers, Lean Startup Summit EMEA director

7:15pm - "Blending for innovation: connecting Lean Startup, Design Thinking and Agile methodologies," by Demis Estabridis, president of the ESMT Entrepreneurship Club

7:30pm - "Building Invincible Companies," an interactive session with Alex Osterwalder, co-founder of Strategyzer

8:30pm - Pizza and networking
Meet the speakers:
Alexander Osterwalder: One of the world's most influential proponents of business model innovation and value proposition design, Alexander (Alex) Osterwalder provides a framework for large companies and startups to innovate by rapidly experimenting with new business models and value propositions. He is co-founder of Strategyzer, an innovation powerhouse that helps organizations develop growth engines, better customer understanding, more attractive value propositions and powerful business models via online applications and blended online/offline courses.
Alex invented the Business Model Canvas, Value Proposition Canvas, Culture Map, and Business Portfolio Map to help business people with practical tools to help address important strategic jobs. He simplifies the strategy development process, turning complex concepts into digestible visual models. As a result, a better language for identifying and communicating value is created and disseminated throughout an organization.
His world-renowned Business Model Canvas is trusted by more than five million business practitioners from leading global companies, such as Coca-Cola, GE, Mastercard, Ericsson, Fujitsu, 3M, Intel and Microsoft, and is outlined in his international best-seller, "Business Model Generation" (Wiley, 2010), which was named among the 12 best business books of all time by USA Today. His second book, "Value Proposition Design: How to Create Products and Services Customers Want" (Wiley, 2014), continues the conversation by addressing how to find a better fit between a product and its intended market.

Demis Estabridis: Originally from Peru, Demis is a serial entrepreneur who has raised four startups so far. He is currently the president of the ESMT Entrepreneurship Club, where he is pursuing a one-year full-time MBA. Previously, he was VP of Product and Engineering in a local startup in Lima and Chief Information Officer (CIO) at UTEC, a university founded in 2012 as a startup where he started applying Agile methodologies with a customer-centric approach. He has B.S. in Computer Science and further studies in Digital Marketing, Leadership, Business Analytics and Big Data. As an evangelist in Lean Startup, Design Thinking, and Agile, he loves sharing his experience by giving workshops and lectures.

Thijs Sprangers: As a serial entrepreneur and experienced corporate innovator, Thijs has practiced experimental innovation in various companies and industries for over 10 years. His failures outscore his successes, but he has learned to adapt fast over the years, applying Lean Startup principles in his ventures since 2012. Thijs loves to connect people, create new stuff and coach entrepreneurial talent - the red wires in his activities as entrepreneur, strategist and board member. He is currently leading international Lean Startup events with his company Live on Demand in partnership with Eric Ries's Lean Startup Company.