Actions and Detail Panel
Lean Startup @ Coaching Master Workshop
Tue, May 17, 2016, 9:00 AM – Fri, May 20, 2016, 5:00 PM CEST
Description
Challenges & Opportunities
A lot has been written about lean startup and more books are hitting the shelves. Meanwhile, real innovation teams continue to struggle implementing in practice.
Beyond the dogma of the books, blogs, and speeches, real entrepreneurs and intrapreneurs look for help from accelerators, mentors, and VPs of innovation. Those are coaches like us, who may experience, but who need to translate that experience into actionable advice to push those startups faster and faster.
The main workshop is two days and with two optional one day modules and a one-on-one follow up session.
Train-the-Trainer Workshop Agenda
May 18-19 - Leading & Coaching Teams at Scale
The optional first and last day focuses on Lean Fundamentals for those with less experience and ecosystem design for those looking to impact their startup or corporate ecosystem more effectively.
Each section in the agenda has a description below which contains:
Topics covered;

A suggestion for who should attend;

A primary objectives;

Measures of success;

And the value to the company or organization.
A Note on Certification from Tristan Kromer
Certifications, while sometimes required, do not provide a true measure of competence. , this workshop will optionally provide:
Certificate of Attendance for the purpose of organization requirements;

A personal recommendation from Tristan Kromer.
The personal recommendation will only be given if the attendee follows up by:
Holding minimum eight 30 minute coaching sessions with different startups;

The coaching for all startups includes coaching notes and a follow up report;

At least four startups complete a survey for coaching feedback to TriKro LLC;

Having a follow up call with Tristan Kromer to discuss the feedback.
Leading & Coaching Teams at Scale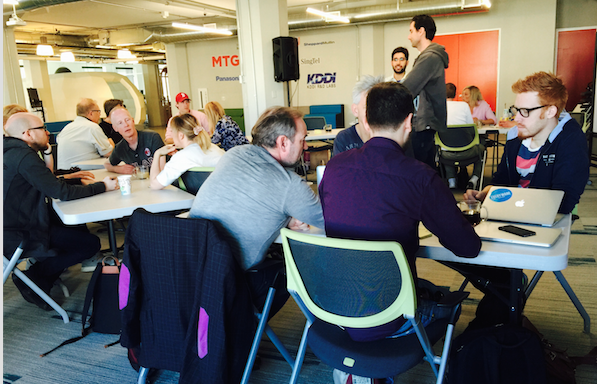 What's the best way to help a team prioritize risk? What's the best way to persuade teams to adopt lean startup? When dealing with multiple teams, how do we measure lean performance and its impact on the bottom line?
There's a lot of theory about what teams should do to prioritize risks, run experiments, and build a business. But few teams can actually execute on the theory. This section is about pragmatically working with teams and pushing them to a steady minimum pace of one experiment or research method per week.
These two days deal explicitly with the challenges of managing and coaching a large number of teams with different needs, goals, and priorities. That includes when to bring in support, managing stakeholders such as investors or business sponsors, and innovation accounting. Yes, there is math and it is unavoidable.
More importantly, beyond the coaching frameworks and hands-on exercises, all attendees will work directly with real startups in an unscripted setting to see the theory in practice.
Primary Objective:
Be able to quickly triage innovation team challenges and offer advice that can be acted upon and measured within one week.
Topics Include:
Building Effective and Complete Teams
Startup Triage
Using Coaching Tools & Frameworks Effectively

2x2 Risk Prioritization

Customer Personas & Similar Tools

Storyboarding & Value Stream Mapping

Cost of Delay Calculations

Innovation Accounting for Teams

Lean Analytics

Math! (Yes, you will have to do math & statistics)

Product Metrics & Dashboards

Cohort Analysis

Continuous Improvment for Your Coaching Practice
Project Management - Templates, Processes, & Accountability Tools
Politics, Process, & Internal Coaches
Innovation Accounting for Projects & Portfolios

Monte Carlo Analysis

Cohort Analysis

Calculating the ROI of Innovation Using Options Theory

Investment Readiness Level
You Should Attend If…
You have an active lean startup project that you lead or are supporting multiple teams as a coach or mentor;

You are very comfortable with different types of experiments and can explain the differences between Concierge Test & Wizard of Oz Test;

You know what the team should be doing but have difficulty getting the team to do it;

Stakeholders in your organization do not understand what you are doing or why you should be doing it.
Measures of Success
Attendees should be able to correctly triage startup problems and provide actionable advice;

Qualitative and quantitative feedback from startups coached during the workshop;

Attendees should have a repeatable coaching process.
Value to the Organization:
Develop internal resources for innovation and business model design;

Reduce the cost of innovation;

Justify investment in innovation resources;

Make investment decisions based on actionable metrics.
Testimonials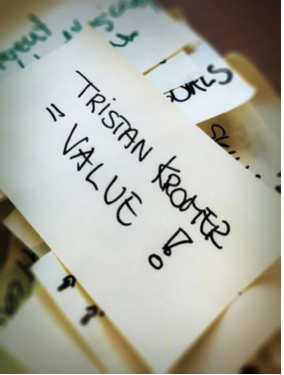 "Tristan is a world-class consultant and trainer. He is frank, honest and highly knowledgeable. His approach to imparting knowledge and helping innovators with their products and services is highly practical, and leaves you with the necessary capabilities to manage your own projects." - Tendayi Viki, Author of

The Corporate Startup

"He's a no-b___s___ individual… [He] suggests answers that are specific to the situation -- not rattling off stock advice. " - Tim Rosenblatt, Director of Applications Development, Cloudspace

"Tristan is a great coach and mentor. He is among the few who really understand the Lean Startup and the Customer Development." - Yousef Ghandour, Iteration Manager, Gap

"Tristan coached my product team in rapid experimentation methods. He gave confidence to my colleagues who hadn't applied lean startup principles before, and he repeatedly gave me timely suggestions to be a more effective product leader." - Jay Badenhope, Product Manager at Pivotal Labs

"Tristan has an uncanny ability to cut through the noise and focus on issues that matter. " - Andy Bartley, Senior Solutions Architect at Intel Corp.

"Tristan's hands-on introduction to Lean Startup and its guiding principles was a complete wake-up call for us, forcing us to launch our MVP and learn fast. Tristan and what we learned from him are directly responsible for our recent successes." - Ryan Bruels, Mission Commander at Dunno

"Although we understood the concept of Lean, it took Tristan's questioning to help us apply its principles the right way." - Nancy Phan, Product Manager, Evernote

"Tristan approach was insightful and helped us adopt lean, rather than just teach us lean principles from a powerpoint deck." - Aaron Ginn, Growth Hacker

"If you want someone to force your thinking, Tristan is your man." - Scott Sambucci, Customer Success at Blend
Select Workshops & Coaching Clients
Fujitsu

Linkedin

Stanford

GoPro

Disney TechStars

AT&T Aspire

500 Startups

Swisscom

Peugeot

Visa

Pitney Bowes

Pearson

European Investment Bank

Enterprise Ireland

Nest'UP

StartupWiseGuys

Women's Startup Lab

Singularity University

RCI Banque

Innovation Norway

Dubai Chamber of Commerce

Cancer Research UK