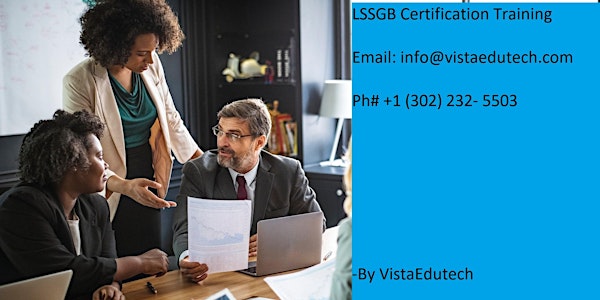 Lean Six Sigma Green Belt ( LSSGB ) Classroom in Saint Boniface, MB
Welcome to Vistaedutech
When and where
Location
Saint Boniface, MB Regus Business Centre R3X Saint Boniface, MB Switzerland
About this event
Key Features
• 4 days of Classroom Training
• IASSC® Accredited Course Material
• Mock Exams
• Access to Quality Management Webinars
• Industry based case studies to enhance learning
• Trainers' Feedback, Preparation techniques and Notes
• 35 PDU's Certificate
• 24/7 customer support & Dedicated Learning Consultant
About the Course
Vistaedutech's Lean Six Sigma Green Belt Training program is designed and developed by Lean Six Sigma Experts to ensure that our participants pass the IASSC® Lean Six Sigma Green Belt Certification exam in the first attempt. Our Lead Instructors will give you an introduction to the tools, techniques and methodologies that will empower you to lead Lean Six Sigma projects.
Our Lead Instructor provides an in-depth knowledge of all aspects within the phases of six sigma tools, D-M-A-I-C and standard principles of Lean Management with real life applications on various industry used cases.
• Define: Clearly, articulate the current state.
• Measure: Establish the magnitude of the problem.
• Analyze: Systematically establish the reasons for the problem.
• Improve: Determine and refine your solutions.
• Control: Put the right controls in to sustain the gains.
Who Should Apply?
Lean Six Sigma Green Belt is most helpful for employees & organizations requiring a standardized approach to problem-solving for the purpose of continuous improvement inQuality Management.
This certification is most suited for:
 Quality System Managers
 Quality Engineers
 Quality Supervisors
 Quality Analyst, & Managers
 Quality Auditor
 Any individuals looking forward to lean & practices Lean six sigma principles
Why Vistaedutech ?
Vistaedutech's training is the best and value for time & money invested. We stand out because our customers-
• Get trained at the best price compared to other training providers.
• Get trained by the best trainer in the industry.
• Get accesses to course specific learning videos.
• Get 100% Money back guarantee*.
Training Fee:
Early Bird: Booking at least one month prior to the class start date ($1399)
Instructor Led-Online: $799
Training Venue:
Venue will be confirmed to the classroom participants one week prior to the workshop start date and online participants will get the session attendance link before 4- 5 days of the training start date. Venue is finalized one week prior to the start date so that we can accommodate last minute rescheduling from the participants and we do not incur additional cost for rescheduling or cancellation.
For more details, please email us Email: info@vistaedutech.com or call 281-810-9891
For group discount please contact us by email, chat. or Click here