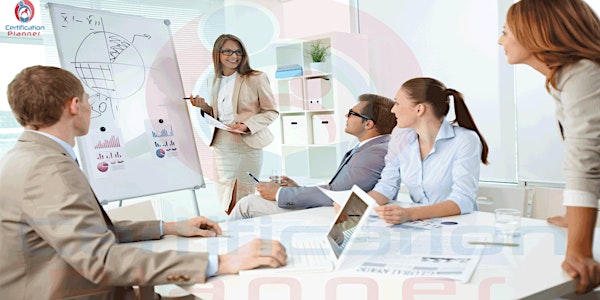 Lean Six Sigma Black Belt (LSSBB) 4 Days Classroom in Fresno
When and where
Location
Business Center Contact Support@certificationplanner.com for location details Fresno, CA 93724
Description
Certification Planner is world's leading Lean Six Sigma training and certification provider with 100% success rate. CP is awarded with most trusted training provider of 2018 with 98% referral rate. Our Lean Six Sigma Black Belt (LSSBB) 4 days Guaranteed to Run Bootcamp is one of a kind programs to assist you in becoming a better-quality improvement manager, clear LSS exam in first and achieve Black belt certification by attending just one class and one exam. CP LSS certification is globally recognized and comes with an internationally valid license number. Contact Support@certificationplanner.com or Chat with us now to avail a discount*.
LSS Black Belt 4 days Classroom Includes:
IASSC or CP Exam Voucher (read below)

4 days of the instructor-led in-person classroom (guaranteed)

Course developed by IASSC approved Instructors

IASSC approved BB study guide

2 Exam-based mock tests

Chapter end - quizzes

100% pass guarantee

45 PDU's certificate

Dedicated support by LSSBB certified staff

100% Success rate
Click here to view course details or Click here to chat with us now.
Weekend special classes are organized on special requests.
Please contact Samaira@certificationplanner.com to know the dates.
Course Description:
CP Lean Six Sigma Black Belt training is the most exclusive certification of quality management. Our Black Belt certification course will position you as an expert in implementing Lean, DMAIC (Define, Measure, Analyze, Improve and Control) process, DFSS (Design for Six Sigma) and handle a team of certified LSS Green Belts. Learn the advanced level of Lean and Six Sigma, real-life examples and case studies using DMAIC methodologies to help professionals empower organizations for continuous improvement and leadership opportunities.
Since there are no prerequisites for LSS belts, you can choose to attend LSS Green Belt, Black Belt or Dual LSS Green and Black Belt training program.
A Lean Six Sigma Black Belt possesses a thorough understanding of all aspects of the Lean Six Sigma Method including a high-level of competence in the subject matters contained within the phases of DMAIC (Define, Measure, Analyze, Improve and Control). A Lean Six Sigma Black Belt understands how to implement, perform, interpret and apply Lean Six Sigma at an advanced level of proficiency.
Course Agenda/Curriculum:
Introduction to Lean and Six Sigma

Organization goals and Continuous improvement process

DMAIC Methodologies

Define Phase

Measure Phase

Analyze Phase

Improve Phase

Control Phase

Lean Management

Exam Passing Tips and Tricks

Feedback Session
Examination:
The student can choose either IASSC or Certification Planner exam (any of them)
IASSC LSS Black Belt close book exam with just one attempt
Or
CP LSS Black Belt open book exam with 100% pass guarantee and multiple attempts
Why choose Certification Planner?
Trusted by fortune 500 companies

The highest passing rate in the industry

High-quality course material

Supported by 200+ well-experienced instructors

24/7 dedicated support

Job Planner, an online recruitment portal to enhance your career

Highly experienced management from the training industry

End to end feedback system to support your learning process
Other Courses:
Certified Associate of Project Management (CAPM) | Project Management Professional (PMP) | Lean Six Sigma Green Belt (LSSGB) | Dual Lean Six Sigma Green and Black Belt (LSSGB & LSSBB) | Dual Lean Six Sigma Yellow and Green Belt (LSSYB & LSSGB) | ITIL Foundation | Digital Marketing Certified Associate (DMCA) | Big Data | Data Science | Salesforce
Head office: 2150 South 1300 East Suite 500, Salt Lake City, UT
Phone: +1855.322.1201
Timings: 05.00 AM to 04.00 PM MDT
Want to know more? Chat with CP Champ now!
To know more about our Lean Six Sigma Black Belt (LSSBB) training program, email us at support@certificationplanner.com or call us at +1855.322.1201.