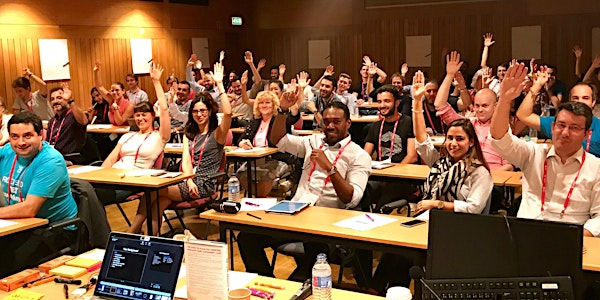 Lean Product Management Online Workshop: How to Achieve Product-Market Fit
Learn from product management expert and author Dan Olsen at his online Lean Product Management training workshop.
About this event
In this interactive online training workshop, product management expert and author Dan Olsen will teach you how to improve your product-market fit and make your product more successful. Dan will share product management and Lean Startup advice from his best-selling book The Lean Product Playbook published by Wiley.
Dan will explain his Product-Market Pyramid framework, which is the foundation of his 6-step Lean Product Process for achieving product-market fit.
The Lean Product Process consists of six steps:
Determine your target customer
Identify underserved customer needs
Define your value proposition
Specify your Minimum Viable Product (MVP) feature set
Create your MVP prototype
Test your MVP with customers
Dan will also cover how to use analytics to optimize your product and business.
Unlike other books or talks, Dan's advice is very pragmatic and hands-on. You will walk away with tools and techniques you can apply as soon as you finish the workshop.
Dan will illustrate his product advice with real-world examples and case studies. Highly interactive group exercises let you build experience applying the concepts firsthand.
Workshop attendance is limited to ensure we have an intimate setting that fosters lots of interactive discussion.
Who should attend
Anyone involved in creating or improving a product will find this workshop valuable, including:
Product managers
Entrepreneurs
Designers
Developers
Executives
Marketers
Analysts
Schedule & Logistics
We will be using Zoom for this online workshop. Attendees will receive the Zoom link before the start of the workshop. The workshop will be 12 hours total divided into four 3-hour sessions on 4 sequential days:
Mon Nov 9: 9 am to 12 pm PT
Tue Nov 10: 9 am to 12 pm PT
Wed Nov 11: 9 am to 12 pm PT
Thu Nov 12: 9 am to 12 pm PT
Attendees will be divided into small teams of 3 to 5 people for the class exercises.
I'm happy to provide a training certificate for any attendees that would like one (e.g., if your company needs it for reimbursement).
I look forward to seeing you at the workshop!
Learn more about The Lean Product Playbook