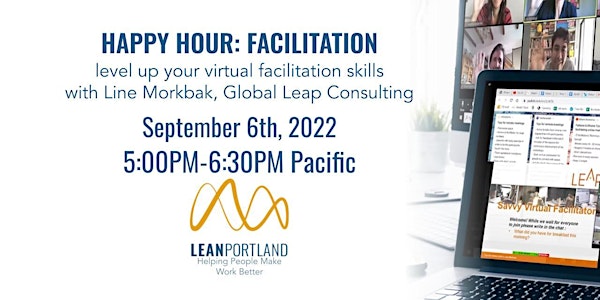 Lean Portland Happy Hour: September 2022
Join continuous improvement practitioners for a virtual happy hour every First Tuesday, topics and activities vary each month
About this event
We are Lean and Six Sigma professionals who want to extend our expertise into our community. We believe in sharing our methods, resources, and project results with the community so that we may all learn from our successes and mistakes.
Whether you have Lean experience, are just wondering what Lean is, want to hang out with fellow systems thinkers, or are ready to get started on a community project, we can't wait to meet you! 
Are you struggling to keep your team engaged in remote and hybrid environments? This is the happy hour for you. We are so excited to have Line Morkbak join us to share her top tips for SAVVY Virtual Facilitation.
Activity: Mini-workshop
Facilitators: Line Morkbak & Meei Lum
Please bring: TBD
TYPICAL AGENDA:
Facilitated discussion time,(5:10-5:45)
Followed by networking and informal discussion
ABOUT US:
Lean Portland is a socially-driven community built organization for both new and experienced continuous improvement professionals. We've been gathering for happy hour since 2012 and every First Tuesday since 2015!
As of April 2020, Happy Hour is happening online. Until we can safely meet again in person, we hope to see you here soon!
Links for online events are accessible after completing your free registration.
ABOUT LINE:
As the Founder and Managing Director of Global LEAP Consulting, Line Morkbak is immersed in expanding the way we meet, learn, and collaborate. She supports clients on their journey to revamp traditional management tools, reinvent their meetings, and share ways to harness the productivity of remote collaboration. Line employs work tools from agile practice, liberating structures, and pull inspiration from Management 3.0, intercultural theory as well as constantly adding learnings from her project LEAP Lab into her work portfolio.
Line is a curious soul who lives, breathes, thrives - and advances - new tools, techniques, and team approaches that empower collaboration.
For the past 20+ years, Line has lived and worked around the world, including Denmark, the UK, Spain, Scotland, and the United States. She holds a Master's in Modern Culture and Cultural Communications from University of Copenhagen and have received extensive professional development, such as Coaching of Global Executives by George Renwick, Global Leadership workshops by Karen Cvitkovich and Dr. Ernest Gundling at Aperian Global as well as certifications in Management 3.0 and virtual team facilitation through Collaboration Superpowers. Line is a remote and in-person Open Space Facilitator and Liberating Structure Practitioner.
In addition to blog writings, Line has contributed to CEO Annette Dahl's book "Global Perspectives" with a full chapter dedicated to management practices for remote teams. She is a Speaker & Expert @ Lecture and have had the privilege to be a speaker at SIETAR global Conference, ATD's and PMI's Northwest Conferences, as well as Boye Digital Leadership conferences in both Brooklyn, USA and Aarhus, Denmark. Line consults with and supports various global organizations, such as Novo Nordisk, Vestas Wind Systems, Exxon Mobil, OVH Cloud, HERE Technologies, Lego, Intel, and Siemens Wind Power.
Line works from and lives in Portland, Oregon, with her family. She supports global clients remotely or on-site when international travel permits.