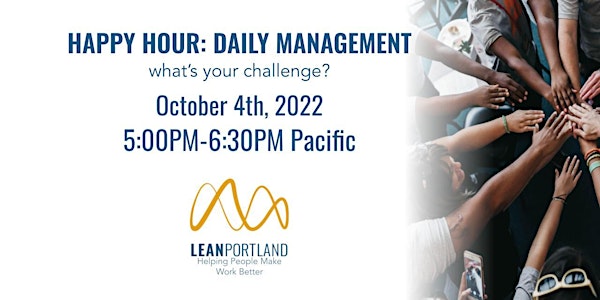 Lean Portland Happy Hour: October 2022
Join continuous improvement practitioners for a virtual happy hour every First Tuesday, topics and activities vary each month
About this event
We are Lean and Six Sigma professionals who want to extend our expertise into our community. We believe in sharing our methods, resources, and project results with the community so that we may all learn from our successes and mistakes.
Whether you have Lean experience, are just wondering what Lean is, want to hang out with fellow systems thinkers, or are ready to get started on a community project, we can't wait to meet you! 
A Daily Management System (DMS) is foundational to any Lean organization. When a DMS Huddle is working well leaders can focus on their top priorities, address situations as they are occurring, spend more time growing, coaching and empowering staff and less time "firefighting" problems. Having a daily communication tool allows frontline staff to feel heard and empowered to solve problems and improve processes. So why is it so darn hard to sustain this core function of a Lean organization? Why do huddle boards and DMSs fails? What can we learn from each other to encourage and foster DMS in our organizations? Join us to learn about different Huddle boards from 3 different organizations. Together we can unpack pitfalls, share successes and improve how we communicate within our teams.
Activity: based on Troika Consulting
Joy Dyball, VA Portland Healthcare System
Matt Horvat, The Standard (insurance)
Bob Szeimies, A-dec (manufacturing)
Please bring: your "consultant" hat
TYPICAL AGENDA:
Facilitated discussion time,(5:10-6:00)
Followed by networking and informal discussion
ABOUT US:
Lean Portland is a socially-driven community built organization for both new and experienced continuous improvement professionals. We've been gathering for happy hour since 2012 and every First Tuesday since 2015!
As of April 2020, Happy Hour is happening online. Until we can safely meet again in person, we hope to see you here soon!
Links for online events are accessible after completing your free registration.