Description
Are you sick and tired of wasting TIME, MONEY, and ENERGY to "figure out" how to lose weight and keep it off for good?
Join us for the quickest, easiest, and most enjoyable weight loss program that will teach you how to lose weight and specifically lose fat, through your daily diet, exercise, habits, and mindset.​ Best of all, our Lean Out Now™ program is GUARANTEED or your money back.*
Unlike the traditional calorie and macro-counting weight loss diets and programs that are overly complex, restrictive, impractical, and produce only short-lived results, this program is a simple, enjoyable, and practical lifestyle that yields IMMEDIATE RESULTS.
Lean Out Now™ The Retreat is held at The Standard Hotel & Spa in Miami Beach, Florida, from a Thursday through Sunday and includes everything that you need to establish the habits and routines needed to reach your goals, while having plenty of opportunities to relax, unwind, recharge, play, and pamper yourself.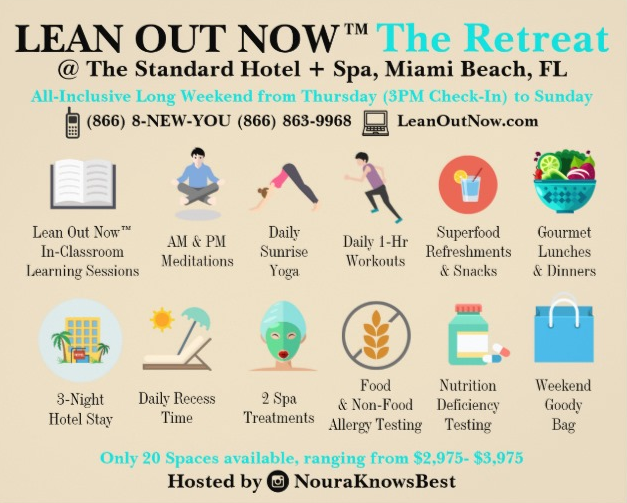 The weekend consists of:
3 Nights of Hotel Stay @ The Standard Hotel & Spa in Miami Beach, FL w/ full access to the spa, pool, gym, and grounds.
2 Spa Treatments @ The Standard Spa
8 hours of in-depth classroom learning sessions on the Lean Out Now™ Program
Daily Yoga and AM & PM Meditations @ The Standard Spa
Daily Intense Workouts- off-property in Miami Beach
Gourmet lunches @ The Standard Hotel's outdoor bayside restaurant
2 Fine-Dining Dinners- off-property in Miami Beach
all Refreshments & Snacks
This package also includes:
DNA testing for nutritional deficiencies
DNA testing for food allergies
DNA testing for non-food allergies
Welcome Weekend Goody Bag- valued at $250
For more information on our retreat, including the weekend's itinerary and details about the hotel, spa, and amenities, please visit our website: LeanOutNow.com
To book or speak with a member of our team please call (866) 8-NEW-YOU (866) 863-9968 NOW!