Description
How do you create best-in-class customer experiences for the mobile web? In this workshop, you will use the latest UX/UI design principles to optimize native iOS, Android mobile, and tablet environments.
You'll learn the practical applications for agile and responsive UX, including best design patterns and strategies for each platform, with a special focus on critical elements of iOS and Android mobile apps: home screen, search, navigation, forms, and workflows.
Majority of the workshop will be activity-based, focusing on individual and personalized case studies from the class on the day of. You will get hands-on experience of user-centered design approaches, including storyboarding user scenarios, user testing of paper prototypes using Rapid Iterative Testing and Evaluation (RITE) and practical application of mobile design patterns.
Possible Takeaways
Pick the best design strategy for each platform: iOS, Android, and web.
Distill the experience down to essentials; re-invent your interface with an agile & responsive approach.
Document use cases and personas in context using storyboards.
Select the right design pattern for the home screen, search, and navigation to drive the desired user experience.
Design usable and effective mobile forms and workflows.

PARKING: Plenty of street parking around the building. And, there's a large parking structure across the street at the Whole Food Marketplace.
---
Speaker BIO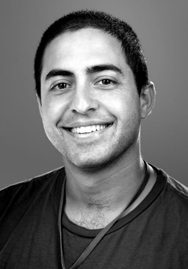 Alessandro Fard
DESIGN NINJA • MOBILE MASTER • UX HERO
A Southern California native, Alessandro Fard has delivered successful results to numerous companies in the web industry for over 16 years. Working within multiple disciplines, Alessandro has worked directly with companies like American Express, AAA, Bank of America, Blizzard, BestBuy, eBay, Facebook, GSN, lynda.com, Sony, USAA, Zynga, NBC, and Yahoo.
He is the founder of Create Ape, a creative agency with a conversion focus. They are a team of UX/UI integration experts with a passion for implementing advanced responsive/adaptive layouts. Alessandro's expertise also includes information design and usability analysis with a focus on cognitive thinking from a user POV. He works closely with his clients and is well-known for his warmth, energy, and accessibility.
Alessandro's work has been featured in VentureBeat, TechCrunch50, and Newsweek. His article, "The UX University of Life" was featured in UX Magazine. A dedicated life-long learner, Alessandro believes our everyday experiences can be leveraged as part of an ongoing UX education.
---
Event Partner(s)