Lean Leadership Seminar, an experiential program for Lean Leaders

Wednesday, August 24, 2011 from 8:00 AM to 6:00 PM (AEST)
Event Details

Is your Business ready? Do you want to achieve significant cost reductions, increase profitability and become more competitive?
Experience the business improvements that are possible by applying lean thinking principles correctly through a 'learning by experience' lean journey. The lean business simulation workshop presents an experiential learning workshop where delegates apply lean principles to a business simulation to achieve business improvements in a planned and structured manner. This approach is based on best practice in both lean practices and change management with the objective of demonstrating how best to achieve lasting business improvements.
Much more than a one-day learning event! We're not looking for passive listeners. We want senior leaders committed to building competitive advantage and growing their business—and key members of their staffs who help lead and facilitate the transformation of your enterprise. The key components of this program addresses the issues of lean leadership, principles, practices and tools in a program of hands–on business simulation workshops.

Who should attend?
This program is specifically designed to show senior executives, operational leaders, and executive change agents the individual and organisational adjustments in culture, behaviours, and thinking needed to successfully sustain their improvement efforts.

What can I expect to learn?
Through participation in a realistic business situation (simulation) followed by deep reflection, you will:
* Experience a business improvement journey using lean thinking principles.
* Apply, in a hand-on and experiential manner, the principles of lean thinking to effectively improve the     business from a typical 'traditional business performance state' to an 'optimised state'.
* Understand the importance of the combined application of best practices in change management and lean thinking to achieve sustainable business improvement.
* Create a new lens that lean leaders can use to address and change their businesses thinking patterns and support a lean transformation.
* Develop experiments that will create a new problem-solving culture to implement in your home organisation.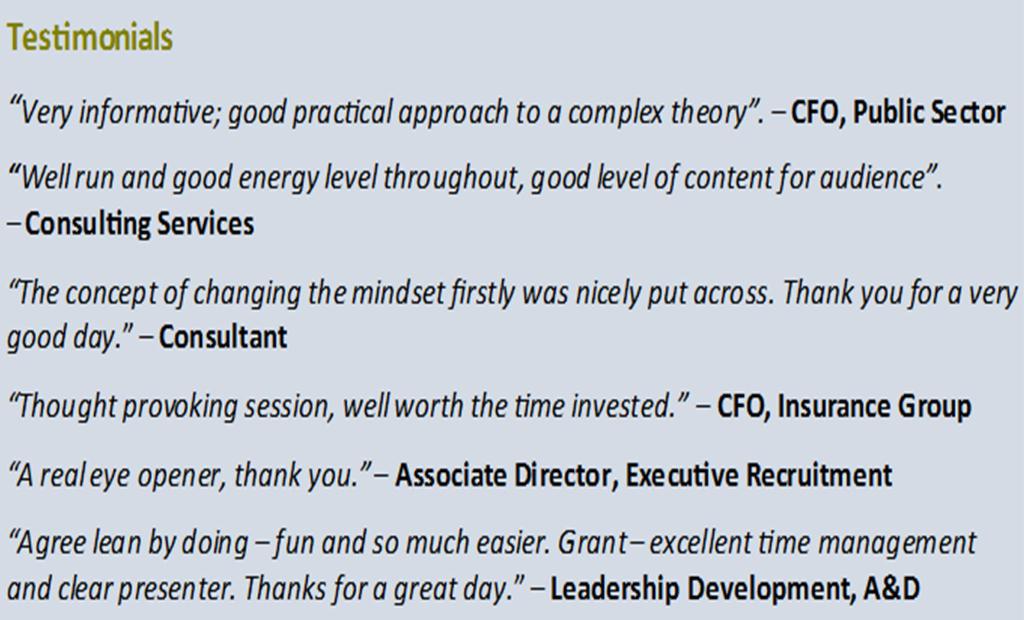 Course Outline:
* Overview
* Leading & Managing Change
* Teamwork
* 5S
* Visual Measures
* Problem Solving
* Process Flow
* Standard Work
* Value Stream Mapping
* Waste Reduction

This seminar is strictly limited and by invitation only to ensure optimal learning experience for all participants. We recommend early registration.

Fee: Early registration of $150 until 7 August 
$250 beginning of 8 August Price includes all participant materials, morning and afternoon tea, lunch and drinks
Cancellation policy: Our events are designed to cater to a limited number of participants and by invitation only to ensure optimal learning experience for all participants. We recommend early registration. If you must cancel a registration, refunds can be issued until the set refund date (3 business days prior to the start of the workshop). After that date, no refunds will be processed. If you cancel after that date, you will be given a credit for the full amount paid, good for one year (for either yourself or someone else in your organization) or you may send a substitute attendee in your place but please inform us one day in advance. You are responsible for contacting Cincom Systems organizer to facilitate receiving the credit.

Seminar Attire: Business casual

RSVP: Sheryl B. Jaber @ 02-88751400 or email: sjaber@cincom.com
Have questions about Lean Leadership Seminar, an experiential program for Lean Leaders?
Contact the organizer
When & Where
corner Epping & Herring Roads
North Ryde, 2113


Wednesday, August 24, 2011 from 8:00 AM to 6:00 PM (AEST)
Add to my calendar
Lean Leadership Seminar, an experiential program for Lean Leaders