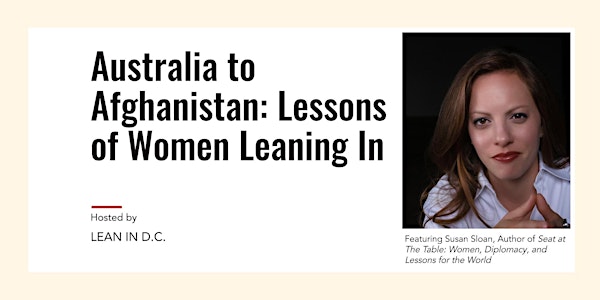 Lean In D.C.; Australia to Afghanistan: Lessons of Women Leaning In
Join this discussion to learn the secrets of how leaders across the globe use resilience and leadership strategies to dismantle gender bias.
About this event
Rising in the ranks of leadership, especially in a global pandemic, can seem insurmountable. However, there are many leaders around the world who have faced extreme challenges while shaping their potential to advance their careers. Lean In D.C. joins Author Susan Sloan, "A Seat at the Table: Women, Diplomacy, and Lessons for the World," for Australia to Afghanistan: Lessons of Women Leaning In. This timely, interactive event will provide strategies you need to cultivate your leadership potential and give you an inspirational roadmap for your own seat at the table.
Susan Sloan has met with leaders from more than 60 countries through diplomacy and advocacy. In this interactive, online session you'll speak directly with Susan on how to utilize your resilience and unique voice while charging through gender bias to advance your career. You'll learn how to refine your own leadership style, how to employ creative problem solving, and how to change your workplace for more seats at the table.