Description
TITLE



Lean Enterprise: Creating High Performance Organizations



OVERVIEW



Large organizations often struggle to launch innovative products, improve processes or create environments to help their people succeed. A number of factors conspire to obstruct moving fast at scale; competing priorities, siloed thinking, risk averse cultures and an inability to adopt an experimentation mindset all play a part.
Lean Enterprise: How High Performance Organization Innovate At Scale lays out an alternative future vision for organizations with practical principles and patterns to help you move fast at scale—and demonstrate why and how to apply these methodologies throughout your entire organization, rather than with just one department or team.
Smart enterprises constantly evolve their system of work, from governance and financial management to technical architecture and organizational design in the pursuit of radically improved performance. Adopting Lean Enterprise is challenging, will take time and commitment, but is vital to harness the forces that can accelerating the rate of innovation in your organization.



WHAT YOU WILL LEARN



In this training we'll discuss how to take a scientific approach to developing products, processes and people while running large scale programs of work. You'll also learn how to create a capability that enables your organization to transform continuously to meet internal, market and customer demands.
This training uses our Orient, Explore, Accelerate, Transform framework to guide you through the key components of creating high performance organizations.
Orient
Organizations often struggle to launch innovative products, improve processes or create environments to help their people succeed. A number of factors conspire to obstruct moving fast at scale; competing priorities, siloed thinking, risk averse cultures and an inability to adopt an experimentation mindset all play a part.

Create share understanding of purpose, vision and direction between business leaders and teams


Define business strategy and prioritize investment horizons of now, next and later


Develop strategic and execution plans for explore, exploit, sustain and retire domains for the innovation portfolio


Create success measures and outcomes to inspect and adapt the portfolio of the organization to achieve high performance

Explore
Developed a scientific, data-driven approach to business model innovation, product development and customer engagement. Discover products that make your users awesome and drive the growth of your business.
Engage the organization (and market) with a clearly articulated product vision.

Embrace Hypothesis-driven development to see new ideas, products and services – even organizational change – as a series of experiments to determine whether an expected outcome will be achieved.

Leverage innovation accounting to make better decisions in highly uncertain environments.

Go and see. Get out of the building to test with real customers and users.
Accelerate
Rapid learning cycles are the proven rocket fuel for evolving your product rapidly and safely based on customer and user feedback. Discover how to out-learn and out-execute your competition.
Communicate clear team objectives and goals to impact business outcomes.

How to manage to outcomes not output with robust governance, tracking and reporting.

Map out end-to-end flow using value streams.

Deploy the Improvement Kata and Coaching Kata to run large programs of work.

Improve clarity, strategic alignment and execution across the entire organization.
Transform
The best companies pursue higher performance relentlessly through harnessing the skills and capabilities of their people. Learn how to grow a highly aligned, high velocity organization by creating a culture of experimentation and learning.
Understand the management strategies, structures and skills necessary to manage innovation portfolios at scale.

Map out your organization's portfolio based on the innovation lifecycle using the three horizons model.

Create a culture of continuous improvement using regular reflection, feedback and coaching.

Implement Management Innovation across the wider organization including planning, HR and finance.




AUDIENCE
Executives interested in strategy, leadership, organizational culture and good governance
Directors of Product, Technology, IT and Operations
Anyone working in program or project management, including members of the PMO
Product Development teams and leaders
ABOUT YOUR FACILITATOR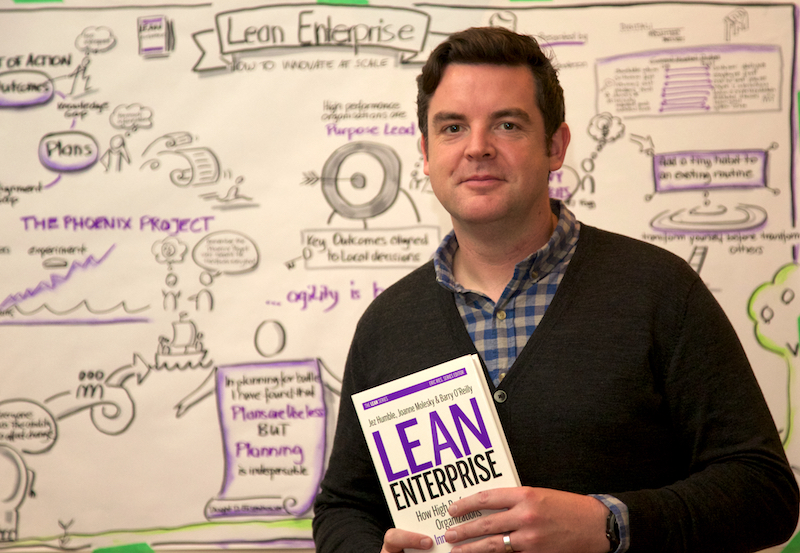 Barry O'Reilly is a business advisor, entrepreneur, and author who has pioneered the intersection of business model innovation, product development, organizational design, and culture transformation.
Barry works with business leaders and teams from global organizations that seek to invent the future, not fear it. Every day, Barry works with many of the world's leading companies to break the vicious cycles that spiral businesses toward death by enabling experimentation and learning to unlock the insights required for better decision making and higher performance and results.
Barry is co-author of the international bestseller Lean Enterprise: How High Performance Organizations Innovate at Scale—included in the Eric Ries Lean series, and a Harvard Business Review must read for CEOs and business leaders. He is an internationally sought-after speaker, frequent writer and contributor to The Economist, Strategy+Business,and MIT Sloan Management Review.
Barry is Faculty at Singularity University, advising and coaching on Singularity's executive and accelerator programs based in San Francisco, and throughout the globe.
Barry is also founder and CEO of ExecCamp, the entrepreneurial experience for executives, and management consultancy Antennae.
His mission is to help purposeful technology-led businesses innovate at scale.
TESTIMONIALS



"Barry was instrumental in the conception and formation of an 'innovation engine' at lastminute.com. Not only were we able to identify and develop winning ideas at pace but the whole organization was reinvigorated by an approach which delivered measurable results, doubling revenue for the business."
John Crosby former Chief Product, Trading and Commercial Officer at lastminute.com and Travelocity International
"The Google Sprint Master Academy invited Barry to speak to our trainees on coaching and collaborating with senior stakeholders to create space for continuous innovation in the product development lifecycle. He shared advice on leadership, business transformation and inspired our Sprint Masters to push innovation throughout the company"
Kai Haley, Lead of Design Relations and Sprint Master Academy, Google
"Barry's approach of driving very early customer testing well ahead of when it would normally be done - in parallel with developing the bigger vision - forces a focus on minimum viable product and early proof points. This proved to be very engaging in our business for stakeholders up to board level. Instead of 'here is a big programme - trust us' the message was 'here is a game changing initiative and you can touch and feel the first steps of it'. Barry brings a very practical style and methodology to bear which empowered the team - so we really owned the outcome and developed both as a team and as individuals."
John Mornement General Manager at Major International Co.
"Barry helped AIB, the largest retail bank in Ireland, achieve a step change in its digital journey. By combining his senior level communication skills with his deep insight on how to leverage technology at scale, he influenced key stakeholders across the bank to do things differently."
Allan Molloy former Head of Customers, Channels and Payments, Allied Irish Bank
"Barry has a really synthetic view, which is key to reducing challenges to small iterations that help in getting quick feedback and re-adapting to maximize value. He really understands lean and agile methodologies and sees how they can be used, not only in startups, but even in larger, more complex companies."
Samuel Lacarta Chavarrias Commercial Director, Vueling Airlines
"Agility in a digital world is no longer optional and if you don't embrace experimentation and value based decision making in your market, then someone else will. Barry can take you and your team on a journey towards disrupting the disruptors and then, like us, you will learn to use techniques such as Lean Product Development and Workload Visualisation in order to make the right "customer-based" decisions. These techniques also made us address every aspect of our thinking from just in time architecture towards continuous delivery, hence cutting cycle times in half in order to deliver new products and platforms more frequently. In fact we went from huge twice yearly releases to multiple releases per day. This way of working not only energizes the team but it enables innovation through learning and more importantly builds mutual respect between stakeholders which may be broken."
Fin Goulding, former CIO at PaddyPower BetFair
"Barry is exceptionally good at leading teams in the process of new product development. He gets the team to use the lean toolkit to build and test in fast iterations, getting results that may not be achievable in other ways. Barry led a team in delivering two product development projects at JustGiving and helped us test our ideas very quickly and effectively. He is an excellent coach to the team, leaving everyone energized and more productive after each interaction."
Anna Kuriakose, former Chief Product Officer at JustGiving
"Barry constantly challenged what others held to be sacred in order to deliver a series of rapid proofs of totally new concepts for JustGiving, and together we explored the complex boundary between business fundamentals and software development to forge experimental new practices."
Richard Atkinson, former CIO at JustGiving
"I don't often come away from a workshop with pages of notes that I actually read. This was definitely an exception. What Barry O'Reilly has to say about how organisations can manage their work is invaluable for any business leader.
The "Lean Enterprise" book is packed full of wisdom and Barry's session captured some of the most important parts in an engaging and entertaining way."
Andy Kelk, CTO, Marketplacer



WHAT ELSE?

Lunch, tea and coffee will be provided
Attendees will get a hardcopy of Lean Enterprise along with digital sample chapters
Workshop slides and support materials will be provided at the event