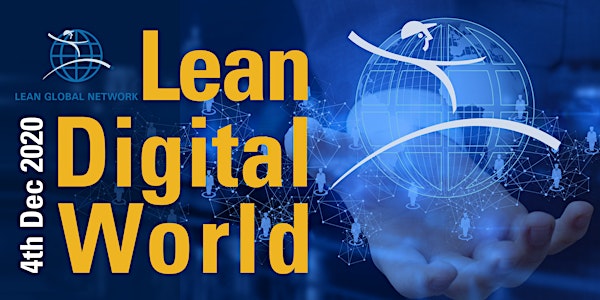 Lean Digital World
A COMMUNITY OF LEAN DIGITAL PROFESSIONALS ARE COMING TOGETHER TO RETHINK, REFOCUS AND REBUILD USING THE CUTTING EDGE OF LEAN - JOIN US!
Refund Policy
Refunds up to 7 days before event
Eventbrite's fee is nonrefundable.
About this event

2020 has seen major disruption for nations, organisations and individuals - the result of global pandemic and the acceleration of digital channels and processes. Before 2021 dawns, it is time to RETHINK, REFOCUS and REBUILD. It is time for a LEAN DIGITAL WORLD!
Next year will mark 50 years since the Japanese management methods we know as the Toyota Production System (TPS) were first documented as a radical new way of running organisations that could easily compete with the best manufacturers in the Western world.
It will be nearly 40 years since William Edwards Deming published his manifesto of The 14 Key Principles of Management, introducing concepts of organisational purpose, leadership, psychological safety for workers, and organisational transformation decades before these became imperatives in the West.
In 2021 it will also be 30 years since the revelations about those new industrial approaches were christened 'Lean' by Jim Womack, Dan Jones and Dan Roos in their ground-breaking book 'The Machine That Changed the World'.
Lean thinking has since gone on to be applied to improving healthcare, Western manufacturing, mining and government. But has it retained relevance in a 21st century economy where, as Marc Andreesson put it - 'software ate the world'; and a software developer's movement called 'agile' inhaled all the online oxygen?
This conference examines that issue - bringing speakers from all walks of lean, but featuring authors, leaders and executives who are the front line of digital work that has adopted the best elements of lean management to grow world-beating organisations.
Simultaneous translation will be available

We have developed 4 themes which we believe fit with the speakers and which will also guide the presentations and discussions.
Opening

Christopher Thompson, Director of Lean Institute Brasil; Lean Global Network's Latinamerica Coordinator; LGN's Lean Digital World Coordinator (Linkedin)
1st Session
How can Lean Digital help develop better products, quicker and faster? What can the physical and digital worlds of product development learn from each other?

Nigel Thurlow, CEO of Flow Consortium & Co-Creator of The Flow System (Linkedin) • Richard Blair, Director of Engineering at TechnipFMC (Linkedin) • Darren Walsh, Senior Lean Coach of Lean Enterprise Academy (UK) (Linkedin)
2nd Session
How can we apply lean thinking to digital processes and services? How can we apply digital processes and techniques to enhance Lean thinking?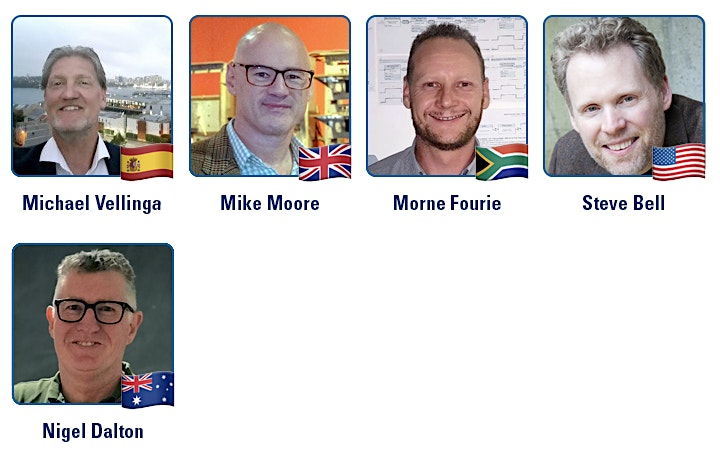 Michael Vellinga, Global Director of Operational Excellence at DLL Financial Services (Linkedin) • Mike Moore, Managing Partner of MM&A (Linkedin) • Morne Fourie, Manager of Toyota Halfway • Steve Bell, Co-founder of Digital Lean Strategies (Linkedin) • Nigel Dalton, Chairman of the Board at Lean Enterprise Australia (LEA)
3rd Session
Developing organizational capability and performance. Learning from Lean and Industry 4.0? & Lean Digital for the corporate world?

Christoph Roser, Professor of production management at the Karlsruhe University & Author of AllAboutLean.com (Linkedin) • Valeriia Zabolotna, Rector of Academy Dtek (largest energy company in Ukraine)(Linkedin) • Laura Mottola, Co-founder of Lean Institute Canada & Founder of Lean Mining Institute (Linkedin)
4th Session
How can we use Lean Digital thinking and practices to disrupt process, industries and basic thinking? What are the major impacts on strategic thinking and leadership? And how can you, as a professional, transform yourself in the face of the digital revolution?


We have aimed to make this the lowest-cost, highest quality online conference we can. We are working in the spirit of the Lean Global Network's approach to building a worldwide community of practitioners, by keeping our conferences and webinars accessible, friendly, professional and collaborative. How can you help us? BOOK EARLY! Tell your friends about this learning opportunity, and grab your ticket soon.
Recordings will be available for all participants for a period of 90 days after the event.