Description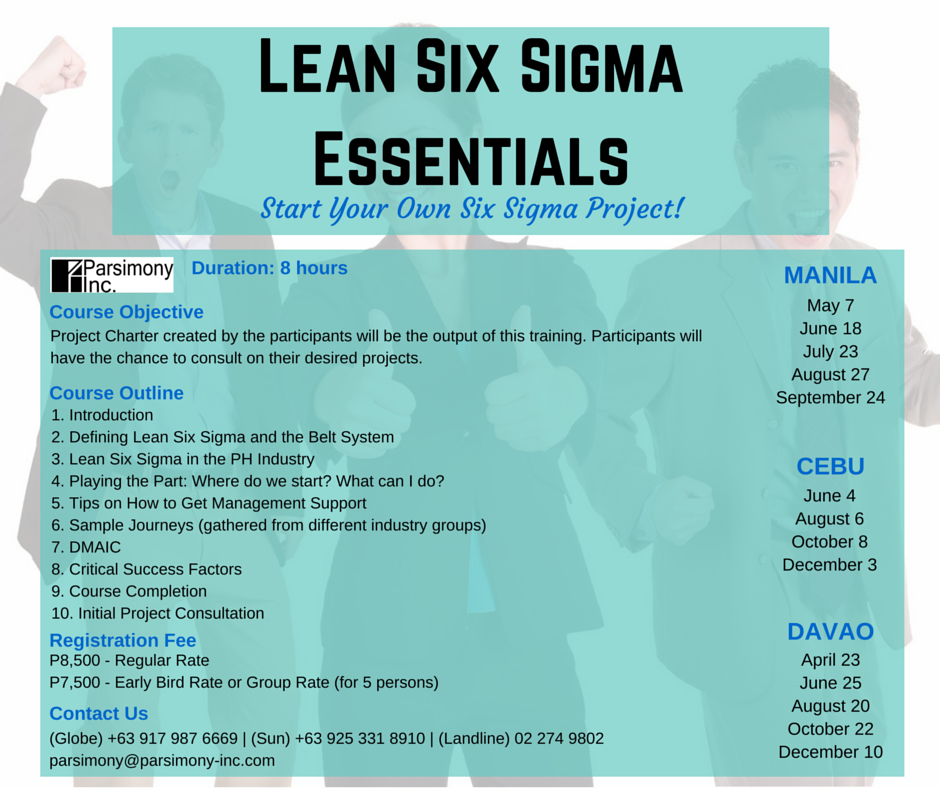 Lean Six Sigma is a combination of the two most powerful improvement methods – Lean and Six Sigma. Learn the proven methodology to improve your company's performance, increase sales revenues and reduce unnecessary costs.
This training is an equivalent of the Yellow Belt Lean Six Sigma training. Learn how to be an indispensable resource in your company as they drive for market leadership and profitability. Make a significant contribution to the bottom line, help drive revenues up and help optimize costs. Move up in your career… Increase your value in the industry… Learn and Master Lean Six Sigma.
Certified Lean Six Sigma experts and practitioners will facilitate this session.
Benefits
In this training conducted by Parsimony Inc., anyone who intend to lead and/or be part of a Lean Six Sigma initiative will gain the following:
1. Basic foundation through a comprehensive overview of the Lean Six Sigma Framework and approach that will enable participants to gain a good understanding of the Lean Six Sigma;
2. Learn how to apply Lean Six Sigma principles to different business areas;
3. Start a Six Sigma Improvement project; and
4. Prepare for advanced Six Sigma Trainings, Blackbelt or Expert Certifications.


Course Outline
Take advantage of our comprehensive course content and learn the following topics.
1. Introduction
2. Defining Lean Six Sigma and the Belt System
3. Lean Six Sigma in the PH Industry
4. Playing the Part: Where do we start? What can I do?
5. Tips on How to Get Management Support
6. Sample Journeys (gathered from different industry groups)
7. DMAIC
8. Critical Success Factors
9. Course Completion
10. Initial Project Consultation
(Project Charter will be the output of this training. Participants will have the chance to consult on their project.)
Registration Fee
P8,500 – Regular Rate
P7,500 – Early Bird Rate (if paid 1 month before the training) or Group Rate (with a group of 5 members)

Inclusions: Certificate of Completion



Training Venue
Manila: Unit 3004, 33/F, Antel Building (beside One Corporate Center), Julia Vargas St., Ortigas Center, Pasig City
Cebu: Zaragosa Room, Casino Espanol de Cebu Inc., 107-109 V. Ranudo St., Cebu City
Davao: Conference Room, Northzen Hotel, Sobrecarey St., Poblacion District, Davao City
Other Trainings
Project Management Fundamentals - 2 days
Project Management Advanced - 1 day
Succeed with Quality: Introduction to Quality Management - 4 hours
Ensuring Success with Effective Project Management - 4 hours
Analytics for Business Success - 1 day

Do email us for more details on these trainings.


Contact Us to Register
REGISTER HERE: Parsimony Inc. Registration Form

Website: www.parsimony-inc.com
Email: parsimony@parsimony-inc.com
Landline: (+02) 274 9802
Mobile: (+63) 917 987 6669 | (+63) 926 670 6569 | (+63) 925 331 8910