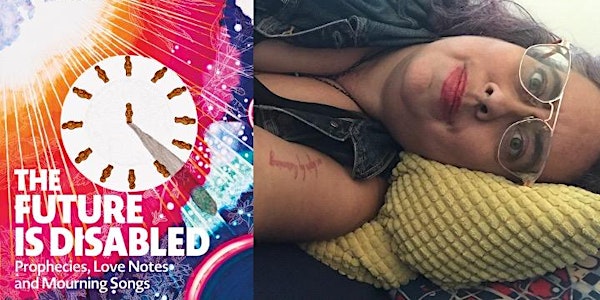 Leah Lakshmi Piepzna-Samarasinha discusses "The Future is Disabled"
Join us to celebrate the release of disability justice advocate Leah Lakhsmi Piepzna-Samarasinha's new book, "The Future is Disabled."
About this event
This event is being presented online through Zoom. It is presented in partnership with Elliott Bay Book Company. This event is supported by The Seattle Public Library Foundation and the Gary and Connie Kunis Foundation. Thanks to media sponsor The Seattle Times. This event will be recorded, captioned and then posted on the Library's YouTube channel after the event. ASL and live captioning will be provided.
About the Speaker:
Leah Lakshmi Piepzna-Samarasinha is a nonbinary femme autistic disabled writer, space creator and disability and transformative justice movement worker of Burgher and Tamil Sri Lankan, Irish and Galician/Roma ascent. They are the author or co-editor of ten books, including The Future Is Disabled: Prophecies, Love Notes and Mourning Songs, (co-edited with Ejeris Dixon) Beyond Survival; Strategies and Stories from the Transformative Justice Movement, Tonguebreaker, Care Work: Dreaming Disability Justice, and Bodymap. A Lambda Award winner who has been shortlisted for the Publishing Triangle five times, she is winner of Lambda's 2020 Jeanne Córdova Award "honoring a lifetime of work documenting the complexities of queer of color/femme/disabled experience" and a 2020 Disability Futures Fellow. Since 2009, they have been a lead performer with disability justice performance collective Sins Invalid. Raised in rust belt central Massachusetts and shaped by T'karonto and Oakland, they are currently at work building Living Altars/The Stacey Park Milbern Liberation Arts Center, a home for disabled QTBIPOC writers. They are a hot, haggard porch and couch witch and a very unprofessional adaptive trike rider. brownstargirl.org
About the Book:
In The Future Is Disabled, Leah Laksmi Piepzna-Samarasinha asks some provocative questions: What if, in the near future, the majority of people will be disabled―and what if that's not a bad thing? And what if disability justice and disabled wisdom are crucial to creating a future in which it's possible to survive fascism, climate change, and pandemics and to bring about liberation
Building on the work of her game changing book Care Work: Dreaming Disability Justice, Piepzna-Samarasinha writes about disability justice at the end of the world, documenting the many ways disabled people kept and are keeping each other―and the rest of the world―alive during Trump, fascism and the COVID-19 pandemic. Other subjects include crip interdependence, care and mutual aid in real life, disabled community building, and disabled art practice as survival and joy.
Written over the course of two years of disabled isolation during the pandemic, this is a book of love letters to other disabled QTBIPOC (and those concerned about disability justice, the care crisis, and surviving the apocalypse); honor songs for kin who are gone; recipes for survival; questions and real talk about care, organizing, disabled families, and kin networks and communities; and wild brown disabled femme joy in the face of death. With passion and power, The Future Is Disabled remembers our dead and insists on our future.
Image Description:
Book Jacket: A white sundial face is superimposed over a multicolored background with orange, red, pink and blue waves. The title "The Future is Disabled: Prophecies, Love Notes and Mourning Songs" is written in white at the bottom of the image.
Leah: A 40ish mixed race Sri Lankan, Irish and Romani nonbinary femme with curly brown silver and purple hair, lying on a couch looking at the viewer horizontally. They have rose gold aviator frames, thick eyebrows, red lipstick and sand colored skin, and are looking at the viewer with a kind of tired but hopefully crip wonder. They wear a blue denim vest with a pin that says Neurodivergent Universe above a pink and blue image of a ringed planet, and a black tank top with yellow lettering that read Talk To Plants, Not Cops is barely visible. They have a tattoo of the words "We begin by listening" in magenta cursive script on their left arm.