Description
Watch North America's best teams battle in the NA LCS!
Doors open about 40 minutes before the first scheduled game start. Go to LoLEsports for more info and match schedule. You can find photos of the events on our Flickr page.
***PLEASE NOTE: Parking for Friday shows is different than Saturday/Sunday shows. DO NOT PARK AT KILROY WESTSIDE MEDIA CENTER. YOU WILL NOT BE VALIDATED.***
Parking is available for Friday shows as first-come, first-served in our studio parking lot at 12312 W Olympic Blvd, Los Angeles, CA.
When our surface lot has filled we will direct you to park across the street at Tribeca West, located at 12233 W Olympic Blvd, Los Angeles. Please TAKE YOUR TICKET WITH YOU and you will be validated at the show.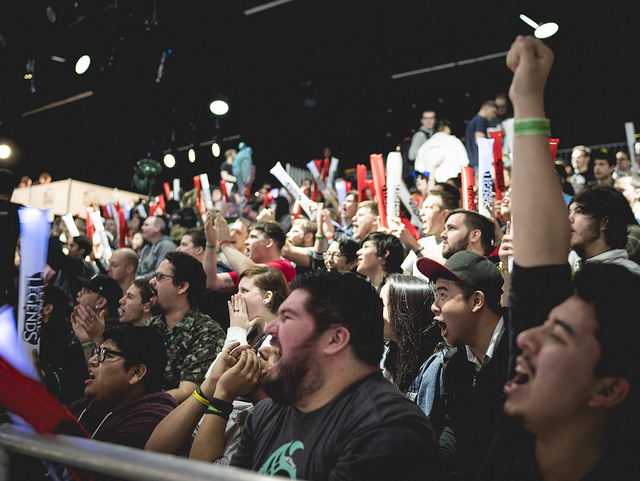 TICKETS FAQ
Q: Do I have to print the ticket? Do I have to bring photo ID?
A: You can print your ticket or display it on your smartphone so that we may scan the QR code. We will need your ID if you do not have a copy of your ticket so that we can verify your name on our attendance records.


Q: Is there an age requirement?
A: Children under the age of 10 are required to be accompanied by an adult.


Q: When should I arrive? What if I am late?
A: On Fridays... Check in begins at 1:45pm. Audience load in begins at 2:20pm. The broadcast starts at 3:00pm.
No worries if you are late- there will always be someone available to check you in.


Q: How is seating arranged?
A: There is bleacher seating on a first-come, first-served basis. Arriving early increases your chances of sitting closer to the stage but does not guarantee it. Our studios are designed so that all seats provide adequate viewing angles for our audience, and arriving first does not mean you will have a better viewing angle.


Q: Is there food for sale? Can I bring my own?
A: There is a concession stand in the studio that has various food items for sale. We also allow outside food and drinks, but no alcohol in the premises.


Q: Is there merchandise for sale?
A: Yes, there is a merchandise store in the NA studio.


Q: Is there parking?
A: It is HIGHLY recommended that you take Metro public transit (the Bundy stop on the Expo Line is directly behind our studio), participate in a ride-share service, or carpool when attending our Friday matches. Because the show takes place during working hours for the businesses nearby there is limited parking.
We accommodate parking for the first twenty-five cars to enter our surface lot. Visitors' cars will be valet-parked on the studio lot (12312 W Olympic Blvd), with guests being directed across the street to Tribeca West (12233 W Olympic Blvd) once our lot is full.
After the Tribeca West lot hits capacity street parking will be at your discretion.
Please remember to take your parking ticket with you for validation, and do not park in the Kilroy Westside Media Center lot utilized for Saturday/Sunday shows-- this lot is not valid for Riot on weekdays!!!
Q: Is there a place to drop off?
A: Yes, drop offs are always welcome in front of the studio or on the surface lot at 12312 W Olympic Boulevard.