Description
Seid mit dabei, wenn Europas beste Teams in der LCS gegeneinander antreten!
Besucht LoL esports für weitere Informationen und Flickr für Event Fotos. Bei Fragen schreibt uns über das Eventbrite Kontaktformular oder telefonisch unter +49 (0)170 3852700 (Mo. - Fr. 11:00 - 18:00 Uhr).
Watch Europe's best teams battle in the EU LCS!
Check out LoL esports for more info and Flickr for event photos. If you have questions please contact us through Eventbrite's mailing system or call us at +49 (0)170 3852700 (Mon. - Fri 11:00 - 18:00 CET).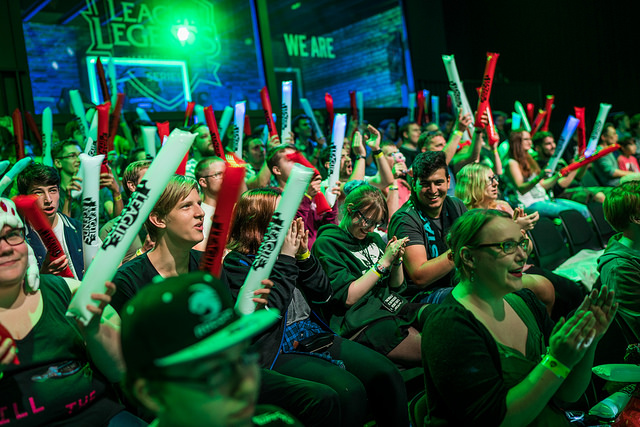 FAQ
Einlass / Admission
Muss ich das Ticket ausdrucken und brauche ich einen Ausweis? / Do I have to print the ticket and do I need a Photo ID?
DE: Du kannst das Ticket ausdrucken oder auf deinem Smartphone vorzeigen. Ein Ausweis wird nur benötigt, falls du gar kein Ticket dabei hast.
ENG: You can print your ticket or bring it on your smartphone. Your ID is only required, if you forgot to bring your ticket.
Wann muss ich da sein und was wenn ich zu spät komme? / When should I arrive and what if I'm late?DE: Einlass ist ab 17 Uhr. Die Übertragung startet um 18 Uhr. Der Einlass ist durchgehend besetzt, Verspätungen sind also kein Problem.
ENG: Admission starts at 17:00. Broadcast starts at 18:00. If you are late there will always be someone available to check you in.
Wie alt muss ich sein, um zuschauen zu dürfen? / Is there an age requirement?
DE: Kinder unter 12 müssen von einem Erziehungsberechtigten begleitet werden.
ENG: Children under the age of 12 are required to be accompanied by an adult.
Wie erfolgt die Sitzplatzauswahl? / How is seating arranged?
DE: Die Auswahl der Sitze erfolgt frei. Bitte kommt entsprechend früh, wenn ihr zusammen mit euren Freunden sitzen wollt.
ENG: All seating is on a first come first serve basis. Please arrive early, if you want to sit with your friends.
Kann ich meine Tasche / meinen Rucksack mit ins Studio nehmen? / Can I bring my bag or backpack into the Studio?
DE: Taschen und Rucksäcke müssen an der kostenlosen Garderobe abgegeben werden.
ENG: Bags and backpacks have to be stored at the wardrobe free of costs.
Essen, Trinken & Merchandise / Food, Drinks & Merchandise
Gibt es Verpflegung? / Is there food for sale?
DE: Wir haben einen Verkaufsstand mit verschiedenen Snacks und Getränken im Studio. Am Verkaufsstand kann nicht mit EC- / Kreditkarte bezahlt werden.
ENG: There is a concession stand in the studio that has various food items and beverages for sale. You cannot pay via bank / credit card at the concession stand.
Kann ich Essen & Trinken mitbringen? / Can I bring my own food and drinks?
DE: Wir erlauben mitgebrachte Snacks und ALKOHOLFREIE Getränke bis maximal 0,5L in Plastikflaschen.
ENG: We allow outside snacks and NON-ALCOHOLIC drinks up to 0,5L and only in plastic bottles
Kann ich League of Legends & Team Merchandise kaufen? Can I purchase League of Legends & Team Merchandise?
DE: Im EU LCS Studio ist einen Merchandise Store. Ihr könnt Bar, oder mit EC-/Kreditkarte bezahlen.
ENG: The EU LCS Studio has its own Merchandise Store. You can pay with cash, bank or credit card.
Habt ihr alles was im Online Store verfügbar ist und bietet ihr die gleichen Promos an? Do you have everything available on the Online Store and do you offer the same Promos?
DE: Unser Sortiment ist kleiner, aber wir haben manchmal Artikel die Online ausverkauft sind ;). Wir haben oft die gleichen Sonderangebote, bieten aber regelmäßig eigene Offline-Exklusive Sonderangebote an!
ENG: Our assortment is smaller, but sometimes we have items that are already sold out online ;). We frequently offer the same Promos as online, but we have our own Offline-Exclusive Sales and Promos too!
Anreise / Arrival
Gibt es in der Nähe vom Studio Hotels? / Are there hotels near the studio?
DE: LCS Besucher können zu einer vergünstigten Rate im Dorint Adlershof buchen. Bei Vorlage des Tickets bei Anreise gibt es 10% Rabatt auf Speisen und Getränke im Hotel, sowie auf Anfrage und nach Verfügbarkeit einen Late Check Out bis 16.00 Uhr.
ENG: Attendees of the LCS can book at a discounted rate in the Dorint Adlershof. You get 10% off of food and beverages in the hotel, if you show the LCS ticket upon arrival. Additionally, late check out is possible till 16:00 upon request and availability.
Wie komme ich mit öffentlichen Verkehrsmitteln zum Studio? /How do I get to the studio with public transportation?
DE: Am einfachsten mit den S-Bahn Linien 8, 9, 45, 46 oder 85 und steigt an der Haltestelle Adlershof aus. Auf Google Maps findet ihr uns unter 'EU LCS Studio'. Die Route zum Studio findet ihr hier.
ENG: The easiest way to get to the studio are the S-Bahn lines 8, 9, 45, 46 and 85. Get off the train at the station Adlershof. You can find us on Google Maps under 'EU LCS Studio'. This is a route map to the studio.
Wo kann ich parken? / Is there parking?
DE: Leider haben wir keinen Parkplatz am Studio, aber es sollten genug Plätze in der Nähe frei sein.
ENG: Unfortunately, we have no parking available at the studio, but you can find space nearby.
Shoot notice
DE: Dies ist eine Veranstaltung mit Live-Übertragung, organisiert von Riot Games Services GmbH ("Riot"). Am Veranstaltungsort, können sie gefilmt oder fotografiert werden, und ihr Bild kann in der Live-Übertragung auftauchen oder im Film verwendet werden. Wenn Sie an der Veranstaltung teilnehmen, NEHMEN SIE ZUR KENNTNIS, DASS RIOT IM RAHMEN DER AUFGENOMMENEN VIDEOS AUFNAHMEN VON IHNEN FÜR TURNIER-REPORTAGEN UND ZU WERBEZWECKEN VERWENDEN KANN. Dies gilt auch für die finale Version des Videos oder Films, einschließlich, aber ohne Beschränkung auf direkte Übertragung, kommerzielle Ausstellung, Werbung, Verkauf, Vermietung, Wiederverkauf oder weitere Nutzung der produzierten Inhalte oder die Verfügung darüber. Riot kann diese Inhalte so lange aufbewahren und verwenden, wie es zur Erfüllung dieser Ziele nötig ist. Riot und seine Tochtergesellschaften sowie Medienpartner können die Inhalte weltweit und ohne territoriale Begrenzungen nutzen.
WENN SIE DIESEN BEDINGUNGEN NICHT ZUSTIMMEN, NEHMEN SIE BITTE NICHT TEIL. Für weitere Informationen zur Verwendung ihres Bildes kontaktieren Sie bitte privacy@riotgames.com.
ENG: This is a live broadcasted event hosted by Riot Games Services GmbH ("Riot"). At the venue, you may be captured on film or video, and your image and likeness may appear in a direct broadcast and be used in the film. By participating at this event, YOU CONFIRM YOUR UNDERSTANDING THAT RIOT MAY USE OF YOUR IMAGE AND LIKENESS FOR TOURNAMENT COVERAGE AND MARKETING PURPOSES IN CONNECTION WITH THE VIDEO BEING SHOT, and in any final version of the video or film, including, without limitation, direct broadcast, commercial exhibition, promotion, sale, rental, resale, or other use or disposition of the content being produced. Riot may store and use this content for as long as may be reasonably required to achieve these purposes. Riot, including its affiliates and media partners, may use the content globally, without any territorial limitations.
IF YOU DO NOT AGREE TO THESE TERMS, PLEASE DO NOT PARTICIPATE. For more information on use of your image and likeness, please contact privacy@riotgames.com.