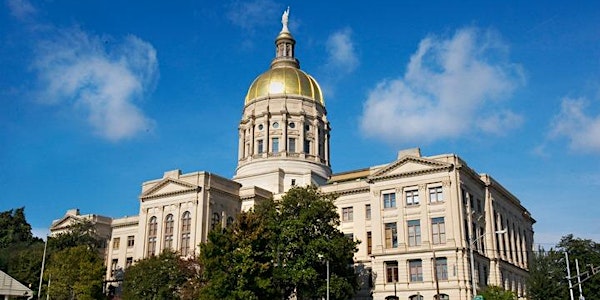 League Legislative Day 2020
When and where
Location
Paul D. Coverdell Legislative Office Building (aka CLOB) 18 Capitol Square Southwest Rm. 514 and then Rm. 606 @ 9am Atlanta, GA 30334
Description
February 10, 2020 is League Day at the Georgia State Capitol!



Join us for a powerful day of advocating for democracy. Gathering at 8:30AM on Monday, February 10, 2020 – with optional Vino & Voting event the night before.
League Legislative Day is a unique opportunity to build your League community, learn about the League's Legislative positions, and gain valuable experience talking with your representatives. This year we will also be celebrating the League's 100th Anniversary and the centennial of the 19th Amendment giving women the right to vote.
The event is free and open to the public. Lunch is on-your-own in the cafeteria of the Sloppy Floyd Building across from the State Capitol. Lunch is served until 2:00.
On that day, we will be meeting with legislators to advocate for bills that that will protect our democracy. You will also:
Hear from legislators and guest speakers

Learn about critical democracy issues and bills – with an emphasis on The Democracy Act and People Powered Fair Maps

Gain experience lobbying legislators at the Georgia capitol—colloquially called "going to the ropes," as advocates stand on the opposite side of a rope line to speak with elected officials

Set up and meet with your representatives in their offices (let us know if you need help)

Network with like-minded individuals from all across Georgia

Opportunity to tour the Capitol
Make plans to join us the night before for Vino & Voting – our 2020 Centennial Kickoff event – for a glass of wine, a cup of soup, hand-crafted sweets, and conversation about the future of voting and elections in our state. Tickets and sponsorship opportunities are available through Eventbrite. We will also have a wine pull raffle for those wanting to take home a bottle or two.
Metro League members and supporters have generously offered to host advocates the night before. If you desire home hospitality, please let us know at lwvga@lwvga.org. If you would prefer to stay in a hotel, the following hotels are nearby the Mary Gay House in Decatur: Courtyard by Marriott, Emory Conference Center, Holiday Inn Express, or Hampton Inn.
As we will also be celebrating the founding of the League of Women Voters, we are encouraging participants to dress in white and wear League of Women Voters Sashes. We will have limited number of sashes available for when we take our picture on the Capitol steps which will also be available for purchase for $10.00.
NOTE: Small Guided Tours Availability - Groups of Less Than 10
Mon, February 10, 1:00pm – 1:30pm
Interested in a guided tour of the Georgia State Capitol, but have less than 10 people? Please call the Capitol to reserve a space on this tour. Please note that they will accommodate no more than 30 visitors. Reserve space now! Tour Reservations and Museum Information: 404-463-4536, gacapitoltours@uga.edu Self-guided tours are also available – no reservation required.
We hope to see you at Vino & Voting and at League Legislative Day. Come for some but come for all if you can. This is a celebration of US! #WomenPowerTheVote
Register today!