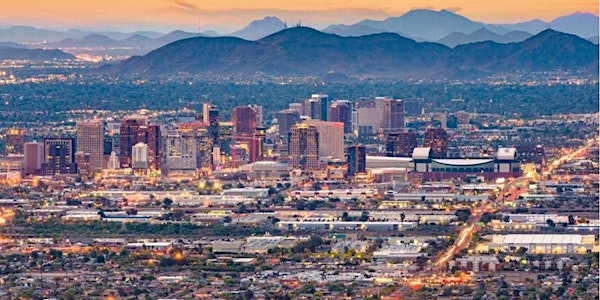 Leading with Principle: A Discussion with Arizona's Business Leaders
Please join America's Future Foundation as we kick off the Phoenix Chapter! Network and join our conversation with AZ business leaders!
When and where
Location
Angels Trumpet Ale House Arcadia 2339 North 44th Street Phoenix, AZ 85008
About this event
Are you interested in free markets, limited government, and individual liberty? Join others like you for this non-partisan event to learn more about how you can make a difference in your community, meet new people, and enjoy a drink on us!
Glenn Hamer, President and CEO of the Arizona Chamber of Commerce and Industry, and Karrin Robson, from the Arizona Board of Regents and President at Arizona Strategies, will be joining us to discuss their journey in business and building a reputation as a principled leader in Arizona. Austin Jack from the Goldwater Institute and Chairman of AFF-Phoenix will be moderating the discussion.
SCHEDULE
5:00PM Registration
5:30PM Cocktail Reception - please arrive on time to eat & drink on us!
6:15PM Program Begins
7:15PM Audience Q&A
7:30PM Program Ends
ATTIRE
Business Casual
Light Appetizers and 1 drink ticket per guest will be provided.
ABOUT AMERICA'S FUTURE FOUNDATION:
America's Future Foundation (AFF) is a nationwide network of liberty-minded young professionals. We provide unique opportunities to learn about the ideas of free markets, limited government, and personal responsibility, and to develop the skills necessary to articulate them.
Through our programs, AFF offers young professionals networking and mentoring opportunities, in addition to writing, speaking, and program management experience to help you become a more effective advocate for freedom.
We envision an American culture permeated with a love of liberty, and a society that values free enterprise, personal responsibility, and limited government.
ABOUT GLENN HAMER:
Glenn Hamer has been president and CEO of the Arizona Chamber of Commerce and Industry since 2006. He has overseen the organization's development into one of the most respected pro-business public policy entities in the state, notching significant wins in tax policy, education, regulatory reform, healthcare and tort reform that have greatly enhanced Arizona's economic competitiveness.
Glenn is a sought after advisor in public policy. He represents the Arizona Chamber on the U.S. Chamber of Commerce's Public Affairs Committee and its Committee of 100, and he is a member of the board of the Tucson Hispanic Chamber of Commerce, the Arizona Mexico Commission, and serves as the vice chairman of the Arizona Charter Schools Association.
You can learn more about Glenn Hamer here.
ABOUT KARRIN TAYLOR ROBSON:
Governor Doug Ducey appointed Karrin Taylor Robson to the Arizona Board of Regents in June of 2017. She current serves as the chair of the Finance, Capital and Resources Committee, the chair of the University Property Oversight Committee and is a member of the Research and Health Sciences Committee and the Audit Committee. In addition to her role with the Arizona Board of Regents Karrin serves as a member of the Civic Leaders Group for the US Air Force Chief of Staff, she is a member of the invisionAZ Board, the chair of the Joe Foss Institute and a member of the executive committee of the Greater Phoenix Economic Council.
Regent Taylor Robson is the founder and president of Arizona Strategies, a land-use strategy company headquartered in Phoenix. Prior to forming Arizona Strategies, Regent Taylor Robson served as executive vice president of DMB Associates, Inc., a Scottsdale-based master-planned community developer where she was responsible for ongoing land use entitlement matters and other efforts for its communities and businesses. She continues to provide strategic leadership for clients at the local, state and federal level.
You can learn more about Karrin Taylor Robson here.