About this Event
Allistair McCaw is excited to bring his LEADING WITH IMPACT seminar tour which sold out in the UK earlier this year to Australia and New Zealand. Having consulted some of the most elite athletes in sports and high-level executives in the corporate world, Allistair is excited to share what he has learned from the best of the best.
Attendees will obtain a wealth of knowledge from the areas of leadership, team culture and self-development. No matter what line of work or field (sports, corporate, education, etc.) this is an opportunity to invest and upgrade yourself that you don't want to miss.
Topics of Discussion:
- Self-development & Leadership
- 10 Rules of Success
- 10 C's of Effective Leadership
- Developing a Winning Culture
- Why most Cultures fail
- Developing a Winning Attitude & Mindset
Dates:
15th May, 2020 - MELBOURNE, AUSTRALIA, 9:30am-2:30pm (Venue:TBA)
22nd May, 2020 - GOLD COAST, AUSTRALIA, 9:30am-2:30pm (Venue: KDV Sport, 221 Nerang Broadbeach Rd, Carrara QLD 4211, Australia)
26th May, 2020 - AUCKLAND, NEW ZEALAND 9:30am-2:30pm (Venue: Lavie Tennis Academy, 1 Tennis Lane, Parnell, Auckland, NZ)
BOOK EARLY AS SEATS ARE LIMITED!!
EARLY BIRD SPECIAL (A$ 125.00) ENDS 31 MARCH, 2020. Thereafter A$150.00
For enquiries, please contact Paul Price at paulprice6@icloud.com
*********IMPORTANT NOTICE: Due to the outbreak of the CONVID-19 virus, if the event should need to be postponed, a future date will be set. If for some reason that chosen date does not suit the registered attendee, then a full refund will be provided.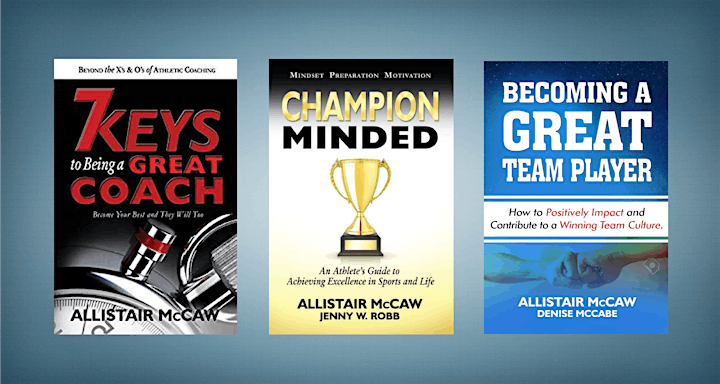 Who is Allistair McCaw?
Allistair McCaw is a best-selling author of 4 books and a keynote speaker. He is recognized as one of the world's foremost figures in leadership, team culture, and performance. For over 25 years he has worked with some of the most successful people, teams, colleges and organizations in the world. He has worked with Olympic and World champion athletes in a variety of sports. He has spoken and consulted in more than 50 countries and continues to teach and inspire people all over the world. Allistair resides in South Florida, USA.
Twitter: @allistairmccaw
Facebook: Allistair McCaw Page
Instagram: @bechampionminded
Podcast: 'Champion Minded'
All books available on Amazon worldwide