The future of the workplace has changed dramatically over the last year, with a major shift to remote working, and the 'new normal'.
About this event
Gravitas is a key quality for leadership success. In a fast-paced, changing environment, people with gravitas command respect, get taken seriously and stand out from the crowd. But what is gravitas, and how can you develop it for yourself?
During this one-hour event, TEDx speaker and author of Leading with Gravitas, Antoinette Dale Henderson, will explore one of the hottest topics in business right now, how to lead yourself, your team and your business through change.
In this keynote, developed especially for CMI, she'll reveals the six qualities that people with gravitas share. Drawing on 25 years' experience in leadership communications, she'll unveil practical techniques to help you create a powerful online presence, plus guidance on how to maximise opportunities as we emerge from the shadows of the pandemic.
Our speaker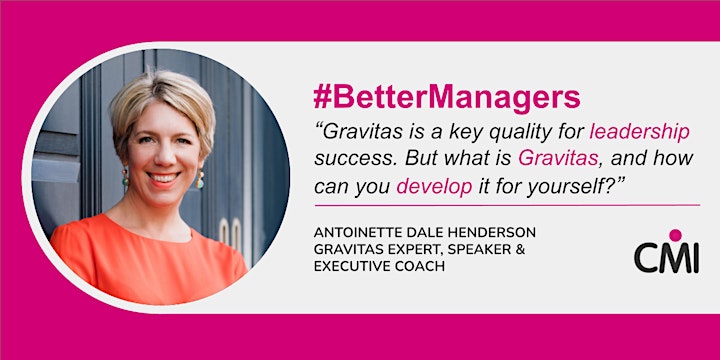 Antoinette Dale Henderson
Gravitas Expert, Speaker & Executive Coach
Antoinette is an executive coach and international speaker with over 25 years' experience in leadership communications, including 16 years holding senior positions in some of the world's top PR agencies.
She specialises in strategically-driven, bespoke programmes that make a powerful difference to executives, boards and top teams, both in the UK and internationally.
Frustrated by the insight that leaders get told they 'need' more gravitas without being shown how, she devised her Gravitas Programme to do just that, inspiring and enabling thousands of leaders to fulfil their potential.
She's author of two highly-acclaimed books: Leading with Gravitas and Power Up.
Our Host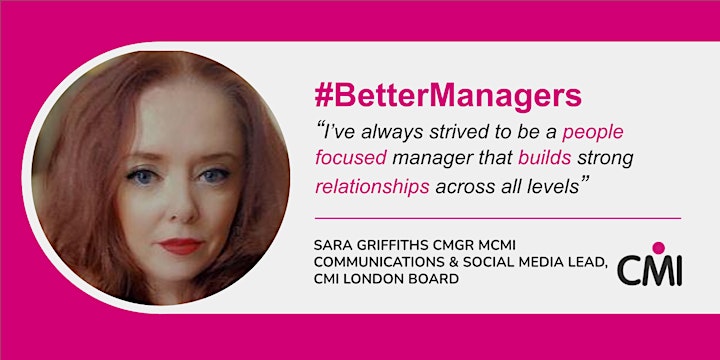 Sara Griffiths CMgr MCMI
Communications & Social Media Lead, CMI London Board
Sara has held Chartered Management Status since 2019. She is currently working as a Project Manager at the University of Law as part of a strategic transformation project.
Sara has over 10 years' experience in project and operations management in further and higher education and also in multinational environments always leading from the front with creative solutions.
During her career, Sara has always strived to be a people focused manager that builds strong relationships across all levels of an organisation. She has built a reputation for operational excellence, innovative strategic thinking, working with a commitment to delivering impact and value across the business and to individuals with integrity.
Her expertise and interests lie in strategic planning, analysis and special projects that deliver quality, innovation and continuous improvement to the student journey. Sara holds an MSc in Strategic Business Management and is currently preparing her research proposal for her Executive DBA.
When Sara is not working (or studying) she is involved with a NYC based non-profit whose main aim is to promote cross-cultural education and understanding through free English language courses and workshops.
In the meantime…
If you're a member of CMI, or subscribe to our content, don't forget you can find thousands of exclusive, practical development resources in ManagementDirect. Log in here and search for a topic to get started.
Not yet subscribed?
From free newsletters packed with the latest trends, insights and tips for managers and leaders, to the full suite of invaluable tools and benefits that come with being a CMI member, we've got something for everyone. Visit our website to find out more.