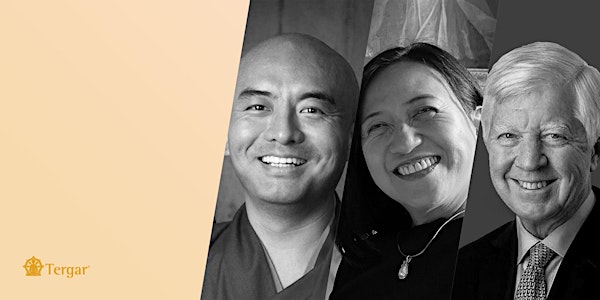 Leading with Compassion and Wisdom Workshop - St. Paul, MN, USA
A workshop with Yongey Mingyur Rinpoche, Ya Ping Chang, and Bill George.
By Tergar Meditation Community
Date and time
June 2 · 9am - June 3 · 5pm CDT
Location
University of St. Thomas, O'Shaughnessy Educational Center (OEC) Auditorium 2115 Summit Avenue Saint Paul, MN 55105
Refund Policy
Refunds up to 7 days before event
About this event
1 day 8 hours

Mobile eTicket
This is the in-person registration for attendance in St. Paul, Minnesota, USA. If you would like to attend the event online, please follow this link for more information: Learn More and Register for the Online Event
"The challenges we face in the 21st century call for a new form of leadership. It is no longer enough to be an expert and have all the answers. To lead effectively, we need to embody wisdom and compassion in every aspect of our lives." — Mingyur Rinpoche
About the program
Cultivating wisdom and compassion not only boosts our own mental health and emotional well-being, but also strengthens our ability to provide effective leadership and support others in a healthy way. In this workshop, renowned leaders Mingyur Rinpoche, Bill George, and Ya Ping Chang will share insights from their own life journeys and the practical tools they use to strengthen these essential skills. Their guidance will illuminate how everyone has the potential to lead and how we can use meditation, self-inquiry, and supportive relationships to tap into our full potential to lead with wisdom and compassion.
本次活动将以英语进行,并提供中文翻译。(This event will be offered in English with Chinese translation.)
Why should I attend?
How do we tap our full potential to lead in these uncertain times? The growing challenges we face as a species play out in both our personal and professional lives, calling us to navigate the turmoil of the 21st century with wisdom and compassion. But how do we embody wisdom and compassion? Growing evidence suggests that these qualities are skills that can be learned and cultivated, as we will explore in this workshop.
What will I learn?
In this program you will learn:
How awareness, compassion, and wisdom are crucial for effective leadership
How meditation, self-inquiry, and dialogue can strengthen awareness, compassion, and wisdom
Practical ways to improve your leadership qualities by strengthening these qualities
What is included in this program?
presentations from each of our three guests
periods of discussion and dialogue
opportunities for guided meditation and self-reflection
Requirements for participation
This workshop is suitable for everyone with an interest in leadership at all levels.
IMPORTANT INFORMATION (Please read before registering.)
Location:
University of St. Thomas - O'Shaughnessy Educational Center (OEC) Auditorium
2115 Summit Avenue
Saint Paul, Minnesota, 55105
The University of St. Thomas is situated in Saint Paul about halfway between downtown Minneapolis and downtown Saint Paul, just a few blocks from the Mississippi River. The closest major airport is Minneapolis/Saint Paul International (MSP) – 7 miles or a 20-minute taxi drive away.
Complimentary parking is available at the Morrison Parking Ramp, a short walk from O'Shaughnessy Educational Center. You can view a map of the campus here.
Travel, Accommodation, Food, and Other Local Information:
This is a non-residential retreat. You will need to secure your own accommodations, if you need them, and purchase meals other than lunch on Friday and Saturday. A vegetarian lunch with non-vegetarian options will be provided at the university both days. The cost of lunch is included in the cost of your registration for the event. Please review this document for information about travel, accommodations, meals, what to wear, etc.
If you questions about the location, transportation and accommodations, need special seating or have other requirements, please contact eventsupport@tergar.org
Ticket prices and discounts:
You will have the option to choose from 3 prices when paying for your event ticket. Lunches are included in the program fee. We are not able to offer a rate without lunches.
Sponsor fee: $500 per person. (This level allows us to offer a reduced price level for those on limited incomes)
Base fee : $295 per person
Reduced fee: $195 per person (For those on a limited income)
Tergar is a non-profit organization committed to making the benefits of meditation available to everyone. If the fees are a deterrent, please contact EventSupport@tergar.org for a discount off of the reduced fee or to inquire about other options.
What's the refund policy?
We ask that you cancel at least 7 days in advance of the program start date for a full refund. If you cancel between 7 days and the program start date, we will deduct an administrative fee of $25 from your refund.
If you need to cancel because of illness, between 7 days prior and the start of the event, we will provide a full refund. You will also have the option to participate in the online version of this program that is happening at the same time. Please contact EventSupport@tergar.org for details.
To cancel prior to 7 days before the program, sign into the EventBrite account that you created by registering (if you did not create a password during registration you will need to follow the prompts on the EventBrite website to do so). Inside your account, navigate to your tickets (top right), click the 'Request a Refund' button, and provide the information requested.
Please contact EventSupport@tergar.org if you need to cancel within 7 days before the program starts.
Schedule:
The program will begin on Friday, June 2 with check in beginning at 8:15 a.m. and teachings starting at 9:00 p.m. CDT. Please plan to be settled in your seats by 8:50 a.m. The program will end at 5:00 p.m. Saturday, June 3.
We will need to scan your ticket at check-in. You can either print the PDF ticket attached to your confirmation email or you can also download the EventBrite App on your smartphone and show your e-ticket at the door.
Other Events with Mingyur Rinpoche in St. Paul:
Mingyur Rinpoche will also be offering a public talk and 2 other retreats in June:
Biographies:
About Yongey Mingyur Rinpoche: In his approach to teaching meditation, Mingyur Rinpoche integrates traditional Buddhist practice and philosophy with the current scientific understanding of the mind and mental health – making the practice of meditation relevant and accessible to students around the world. For further information check here.
About Ya Ping Chang:
Ya Ping Chang is president and founder of WOW Nutrition and chairman of Grupo Brasfanta in Brazil. Since 2001, she has been a member of the São Paulo chapter of YPO, a global leadership community of extraordinary chief executives. She was a member of YPO Global Board of Directors from 2018–2022 and was the chair of the organization's YPO Global Conduct Committee from 2020–2022. Currently she is a member of Yale University President's Council on International Affairs and also a Tergar facilitator.
About Bill George:
Bill George is an executive fellow at Harvard Business School, where he has been a Professor of Management Practice and Senior Fellow teaching leadership since 2004. He is the former chairman and chief executive officer of Medtronic. He joined Medtronic in 1989 as president and chief operating officer, was chief executive officer from 1991–2001, and was board chair from 1996-2002. Earlier in his career, he was a senior executive with Honeywell and Litton Industries and served in the U.S. Department of Defense. Bill is the author of Discover Your True North and Emerging Leader Edition of True North. Full Biography
About the organizer
Tergar Meditation Community supports individuals, practice groups, and meditation communities around the world in learning to live with awareness, compassion, and wisdom. Grounded in the Tibetan Buddhist lineage of our guiding teacher, Mingyur Rinpoche, our online and in-person programs are accessible to people of all cultures and faiths, and support a lifelong path toward the application of these principles in everyday life. For more information, visit tergar.org.