About this Event
Being a leader in times of crisis...
Humanity is facing an unprecedented crisis with the spread of COVID19.
Remote work became omnipresent, but are we prepared for the new challenges?
Isolation leads to decreased motivation, insufficient communication to unclarity, undeveloped virtual leadership and digital skills to loss of trust. This will take its toll on the productivity of the business.
We need to tap into the collaborative genius and help each other turn the crisis into a chance. A small group of like-minded and result-oriented people can make a huge difference.
In two months the virus caused a drastic change worldwide. What kind of impact do YOU want to make in 2 months?
Become an impactful virtual leader with leadteal!
Together with the leadteal you will be:
part of a supportive group of 5- 6 inspiring leaders like you
working on solving your specific challenge(s)
in 8 weeks of focused work
accompanied by individual mentoring

The way we lead is changing. There is a lot more happening besides COVID19. New work, remote teams, adaptive organisations, artificial intelligence, self-organisation - just to name some trends that challenge leaders and changemakers of today's society. We can tackle them by working together! We have designed a unique online programme for forward thinkers to inspire and support each other to shape the future of work.
"If you want to go fast, go alone. If you want to go far, go together." -African Proverb-
Bring your own individual or organisational challenge and let's solve it together.
Example challenges:
Communication
Communication culture: frequency, topics, tools
Trust
Clarity, shared purpose, collaboration and team building
Productivity
Ensure accountability, develop processes, foster teamwork
Motivation
Keep the virtual team motivated
Digital business model
How to create digital products and secure the future of the organisation?
Mental health of leaders and employees
In the 8 weeks programme we will assess the current situation (challenge), define a motivating objective, measurable key results and put them into an action plan that we will revise weekly. You will have 4-6 peers to help you stay on track and give you new ideas!
_____________________________
Case example
John D. is the owner of a 30 people event management company. Because of COVID19 they are obliged to work from home and all the physical events are cancelled. However they are not familiar with the technologies that enable virtual work and setting up a digital business. John signs up for the leadteal mastermind and he meets his mentor. His mentor helps him define an inspiring and realistic objective for the upcoming 2 months. He is then assigned to a team that offers mutual help to reach each other's goals. At weekly group calls John gets advice and help from other leaders, who have solved similar issues at their organisations. Jennifer offers him to show John and his team the tools that they use at her company. David checks on him during the week if he has any obstacles or need help. Every second week he has a call with his mentor. After two months his team is able to work efficiently in the home office setting and they can start focusing on digitalizing the business model.
_____________________________
Weekly 1.5 hours group video call over Zoom will ensure you stay on track and provides you with inspiration and support.
Preliminary agenda of the weekly group call
Checkin
Administrative topics and reflection
Progress check
Case study & speed consulting
Group discussion
Checkout, feedback
leadteal is more than a mastermind group. It is a combination of a supportive group, a mentoring programme, a business network and a leadership lab.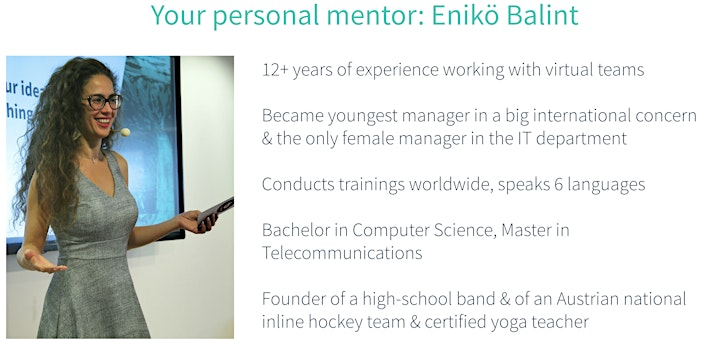 Register now for the next mastermind on the 16th of April - 4th of June 2020 or let us know if you are interested in another date.
After registration we will schedule a call to get to know you & assign you to the best team. All the participants are hand-picked to ensure premium quality <3
For further questions please contact us via email or social media. Looking forward to getting to know you!