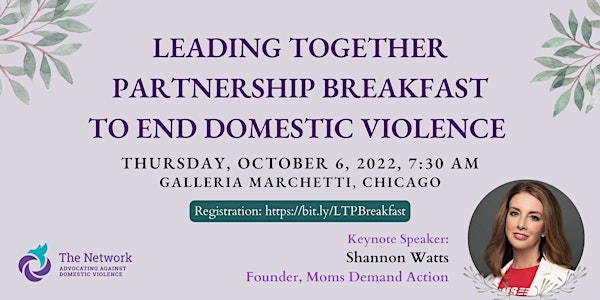 Leading Together Partnership Breakfast to End Domestic Violence
October is the Domestic Violence Awareness Month. We're thrilled to invite you to attend our annual Together We Lead Partnership Breakfast.
When and where
Location
Galleria Marchetti 825 W. Erie St, Chicago, IL, 60642 Chicago, IL, IL 60601
Refund Policy
Contact the organizer to request a refund.
Eventbrite's fee is nonrefundable.
About this event
For the Breakfast, we bring together supporters, members, major donors and leaders in the community to share our accomplishments during the past year as well as our initiatives for the future.
Please Note:
Attendees must be fully vaccinated. Proof of vaccination will be required on entry.
Masks must be worn at all times during the event other than while actively eating.
Event details:
Attendees: 200 max.
Date: Thursday, October 6, 2022
Time: 7:30 -10:00 am
Venue: Galleria Marchetti, 825 W. Erie St, Chicago, IL
Breakfast: Continental, catered by Galleria Marchetti
Opening Remarks by VIP Guest
Keynote Speaker – Shannon Watts, a pivotal American gun violence prevention activist and the founder of Moms Demand Action
Award Presentation: We'll give out our 2022 Leadership Award and Community Advocate Awards to community members and advocates who have been a super champion of our work.
State of The Network presentation
About The Network:
In 1983, domestic violence service providers created The Network: Advocating Against Domestic Violence (previously known as the Chicago Metropolitan Battered Women's Network) in order to exchange information about local resources for domestic violence survivors and to share best practices in responding to their needs. The Network still maintains the grassroots focus of its early years, though is now a coalition of over 40 gender-based violence organizations, allied professionals, and community members serving survivors in the Chicago and Cook County area. Gender-based violence includes domestic violence, sexual violence, and human sex-trafficking.
The mission of the Network is to educate, organize, and advocate as a collaborative membership organization to end gender-based violence and underlying oppression. The Network is leading the fight against gender-based violence through being a crisis first responder via the Illinois State Domestic Violence Hotline, policy and systems advocacy, and providing sector-wide training, as well as member and community engagement. As outlined in our policy platform, The Network seeks safety for all in our community and we stand for racial justice and equity. Recent events demonstrate the lack of safety that persists for Black and other minoritized members of our community and the continuing work that must be done to address our larger mission.
Domestic Violence affects one in three women nationally. Cook County has the highest rates of domestic violence in Illinois, with Women of Color disproportionately impacted. Just over 80% of calls to the Illinois Domestic Violence Hotline are placed by Survivors of Color, including 55% who identify as Black. Domestic violence impacts all communities regardless of geography, demography, or income. Domestic violence abuse tactics and the barriers and access routes to receiving assistance to be free from violence depend heavily on the socio-cultural surrounding of the victim and abuser. The Network focuses on working with survivors of all backgrounds, and provides training, education, and support to organizations on how to better serve survivors of color, immigrant survivors, low-income survivors, survivors in underserved/unserved areas, and LGBTQIA+ survivors, among others.
For more information about us, visit: https://the-network.org
Questions about this event? Contact us at pmukherjee@the-network.org
Event Sponsorships:
If you are interested in sponsoring this event, please visit: https://bit.ly/3wFfvUy
Here are more details on sponsorship options: bit.ly/breakfastsponsor
For any questions, such as, you would like to pay by check instead of online, please contact, Paroma Mukherjee, Director of Development at pmukherjee@the-network.org