Leading Through Role Modeling: Training the Federal Workforce to Engage Gir...
Event Information
Location
U.S. Office of Personnel Management
1900 "E" ST. NW.
Washington, DC 20415
Description
Leading Through Role Modeling
Training the Federal Workforce to Engage Girls in STEM
Thursday, March 14, 2013
9:00 AM to 3:00 PM ET
Details
The Leading Through Role Modeling Training event is a collaboration between the National Girls Collaborative Project, Techbridge, FabFems, MAGiC, and the U.S. Office of Personnel Management. It is funded through the National Science Foundation. The event will provide training and resources to Federal employees who are interested in serving as role models for girl-serving science, technology, engineering, and mathematics (STEM) organizations. The Leading Through Role Modeling Training qualifies as training in compliance with 5 U.S.C. chapter 41. The training is free and open to all Federal employees.


Role models play a critical role in creating opportunities for girls to envision a career in STEM. Resources will provide STEM professionals with a "recipe for success" to interact with girls in a meaningful and impactful way and to prepare organization leaders, educators, and volunteers to improve the quality of their organization's outreach to girls in STEM. During the training, participants will successfully address the following competencies:
Learn how to relate educational experiences and career pathways;

Learn what elements contribute to an effective role model;

Practice how to integrate STEM careers through ice breakers, introductions, career showcases, and hands-on activities; and

Use effective techniques to engage girls in meaningful discussions about STEM careers which dispel stereotypes and ignite girls' interest.
In conjunction with this training, the Mid-Atlantic Girls Collaborative Project (MAGiC) is hosting a program fair featuring both local and national youth-serving organizations who will provide information and make connections with resources and volunteer opportunities in your local area.

Schedule
8:00-9:00: Registration, Check-In, Security Processing
9:00-9:30: Welcome(s), Plenary (Auditorium)
Dr. Karina Edmonds, Director, Technology Transfer
U.S. Department of Energy
Dr. Rebecca Spyke Keiser, Associate Deputy Administrator for Strategy and Policy
NASA
9:30-9:50: The Girl Perspective (Auditorium)
This panel of girls from the greater Capitol area will speak about their individual and unique experiences in science, technology, engineering and math. Hear about why role models are important from those we are directly impacting.
10:00-12:00: Techbridge Role Model Workshop & FabFems (Center for Innovation and Learning)
The workshop is an opportunity for both new and experienced role models to prepare to effectively engage with girls to explore STEM professions. During the training Techbridge will introduce key strategies to make meaningful connections with girls around STEM careers. FabFems will discuss the national database of women in STEM professions. Participants will take away resources and practical ideas to prepare them for successful outreach.
12:00-1:00: Lunch and Program Fair
1:00-2:00: Creating Effective STEM Messaging (Innovation Lab)
To increase the diversity of those pursuing STEM education and careers, session participants will explore the latest research on messaging, imagery, and best practices to engage a diverse population in STEM, creating new and innovative ways to excite the next generation of STEM professionals.
2:10-2:30: Plenary w/OSTP speakers
2:30-3:00: Program Fair Open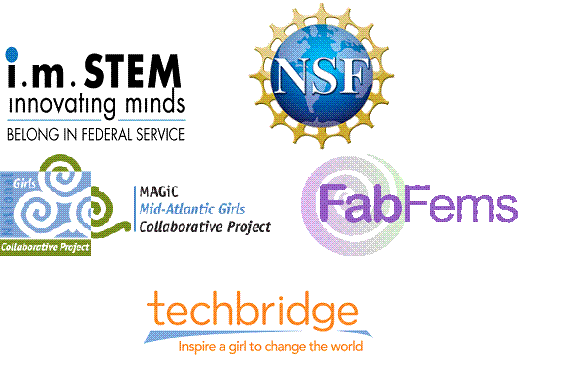 Date and time
Location
U.S. Office of Personnel Management
1900 "E" ST. NW.
Washington, DC 20415