This will be a discussion surrounding how technology in the workplace has changed, and what the best practices for cyber security are.
About this event
Technology in the workplace is forever changing with cyber security remaining increasingly important. The pandemic has meant more people have been working from home and transitioning into a hybrid way of working. It is critical that you keep your cyber security under control for the safety of your organisation.
Once best practices are adopted by organisations the benefits become clear. Workforces today are using technology to be more responsive and efficient and to collect accurate and timely data to deliver greater business value and results.
Join us on Wednesday 29th September, where Aaron Yates, Head of Product at rradar, will give information and guidance on best practice in cyber security and will discuss potential solutions for any sized business or self employed individual.
A follow-on event, discussing where to get the tools and resources you need to ensure optimum cyber security, and how to put these into play, will take place on Tuesday 19th October.
Our Speaker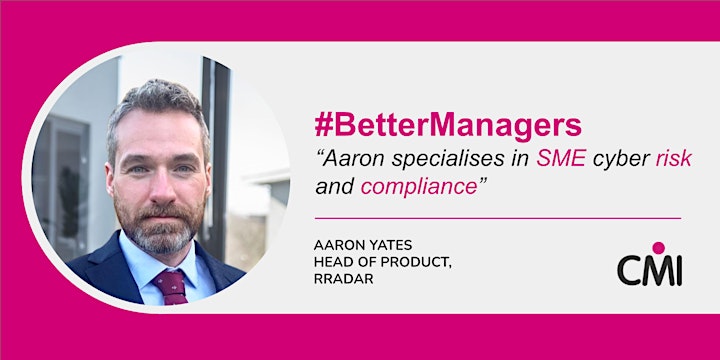 Aaron Yates
Head of Product, rradar
Specialising in SME cyber risk and compliance for over a decade, Aaron Yates is Head of Product for law firm and legaltech provider rradar. Formerly the founder and CEO of Berea, Aaron's team designed and built the first online service helping SMEs easily achieve compliance and certification with HM Government's Cyber Essentials scheme. This service, "Cyber AMI", was distributed to British businesses by commercial insurance brokers, as well as being embedded in commercial insurance products.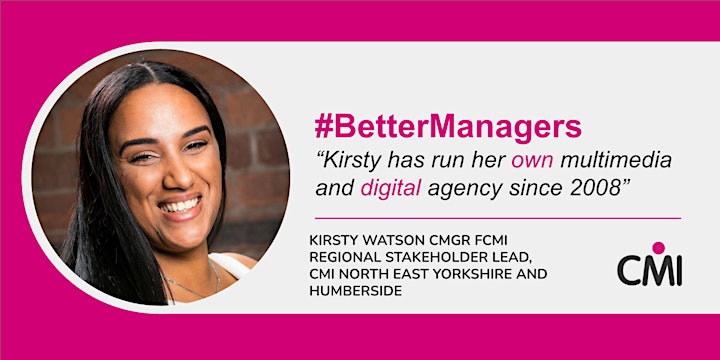 Kirsty Watson CMgr FCMI
Regional Stakeholder Lead, CMI North East, Yorkshire & Humberside
Kirsty has an MBA, a BA & BSc (Hons) in Interactive Multimedia from the University of Huddersfield and Social Psychology plus Philosophy from the Open University. A Charted Manager of the CMI, Kirsty is currently completing an PhD in Business and Management. With a focus on latent and necessity entrepreneurial skills within individuals in marginalised communities.
Kirsty has run her own multimedia and digital agency since 2008. She is also the founder and managing director of an apprenticeship training provider. Delivering Digital Marketing apprenticeships and training across the UK, since 2014.
Her passion lies in giving back to her community. As well as her core business, she makes time to deliver a community-focused service that supports confidence-building, delivers careers advice, and mentors individuals from marginalised groups to set up and run their own business. Throughout this, she focuses on generating local employment opportunities, promoting economic growth, and facilitating social inclusion. She is also a BAME ambassador at the University of Huddersfield.
For more information about the CMI North East Yorkshire & Humberside Regional Board you can visit the Board's webpage :
https://www.managers.org.uk/community/regional-networks/north-east-yorkshire-and-humberside/
Or you can connect via social media:
Twitter: @CMINEYH
LinkedIn: https://www.linkedin.com/groups/5174425/
In the meantime...
If you're a member of CMI, or subscribe to our content, you can find thousands of exclusive, practical development resources in ManagementDirect. Log in here and search for a topic to get started!
Not yet subscribed?
From free newsletters packed with the latest trends, insights and tips for managers and leaders, to the full suite of invaluable tools and benefits that come with being a CMI member, we've got something for everyone. Visit our website to find out more.