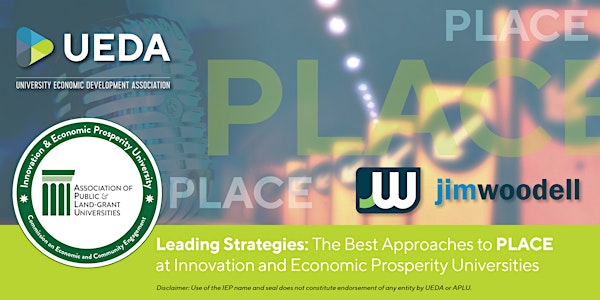 Leading Strategies: The Best Approaches to Place at Innovation and Economi...
Description
About this Session
Part of a three-part webinar series, Leading Strategies for PLACE will explore social, cultural, and community engagement strategies at Innovation and Economic Prosperity Universities. More information about guests is coming soon.
The webinar will be presented in a format similar to a call-in radio talk show. The host is Jim Woodell, who created the Innovation and Economic Prosperity Universities program in partnership with members of the Association of Public and Land-grant Universities (APLU). Jim will set up the session by noting some of the significant accomplishments of IEP universities in social, cultural, and community engagement. He and the guests will lay out some of the significant challenges that institutions face. Attendees will use interactive tools to chime in with questions, comments, and ideas.

In this highly interactive webinar, attendees will join the conversation and engage with the guests. Key strategies employed by guests' institutions will be shared, and attendees will learn how these strategies became central to those institutions' Innovation and Economic Prosperity Universities designation and awards.
__________________________________________________________________________________________
Learning Objectives
By participating in this webinar, participants will: get a sense of the kinds of social, cultural, and community engagement strategies that IEP Universities have employed that have helped them earn their designation and in some cases win awards; learn some ideas for strategies, approaches, and initiatives that can be adopted at their own institution; understand the benefits of applying for IEP Universities designation.

__________________________________________________________________________________________
Who Should Attend
Economic engagement leaders and their bosses
Senior research officers
Provosts
Other cabinet-level leadership.
__________________________________________________________________________________________
About the Presenters
Jim Woodell
jim@jimwoodell.com
A recognized thought and action leader, Dr. James K. (Jim) Woodell helps to realize the economic and societal impact of higher education. He provides professional services to institutions of higher education, and to their current and prospective partners in the private, civic, and government sectors. Dr. Woodell most recently served as vice president for economic development and community engagement at the Association of Public and Land-grant Universities (APLU). Woodell has over 30 years' experience working in educational contexts, and earned a PhD in higher education from Penn State University, a master's degree in education from Harvard University, and a bachelor's degree in communications from Syracuse University.
Leslie Boney
Director
Institute for Emerging Issues
North Carolina State University
Leslie Boney serves NC State University as Vice Provost for Outreach and Engagement and as Director of the Institute for Emerging Issues. As Vice Provost, he leads the university's efforts to connect the energy and expertise of faculty, students and staff with communities outside the university. As head of the Institute for Emerging Issues, he manages the Institute's efforts to identify key issues of importance to North Carolina and develop consensus for action to address them. Prior to joining the university, Leslie was Vice President for International, Community and Economic Engagement at the UNC system office, coordinating efforts to organize and extend the activities of the 17-campus system throughout the state and around the world.
While serving in the NC Department of Commerce and Governor's Office, Leslie coordinated the state's efforts to redesign rural development policy, increase volunteerism, and reform welfare. At the nonprofit MDC, he managed a two-state effort to help rural communities recover from manufacturing job loss. A former teacher and reporter, Leslie serves on the boards of the Food Bank of Central and Eastern North Carolina and the Rural Economic Development Center. He received a B.A. from Amherst College.

Rena Cotsones, Ph.D.
Associate Vice President, Outreach, Engagement and Regional Development
Northern Illinois University
Bringing people together for a common good has been a lifelong passion for Dr. Rena Cotsones.
As Associate Vice President of Outreach, Engagement and Regional Development for Northern Illinois University, Dr. Cotsones works with regional partners to create and implement collaborative approaches to advancing education, economic development, workforce development, and innovation initiatives in northern Illinois and Chicagoland.
Most recently, Dr. Cotsones provided leadership for the creation of NIU Engineering @ RVC, a community-based, industry-integrated engineering baccalaureate completion program in partnership with the community college and industry partners in Rockford, Illinois. This collaborative workforce solution has inspired the development of other innovative approaches to education and workforce development in the region and won the 2017 Award of Excellence for Talent Development from the University Economic Development Association (UEDA).
Dr. Cotsones chaired the national Council on Engagement and Outreach (CEO) of the Association of Public and Landgrant Universities (APLU) in 2017. She helped lead the team that won APLU's Innovation and Economic Prosperity designation for NIU in 2013. She is a board member of the University Economic Development Association. She is also a Faculty Fellow and member of the national core team for Strategic Doing, a program of Purdue University's Agile Strategy Lab. In northern Illinois, she serves on the boards of numerous Chambers, economic development and education organizations.
Dr. Cotsones started her career as a broadcast journalist after graduating from Illinois State University with a Bachelor of Science in Mass Communications. She holds a Master's degree in Public Administration and Ph.D. in Political Science from Northern Illinois University.
Sean McMillan
Director of Economic Development
Public Service and Outreach
University of Georgia

Sean McMillan joined the University of Georgia (UGA) as Director, Office of Economic Development in July 2013. Sean's office serves as a connection point between Georgia's Economic Development community and UGA in the effort to attract new businesses to Georgia, retain existing ones and support Georgia communities through UGA's Public Service and Outreach units. UGA Public Service and Outreach helps Georgia prosper by partnering with communities, governments, businesses and more to help create jobs, enhance business opportunities, and prepare leaders with vision, information and skills for economic development.
Prior to joining UGA, Sean served as Georgia Quick Start's Western Operations Director, a division of the Technical College System of Georgia, to provide leadership for Quick Start's project team serving new and expanding industries in a 57-county region including 10 Technical Colleges in Western and Southern Georgia. His duties at Quick Start included initiating client relationships, developing training plans, delivering customized training to companies and managing training centers in Columbus, LaGrange and the Kia Training Center in West Point. Prior to joining Quick Start, he held multiple roles with the Georgia Department of Economic Development including Director, New Business Recruitment, where he led a team of 18 individuals responsible for identifying new business opportunities for Georgia's strategic industries. Sean also served as Director, Existing Industry, and led a team of nine regional representatives responsible for community development and business development efforts targeting existing Georgia manufacturing and logistics operations.
Sean earned his MBA from Georgia State University and BS/BA in Finance from Auburn University. He is a past committee chair and board member of the Georgia Economic Development Association, presently serving as Secretary/Treasurer. He has is a board member and committee chair for the University Economic Development Association, is an advisor to the Board of the Georgia Department of Economic Development and member of the Fayette County, Georgia, Development Authority Board. Sean is a nine-time Ironman triathlon finisher and resides in Fayette County, Georgia with his wife, Patti, and two rescue dogs.