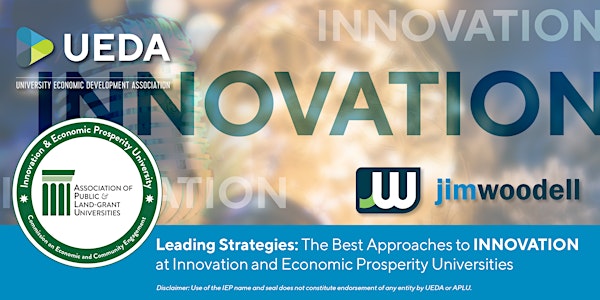 Leading Strategies: The Best Approaches to Innovation at Innovation and Ec...
Description
About this Session
Part of a three-part webinar series, Leading Strategies for INNOVATION will explore innovation and entrepreneurship strategies at Innovation and Economic Prosperity Universities. More information about guests is coming soon.
The webinar will be presented in a format similar to a call-in radio talk show. The host is Jim Woodell, who created the Innovation and Economic Prosperity Universities program in partnership with members of the Association of Public and Land-grant Universities (APLU). Jim will set up the session by noting some of the significant accomplishments of IEP universities in innovation and entrepreneurship. He and the guests will lay out some of the significant challenges that institutions face. Attendees will use interactive tools to chime in with questions, comments, and ideas.

In this highly interactive webinar, attendees will join the conversation and engage with the guests. Key strategies employed by guests' institutions will be shared, and attendees will learn how these strategies became central to those institutions' Innovation and Economic Prosperity Universities designation and awards.
__________________________________________________________________________________________
Learning Objectives
By participating in this webinar, participants will: get a sense of the kinds of innovation and entrepreneurship strategies that IEP Universities have employed that have helped them earn their designation and in some cases win awards; learn some ideas for strategies, approaches, and initiatives that can be adopted at their own institution; understand the benefits of applying for IEP Universities designation.

__________________________________________________________________________________________
Who Should Attend
Economic engagement leaders and their bosses
Senior research officers
Provosts
Other cabinet-level leadership.
__________________________________________________________________________________________
About the Presenters
Jim Woodell
jim@jimwoodell.com
A recognized thought and action leader, Dr. James K. (Jim) Woodell helps to realize the economic and societal impact of higher education. He provides professional services to institutions of higher education, and to their current and prospective partners in the private, civic, and government sectors. Dr. Woodell most recently served as vice president for economic development and community engagement at the Association of Public and Land-grant Universities (APLU). Woodell has over 30 years' experience working in educational contexts, and earned a PhD in higher education from Penn State University, a master's degree in education from Harvard University, and a bachelor's degree in communications from Syracuse University.
Dr. J. Douglas Barrett
Director, Institute for Innovation and Economic Development
University of North Alabama
Dr. Barrett is the Director of the Institute for Innovation and Economic Development at the University of North Alabama. He has served as a UNA faculty member since 1997, taught as Professor of Quantitative Methods since 2004, and has served as Chair of the Department of Economics and Finance since 2008. In 2017, he was named the Lagrange Eminent Scholar in Quantitative Methods Dr. Barrett received a Ph.D. in Statistics with a minor in Management Science from the University of Alabama in 1995. He is certified in Strategic Doing through Purdue University, and has a certificate in Foresight from the University of Houston. Dr. Barrett has completed several economic impact studies for clients such as the City of Florence, Huntsville Housing Authority, RegionalCare Hospital Partners, and the University of North Alabama. Dr. Barrett is a founding member, first President, and a board member of the Society of Business, Industry, and Economics. His publications have appeared in numerous academic journals, including Technometrics, IIE Transactions, Journal of the American Statistical Association, Human Relations, Journal of Business Ethics, Communications in Statistics: Stochastic Models, Journal of Sports Economics, and Public Finance Review.
Heather Hage
Vice President, Industry and External Affairs
The Research Foundation for the State University of New York

Heather Hage is Vice President for Industry and External Affairs for The Research Foundation for the State University of New York. Devoted to stakeholder engagement and community building through authentic and articulate communication, Heather oversees SUNY RF's external relations, corporate communications, government affairs, technology transfer, and industry-facing business systems, and is Managing Director of SUNY's Technology Accelerator Fund. A graduate of Hamilton College and Albany Law School, where she was Managing Editor of the Journal of Science and Technology, Heather's professional background includes media relations, telecommunications, IP management and corporate finance. An active investor and board member, Heather is the recipient of SUNY RF's 2015 Woman of Excellence award for outstanding service, exemplary support of women in leadership, and a distinguished career.
Julia Potter
Director, Strategic Partnerships & Special Initiatives, Office of the President
California State University, Northridge
Julia Potter is the Director for Strategic Partnerships and Special Initiatives in the Office of the President at California State University, Northridge (CSUN). Her responsibilities include a wide-range of external affairs activities including establishing university-wide partnerships with businesses and industries for contracted applied research and customized workforce development programs, developing relationships for grants and sponsored programs, and fostering regional economic and community development initiatives. She also serves as the point-of-contact for CSUN's Elevate Campaign, a business development strategy conceived by campus leadership when state funding was significantly reduced. A priority in her work is serving as the community liaison for LACI@CSUN, the on-campus business incubator, formed by the University's partnership with the Los Angeles Cleantech Incubator (LACI). She also serves as the campus Guide for the CSU5, an alliance of the five California State Universities in Los Angeles County. Together, the CSU5 campuses are working to develop new areas of collective expertise that relate to the priorities shaping the future of Greater Los Angeles.
Julia has worked for CSUN for over ten years in various roles. Prior to her current role, she served the University as Director of External Relations for the Tseng College of Extended Learning, the entrepreneurial self-support college at CSUN. She was also the Tseng College's accreditation lead and served on the University's re-accreditation committee, a three-year appointment.
Before launching her career at CSUN, Julia worked in the private sector doing business development and stockholder relations for a privately held company as well as in the non-profit sector as a fundraiser.