Description


Leading SAFe® w/ SAFe Agilist (SA) Certification
Description
This two-day course teaches the Lean-Agile principles and practices of the Scaled Agile Framework ® (SAFe ® ). You'll learn how to execute and release value through Agile Release Trains, how to build an Agile Portfolio, and how to lead a Lean-Agile transformation at enterprise scale. You will gain an understanding of the Lean-Agile mindset and how to apply the principles and practices of SAFe to support Agile teams, programs, program portfolio management, and to coordinate large Value Streams. Attending the class prepares you to take the exam and become a certified SAFe ® Agilist (SA).
Get the resources you need to Lead SAFe® in your enterprise and become a certified SAFe Agilist (SA)
Audience
The following individuals will benefit from this course:
Executives and Leaders, Managers, Directors, CIOs, and VPs
Development, QA and Infrastructure Management
Program and Project Managers
Product and Product Line Management
Portfolio Managers, PMO, and Process Leads
Enterprise, System and Solution Architects
SAFe® Certification Kit
Attendees who pass the exam will receive:
A SAFe Agilist certificate
One year certified membership as a SAFe Agilist
SAFe Agilist branding kit with the SA certification mark
Learning Objectives
After this course, you will understand how to:
Apply SAFe to scale Lean and Agile development in your enterprise
Support the execution of Agile Release Trains
Coordinate large Value Streams
Manage a Lean-Agile Portfolio
Align the organization to a common process model
Configure the Framework for your context
Unlock the intrinsic motivation of knowledge workers
Support a Lean-Agile transformation in your enterprise
Pre-requisites
All are welcome to attend the course, regardless of experience. However, the following prerequisites are highly recommended for those who intend to take the SA certification exam.
5+ years experience in software development, testing, business analysis, product or project management
Experience in Scrum
Professional Development Units (PDUs)
Attendees may be eligible to apply for 16 PDUs toward continuing education requirements with the Project Management Institute (PMI) for PMP or PMI-ACP certifications
Scrum Education Units (SEUs)
Attendees may be eligible to apply SEUs under category C, toward earning or renewing their CSP through Scrum Alliance
Andy has over 10 years of experience serving as a dynamic cross-functional leader with broad background in strategic planning, executive coaching, software product management, enterprise portfolio management, business process reengineering, and solutions architecture. Andy has 5 years of management consulting experience. He has trained and led Agile transformation engagements ranging from enterprise to technology startups. Andy is well- versed in both Agile (Scrum and Kanban) and Lean startup best practices, and he is best known to apply a variety of methodologies and frameworks in transforming organization culture and mentoring teams.
Instructor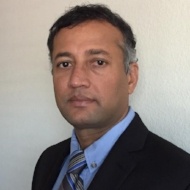 ANDY SIO SATYA METTA
SPC 4, SASM, CSM, ITIL V3, LEAN
I.T Professional over 25 years of experience in program planning, execution and implementing a wide range of enterprise business applications. I am currently working as a SAFe Trainer & Consultant with VisionTemenos + Agility and have been teaching SAFe Agilist and SPC4 classes. Successfully launched, executed and completed large scale programs in Financial, Insurance and Utility industries. A proactive servant leader, Lean-Agile thinker, DevOps & ITSM practitioner, team builder and ability to hire, train and motivate cross-functional teams.