Description
Leading SAFe® w/ SAFe Agilist (SA) Certification
Description
Develop a skillset that's in demand worldwide—and empower your enterprise to succeed in a disruptive marketplace—when you become a SAFe® 4 Agilist (SA). During this two-day course, you'll learn the principles and practices of the Scaled Agile Framework® (SAFe®), how to execute and release value through Agile Release Trains, and what it means to lead a Lean-Agile transformation at enterprise scale.
You will gain an understanding of the Lean-Agile mindset and why it's so effective in today's adapt-or-die marketplace. You'll also get practical advice on supporting Agile teams and programs, empowering a Lean Portfolio, building a continuous delivery pipeline and DevOps culture, and coordinating large solutions.
Get the resources you need to Lead SAFe® in your enterprise and become a certified SAFe Agilist (SA)
Audience
The following individuals will benefit from this course:
Executives and Leaders, Managers, Directors, CIOs, and VPs
Development, QA, and Infrastructure Management
Program and Project Managers
Product and Product Line Management
Portfolio Managers, PMO, and Process Leads
Enterprise, System, and Solution Architects
What You Get
The class registration includes:
Attendee workbook
Preparation and eligibility to take the SAFe® 4 Agilist exam
One year membership to the SAFe Community Platform
Course certificate of completion
Topics Covered
Introducing the Scaled Agile Framework (SAFe)
Embracing a Lean-Agile Mindset
Understanding SAFe Principles
Experiencing Program Increment (PI) Planning
Exploring, Executing, and Releasing Value
Leading the Lean-Agile Enterprise
Empowering a Lean Portfolio
Building Large Solutions
Learning Objectives
To perform the role of a SAFe® Agilist, you should be able to:
Apply SAFe to scale Lean and Agile development in your enterprise
Recognize and apply a Lean-Agile Mindset and principles
Continuously explore, integrate, deploy, and release value
Empower with a Lean Portfolio
Coordinate the development of large solutions
Enhance your Lean-Agile leadership skills
Support a Lean-Agile transformation in your enterprise
Pre-requisites
All are welcome to attend the course, regardless of experience. However, the following prerequisites are highly recommended for those who intend to take the SAFe® 4 Agilist (SA) certification exam:
5+ years' experience in software development, testing, business analysis, product, or project management
Experience in Scrum
Professional Development Units (PDUs)
Attendees may be eligible to apply for 15 PDUs toward their continuing education requirements with the Project Management Institute (PMI) for PMP, PgMP, and PMI-ACP certifications
Scrum Education Units (SEUs)
Attendees may be eligible to apply for SEUs under category C, toward earning or renewing their CSP through Scrum Alliance
Instructor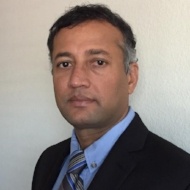 SATYA METTA
SPC 4, SASM, CSM, ITIL V3, LEAN
I.T Professional over 25 years of experience in program planning, execution and implementing a wide range of enterprise business applications. I am currently working as a SAFe Trainer & Consultant with VisionTemenos + Agility and have been teaching SAFe Agilist and SPC4 classes. Successfully launched, executed and completed large scale programs in Financial, Insurance and Utility industries. A proactive servant leader, Lean-Agile thinker, DevOps & ITSM practitioner, team builder and ability to hire, train and motivate cross-functional teams.