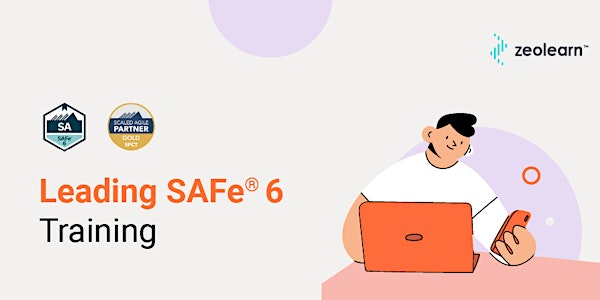 Leading SAFe® Online Training in Juneau, AK
EXPERIENTIAL LEARNING TO BECOME AN IN-DEMAND SAFE AGILIST
Date and time
June 10 · 9am - June 11 · 5pm AKDT
Location
Business Hotel Business Hotel Juneau, AK, AK 99501
Refund Policy
Contact the organizer to request a refund.
Eventbrite's fee is nonrefundable.
About this event
About this event
Most of the leading companies have embraced the Agile methodology as the benefits have become clear. The Scaled Agile Framework® (SAFe) provides a way for large and complex organization to adopt the Agile methodology in a smooth manner. Get the Lean-Agile mindset and bring an Agile transformation to your organization. A SAFe® Agilist is high in demand and is at the center of the Agile transformation at an enterprise. ZeoLearn LLCis a Silver training partner of Scaled Agile, Inc.
Mode of Delivery
Live Online Instructor-Led Training
Course Highlights
• 16 hours of Live Interactive Training
• 16 PDUs and SEUs
• Led by SAFe® Program Consultants
• SAFe® Agilist Membership for a Year
• Learn through Activities and Case Studies
• 100% Satisfaction Guaranteed
Learning Outcomes
• Understand the principles and practices of Scaled Agile Framework
• Plan and implement Agile across the enterprise in a coordinated manner
• Deliver more value by boosting collaboration and communication between teams
• Improve your credentials by adding a globally recognized SAFe® Agilist Certification
• Spearhead the Lean Agile transformation at your enterprise with the practical skills you learn.
Why Zeolearn
• Engaging Experiential Workshops
Make the best of our lively, interactive and engaging sessions with in-class activities and simulations.
• Experienced Accredited SPCs
Gain from discussions on current best practices in Agile and Scrum implementation across industries.
• Scaled Agile Certification Exam Support
Get comprehensive exam support and clear the exam the very first time.
• Mentoring by Experienced Trainers
Use your trainer as your mentor, build a relationship and get all out doubts clarified in insightful sessions.
• Join the Largest Agile Network
With the one year Scaled Agile membership, this course is your gateway to the largest Scaled Agile communities.
• Career Support Beyond Workshop
We don't just stop at the workshop. We'll support you with exclusive career support even six months post the training.
• Continual Learning Support
We're here to support you on your agile journey with monthly webinars, e-books, tutorials, articles and interview questions.
Who should attend the course
• Executives, Managers, Directors, VPs, and CIOs
• Development, QA, and Infrastructure Management personnel
• Program & Project Managers
• Product & Product Line Managers
• Portfolio Managers, PMO, and Process Leads
• Enterprise, System, and Solution Architects
Course prerequisites
No prerequisites required for this course but having a basic understanding of Agile and an experience of at least five years in software development, testing, business analysis, product or project management will be beneficial.
Curriculum
• Scaled Agile Framework (SAFe)
• Lean-Agile Leader
• Team and Technical Agility
• Program Increment (PI) Planning
• Releasing on Demand with DevOps
• Business Solutions and Lean Systems
• Lean Portfolio Management
• Leading Transformation
Enterprise and Group Discounts
Group Discounts are available and apply to groups as small as three participants. The more participants that attend a training course, the greater the discount. By registering in groups, you can typically save up 20% to 30% on the course fees.
Customized Curriculum
If we have a group of 5-10 people it helps us to provide a personalized learning experience that no one does, you can learn exactly what you want. We can modify our curriculum to provide you with customized topics catering to your professional aspirations. Learn from the best and stand apart from the rest. Reach us at enquiry@zeolearn.com
Cancellation Policy
Students submitting cancellation requests 48 hours or more prior to the start of the course are entitled to a 50% refund. These students can also reschedule to another batch by paying rescheduling charges of $100. No refund will be made for cancellations within 48 hours of the start of the course; rescheduling to a future batch is permitted, subject to availability, at a charge of $100.
Ready to skill up?
enquiry@zeolearn.com
+1 469-498-0285
About the organizer
Our virtual classrooms offer training on a variety of accredited courses that are highly endorsed by global giants in the field of IT, Sales, Operations, Marketing, Management, and Consulting. The training sessions will equip you not just to gain some of the highly intensive credentials but will also ensure that you are ready to apply the concepts at the job front. Each session combines practical exercises, theoretical learning, hands-on exercises, group discussions, simulations and intensive Q & A sessions.
For more details click