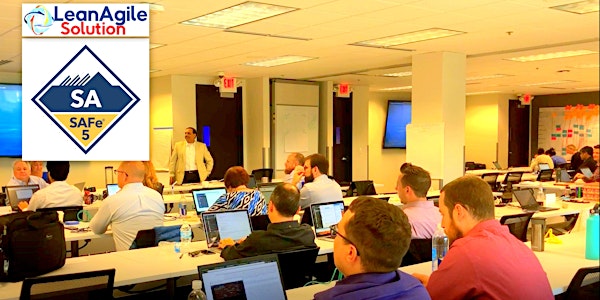 Leading SAFe Certification, Agilist, PACIFIC TIME, VIRTUAL,Confirmed to Run
Leading SAFe® Certification, LIVE Virtual. Digital Collaborative Tools used to simulate in-person class activities. HIGH PASS RATE in exam.
Refund Policy
Contact the organizer to request a refund.
Eventbrite's fee is nonrefundable.
About this event
OUR COMMITMENT TO YOU:
WE GUARANTEE YOU WILL PASS THE CERTIFICATION EXAM OR YOUR MONEY BACK !!
PERSONALIZED EXPERIENCE: We will provide you with cell numbers of our trainers after the class so that you can review with them any class related topics if needed.
CLASS IS CONFIRMED TO RUN !!
ADDED BONUS: Hands-on training in Digital Collaborative tools and cutting edge techniques used for remote/distributed planning.
SIGN UP WITH CONFIDENCE: All attendees registered for this Instructor-led Virtual class will have an option to attend the same course in person within the next 2 years for FREE!
For more information (Group rates/Promotional offers/Different class date) email Info@LeanAgileSolution.com or call 203 768 2699. We will answer your query as best as we can.
WHO ARE WE?
We are not a run-of-the-mill training or consulting company. We are in-the-trenches type of individuals who have gotten their hands dirty in both large organizations and successful startups.
We have consistently received rave reviews from our trainees, not just from blue chip corporations, but also from United States Army (CECOM), and top universities like MIT.
We are not purists, we don't do textbook style coaching and training. We believe in result-driven pragmatic approaches based on our past track record. In our training classes, we focus more on real world examples for exercises that will help you in your day-to-day activities at work.
WHY US?
We use BOTH physical and digital collaborative tools to prepare attendees not only for in-person planning activities but also for remote/distributed planning events.
We keep the class interesting by including interactive workshops and games instead of just reading the slides.
We link theory to practice with real world examples as class exercise, at the same time keeping it fun, engaging and memorable.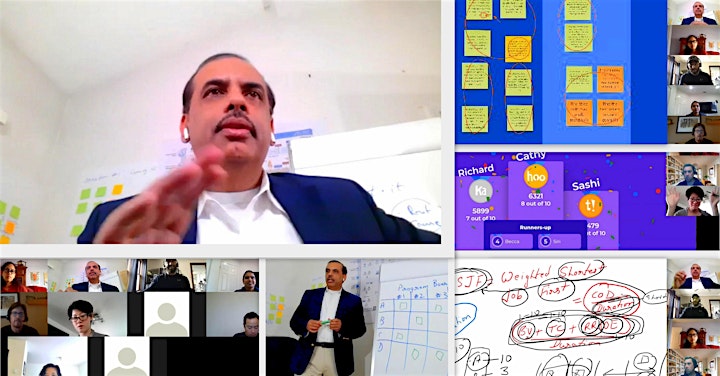 REGARDING COURSE:
Based on latest version 5.0 of SAFe
In this two-day course, attendees will gain the knowledge necessary to lead an enterprise Agile transformation by leveraging the Scaled Agile Framework® and its underlying principles of lean thinking and product development flow. This course will enable you to leave with an understanding of how the principles and practices of the Framework support Lean-Agile Programs, Scaling Agile, Lean-Agile Program Portfolio Management, and Scaling Leadership.
Attendees typically include executives, managers, consultants, Lean-Agile Leaders, and Agile change agents.
Learning Goals
To perform the role of a SAFe 5 Agilist, you should be able to:
Apply SAFe to scale Lean and Agile development in your enterprise. Recognize and apply a Lean-Agile Mindset and principles. Continuously explore, integrate, deploy, and release value. Empower with a Lean Portfolio. Coordinate the development of large solutions. Enhance your Lean-Agile leadership skills. Support a Lean-Agile transformation in your enterprise
Topics Covered
Introducing the Scaled Agile Framework (SAFe)Embracing a Lean-Agile Mindset. Understanding SAFe Principles. Experiencing Program Increment (PI) Planning. Exploring, Executing, and Releasing Value. Leading the Lean-Agile Enterprise. Empowering a Lean Portfolio. Building Large Solutions
What You Get
The class registration includes:
Attendee workbook
Preparation and eligibility to take the SAFe 5 Agilist exam
One year membership to the SAFe Community Platform
Course certificate of completion
Attendees must attend both days of the course to be eligible for the exam.
Who Will Benefit
The following individuals will benefit from this course:
Executives and Leaders, Managers, Directors, CIOs, and VPs
Development, QA, and Infrastructure Management
Program and Project Managers
Product and Product Line Management
Portfolio Managers, PMO, and Process Leads
Enterprise, System, and Solution Architects
Prerequisites
All are welcome to attend the course, regardless of experience. However, the following prerequisites are recommended for those who intend to take the SAFe 5 Agilist (SA) certification exam:
5+ years' experience in software development, testing, business analysis, product, or project management
Experience in Scrum
Annual Renewal
Membership renewals are one year from the date certification is earned
Renewal fee: $100
For more information, contact info@LeanAgileSolution.com
Cancellation Policy:
If you need to cancel your registration greater than 14 days from the start of the course, your refund request will be assessed a $150 processing charge. For cancellations between 8 and 14 days from the start of the course, your only option is to change to any another LeanAgileSolution course of equal or lesser value. For cancellations 7 days or less from the start of the course, no refunds will be issued, and no changes are allowed.
Most Frequently Asked Question - How is it that some companies are offering this training at a lower price?
Our Response is below: