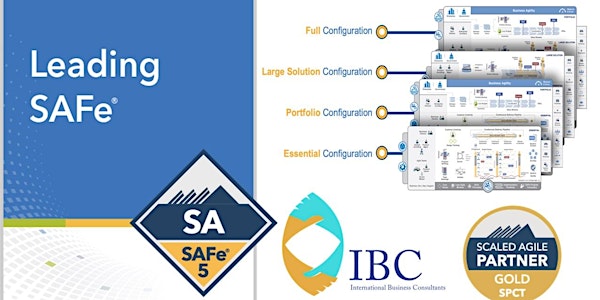 Leading SAFe 5.1 with SA Certification - Remote class
Leading SAFe 5.1 with SA Certification Develop a skillset that's in demand
About this event
During this two-day course, attendees gain the knowledge necessary to lead a Lean-Agile enterprise by leveraging the Scaled Agile Framework® (SAFe®) and its underlying principles derived from Lean, systems thinking, Agile development, product development flow, and DevOps.
Participants in the class gain insights into mastering Business Agility in order to thrive in the competitive market. They discuss how to establish team and technical agility and organize and re-organize around the flow of value. They also learn and practice the skills for supporting and executing PI Planning events and coordinating multiple Agile Release Trains (ARTs). Participants in the class explore the importance of adopting a customer-centric mindset and design thinking approach to agile product delivery. Learners also develop an understanding for implementing a Lean Portfolio Management function in their enterprise.
Attending the class prepares individuals to take the exam and become a certified SAFe® Agilist (SA)
Why IBC?
We are known for our hands-on training with tools, techniques, and real-time artifacts. We provide post-training support catered to the individual needs of the participants. Please connect with our lead trainer Wiselin Mathuram (LinkedIn) for any questions. Thanks
Class details:
We will send the Zoom Meeting invite to every participant 2 days before the class.
On Request, We can provide Invoices for company reimbursements.
Once the class is over you can take the exam online and you will also have access to full-length practice tests in the portal.
For more information, Cancellation, and Refund
Email us at: support@ibconsultants.net
Call/WhatsApp: 408-601-0422 (USA)
IBC website: https://ibconsultants.net