Description
Travel & Scholarship Promotional Pricing Available! - call or email for details!
Apply Lean-Agile mindset with Leading SAFe training and SAFe 4 Agilist (SA) Certification.

Training will be based on SAFe v4.6
Emphasis on real life examples

Templates and Toolkits

Lean-Agile best practices

Metrics driven transformation
This course will prepare you to achieve SAFe Agilist (SA) certification, master skillsets that are in demand worldwide, and empower your enterprise to succeed in today's disruptive marketplace.
Summary
During this two-day course, you'll learn the principles and practices of the Scaled Agile Framework® (SAFe), how to execute and release value through Agile Release Trains, and what it means to lead a Lean-Agile transformation at enterprise scale. You will gain an understanding of the Lean-Agile mindset and why it's so effective in today's adapt-or-die marketplace. You'll also get practical advice on supporting Agile teams and programs, empowering a Lean Portfolio, building a continuous delivery pipeline and DevOps culture, and coordinating large solutions. Develop a skillset that's in demand worldwide—and empower your enterprise to succeed in a disruptive marketplace—when you become a SAFe 4 Agilist (SA).
Attending the class prepares you to take the exam and become a certified SAFe 4 Agilist (SA)
Learning Goals
To perform the role of a SAFe 4 Agilist, you should be able to:
Apply SAFe to scale Lean and Agile development in your enterprise

Recognize and apply a Lean-Agile Mindset and principles

Continuously explore, integrate, deploy, and release value

Empower with a Lean Portfolio

Coordinate the development of large solutions

Enhance your Lean-Agile leadership skills

Support a Lean-Agile transformation in your enterprise
Topics Covered
Introducing the Scaled Agile Framework (SAFe)

Embracing a Lean-Agile Mindset

Understanding SAFe Principles

Experiencing Program Increment (PI) Planning

Exploring, Executing, and Releasing Value

Leading the Lean-Agile Enterprise

Empowering a Lean Portfolio

Building Large Solutions
What You Get
The class registration includes:
Attendee workbook

Preparation and eligibility to take the SAFe 4 Agilist exam

One year membership to the SAFe Community Platform

Eligibility to apply for 15 PDUs to help maintain certifications such as PMP, PgMP

Eligibility to apply for 15 Scrum Alliance SEUs (Category C) upon completion of the course
Attendees must attend both days of the course to be eligible for the exam.
Who Will Benefit
The following individuals will benefit from this course:
Executives and Leaders, Managers, Directors, CIOs, and VPs

Development, QA, and Infrastructure Management

Program and Project Managers

Product and Product Line Management

Portfolio Managers, PMO, and Process Leads

Enterprise, System, and Solution Architects
Prerequisites
All are welcome to attend the course, regardless of experience. However, the following prerequisites are highly recommended for those who intend to take the SAFe 4 Agilist (SA) certification exam:
5+ years' experience in software development, testing, business analysis, product, or project management

Experience in Scrum
FAQs
What's the refund policy?
When a workshop is cancelled:
We take cancellations seriously because we realize it takes planning for you to find the time to enroll in workshops. Although we do all we can to avoid cancelling workshops, occasionally it happens. If we cancel the class, we provide you with a special code for a discount on your next registration with us. And we will help you find the next suitable date that meets your needs. See the refund policy below.
1. If we cancel a workshop, we will either refund your money 100% or help you find another date to transfer your reservation along with a code for a future workshop discount, to show our appreciation for your continued support.
2. If you cancel your reservation prior to 10 days before the first class meeting, we will apply 100% of your payment toward the next workshop you are available to enroll in. If you cancel days 1-9 prior to the first class, we will help you find another workshop, but we will retain $150 dollars of your prepaid registration, You must cancel in writing by emailing us at info@dailyagile.com. We will not provide any refund if you do not contact us in writing/email or you fail to contact us at all.
If more than 1 of us from our company registers at the same time, do we get a discount?
YES!
2 people: $50 discount each
3-6 people $100 discount each
We also provide a significant discount if we conduct training for 7 or more at your workplace. For information, call 647-778-8394
Does our registration fee include lunch and breakfast?
YES!
Is there an additional cost for training materials?
NO. The cost of materials is included with the registration fee.
For more information, contact us at: info@dailyagile.com or visit us at: www.DailyAgile.com
Instructor: Manish Thakkar (SPC, CSM, PMI-ACP, PMP, MS-IT)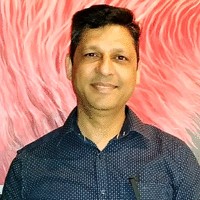 Manish Thakkar, a SAFe (Scaled Agile Framework) Program Consultant with 20 plus years of experience in global IT application development and leadership, offers SAFe certification training and coaching in Agile practices for superior product development, in both IT and Non-IT organizations. Manish's training delivery consistently meets the goal of providing world class training and guidance to help organizations achieve higher levels of software quality, and team productivity, while increasing your customer satisfaction.
Manish has an extensive experience in Information Technology projects and he has progressively advanced into leading large, complex and strategic initiatives. Manish brings in a wealth of global experience from wide variety of industries including Financial, Insurance, Consulting, Healthcare, Pharmaceutical, Retail, Sales and Marketing.
Manish also holds CSM (Certified Scrum Master), PMI-ACP (Agile Certified Practitioner), and PMP (Project Management Professional) and a degree in Masters of Computing (Information Technology) from Australia.