Description
Course Overview
Applying a Lean-Agile mindset with SAFe

With SAFe 4 Agilist Certification

Based on version 4.5 of SAFe
Develop a skillset that's in demand worldwide—and empower your enterprise to succeed in a disruptive marketplace—when you become a SAFe 4 Agilist (SA). During this two-day course, you'll learn the principles and practices of the Scaled Agile Framework® (SAFe), how to execute and release value through Agile Release Trains, and what it means to lead a Lean-Agile transformation at enterprise scale.
You will gain an understanding of the Lean-Agile mindset and why it's so effective in today's adapt-or-die marketplace. You'll also get practical advice on supporting Agile teams and programs, empowering a Lean Portfolio, building a continuous delivery pipeline and DevOps culture, and coordinating large solutions.



Audience
The following individuals will benefit from this course:
Executives and Leaders, Managers, Directors, CIOs, and VPs

Development, QA, and Infrastructure Management

Program and Project Managers

Product and Product Line Management

Portfolio Managers, PMO, and Process Leads

Enterprise, System, and Solution Architects
Learning Goals
To perform the role of a SAFe® Agilist, you should be able to:
Apply SAFe to scale Lean and Agile development in your enterprise

Recognise and apply a Lean-Agile Mindset and principles

Continuously explore, integrate, deploy, and release value

Empower with a Lean Portfolio

Coordinate the development of large solutions

Enhance your Lean-Agile leadership skills

Support a Lean-Agile transformation in your enterprise


Topics Covered
Introducing the Scaled Agile Framework (SAFe)

Embracing a Lean-Agile Mindset

Understanding SAFe Principles

Experiencing Program Increment (PI) Planning

Exploring, Executing, and Releasing Value

Leading the Lean-Agile Enterprise

Empowering a Lean Portfolio

Building Large Solutions



Pre-requisites
All are welcome to attend the course, regardless of experience. However, the following prerequisites are highly recommended for those who intend to take the SAFe® 4 Agilist (SA) certification exam:
5+ years' experience in software development, testing, business analysis, product, or project management

Experience in Scrum
What You Get
The class registration includes:
An engaging, highly interactive, hands-on course

Attendee workbook

Preparation and eligibility to take the SAFe® 4.5 Agilist exam

One year membership to the SAFe Community Platform

Course certificate of completion

Catered breakfast, lunch and snacks
Attendees must attend both days of the course in order to be eligible for the exam.
Annual Renewal
Membership renewals are one year from the date of certification is earned
Continuing Education Credits
Attendees may be eligible to apply for Scrum Education Units (SEUs) towards their CSP (Certified Scrum Professional) with the Scrum Alliance.

Attendees may be eligible to apply for PMI Professional Development Units (PDUs) towards their continuing education requirements with PMI

Your Trainers for this Course
Laura M. Powers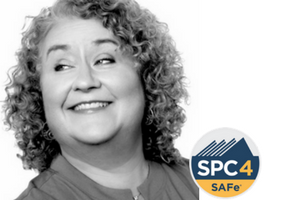 Laura is committed to growing work environments where teams love what they do and produce extraordinary results. She is an Agile trainer, coach and speaker known for her people-first approach incorporating games, play and humor as a catalyst for business change that sticks. Over her 25+ year career, Laura has worn product development, marketing and sales hats at Hewlett Packard, Sales.com, and eBay, as well as several ill-fated start-ups you've never heard of. Laura holds a BS and MS in Mechanical Engineering from Virginia Tech and is a SAFe SPC4, CSP, CSM, CSPO, Certified Trainer of Training from the Back of the Room, and a Certified Master Practitioner and Trainer of NLP. Laura is based in Silicon Valley, California.
Jenny Tarwater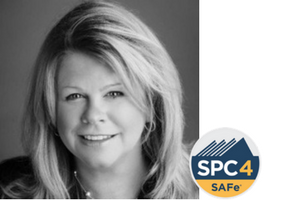 Jenny is a 21 year veteran of Technical Project Management with an approach of cultivating success and growth in people, process and products. Jenny's perspective drives cultivating the "small company start up culture" within large companies. She has led the adoption and scaling of Agile at organizations of all sizes - from government projects, new record labels, several iconic Sprint device launches and pop culture internet sites to the launch of the award-winning Chrysler Connected Vehicle platform UConnect. Jenny holds a BS in Business from the University of Missouri-Columbia and is a SAFe SPC4, PMI-ACP, PMP, CSP, CSM, CSPO, PSM, ICP-ATF, ICP-ACC, and Certified Trainer of Training from the Back of the Room. Jenny is based in Kansas City, Missouri.


About Radtac Ltd.

Business today is a global endeavor, and scaling Agile requires a cohesive global approach. Radtac helps transform organizations by releasing the potential of your people through training, coaching and consulting, delivery, visualization, and bringing in the best people to deliver measurable results at all levels. We help you deliver value rapidly, frequently and consistently. Our success stories reach back to 1998, spanning Europe, Asia and the Americas - covering a wide range of renowned organizations in the public and private sector.
Radtac is honored to be a gold partner of Scaled Agile and we collaborate closely with the SA team to bring the latest scaling developments to our clients. The journey of Agile transformation often begins with training, and we offer the full portfolio of Scaled Agile courses in both public and private arrangements. Working with us for all your training needs has the following benefits:
High pass rates achieved since 1998 thanks to our highly qualified and experienced Radtac Certified Trainers who don't just read the slides to you. They know how to teach it.

Quality training accredited by Scaled Agile, Scrum Alliance®, Scrum.org, IC-Agile, APMG-International, BCS – The Chartered Institute for IT, Inc®, and DSDM®.


Great networking opportunities – over 1300 companies have already benefitted from our training, so you'll meet others involved in transforming their organizations.


Value for money – our highly-experienced instructors are Radtac Certified Trainers ensuring you get a great learning experience.

Got Questions?

Not sure this is class or training company for you? We understand! There are a lot of choices out there. Training is a big investment in terms of time and money, and you need to feel confident that you'll see a return on that investment. Contact us and we'll have a straight conversation about your business objectives, and whether we're a fit for each other. If not - we'll help you find someone who is.

Traveling from out of town? Come get your SAFe on in the heart of Silicon Vallley. If you're flying - either the San Jose (SJC) or San Francisco (SFO) airports will work, although San Jose is just a bit closer. If you need recommendations for a hotel or networking ideas to tap into the start-up pulse of the area - just drop us a line.

Group Rates? If you have a few coworkers who will be joining you in this workshop - contact us for a group discount - after all - it takes a village (or whole organization) to realize the power of scaling Agile!


Cancellation Policy? In the Agile spirit of responding to change - if your plans change and you need to talk about rescheduling or canceling a course - contact us as soon as possible so we can work with you to make it happen. For changes within 7 days of the start of the workshop - please plan to send a coworker in your place (they need the information too!).


Food during the Course? We know that people learn best when they are comfortable and well-fed. A light breakfast, lunch, and snacks will be provided. A cup of caffeine will always be a few footsteps away. That said - if you have special dietary requirements - please contact us to discuss. Our facility does have a refrigerator and microwave in case you decide to bring your own food.

Still have questions? Drop us a line at: Laura@Radtac.com or give us a call at 650.255.6949.




SAFe® is a registered trademark of Scaled Agile, Inc.