Description
*$100 off Early Bird pricing! Use code PSAC at checkout through July 10.*
This two-day course teaches the Lean-Agile principles and practices of the Scaled Agile Framework® (SAFe®), taught by a SAFe Silver Partner and an instructor with real world experience as a Release Train Engineer, Devlopment Team Member, and Product Manager within multiple SAFe implementations at Intel Corporation.
You'll learn how to execute and release value through Agile Release Trains, how to build an Agile Portfolio, and how to lead a Lean-Agile transformation at enterprise scale. You will gain an understanding of the Lean-Agile mindset and how to apply the principles and practices of SAFe to support Agile teams, programs, program portfolio management, and to coordinate large Value Streams.
Attending the class prepares you to take the exam and become a certified SAFe® Agilist (SA).


Recommended For:
Executives and Leaders, Managers, Directors, CIOs, and VPs
Development, QA and Infrastructure Management
Program and Project Managers
Product and Product Line Management
Portfolio Managers, PMO, and Process Leads
Enterprise, System and Solution Architects


Learning Goals:
After this course, you should be able to:
Apply SAFe to scale Lean and Agile development in your enterprise
Support the execution of Agile Release Trains
Coordinate large Value Streams
Manage a Lean-Agile Portfolio
Align the organization to a common process model
Configure the Framework for your context
Unlock the intrinsic motivation of knowledge workers
Support a Lean-Agile transformation in your enterprise


Topics Covered:
Introducing the Scaled Agile Framework (SAFe)
Embracing a Lean-Agile Mindset
Understanding SAFe Principles
Implementing an Agile Release Train
Experiencing PI Planning
Executing and Releasing Value
Building an Agile Portfolio
Coordinating Large Value Streams
Leading the Lean-Agile Enterprise
Every Participant Will Receive:
Catered lunch
Printed and PDF training materials
The certification exam for SAFe Agilist (SA) to be taken at your convenience
Eligibility to apply for 15 PDUs to help maintain certifications such as PMP, PgMP

Eligibility to apply for 15 Scrum Alliance SEUs (Category C) upon completion of the course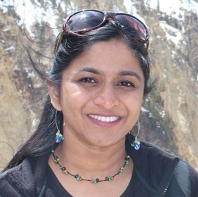 Sowmyalatha Srinivasmurthy is a Program Manager and Agile Coach at Intel. She has been in the software industry for over 12 years with more than 6 years in Agile teams. She has helped launch multiple SAFe Agile trains at Intel, trained Business Owners, Product Owners and Scrum Masters in Leading SAFe framework as well as worked in the SAFe system as a Release Train Engineer and Scrum Master. She will share her real world experiences with multiple Scaled Agile Framework implementations.
Cancelation policy: Full refunds will be issued for cancelations made more than 7 days from the start of the course. For cancellations less than 7 days prior to course start, registrants may contact us to change their registration to another offering.

Exact location in Anaheim will be dependent upon number of registrants. Students will be notified of exact location at least 2 weeks prior to training.
Notice: If you are booking travel please be sure to book refundable tickets. If 4 or more students do not register for the course, the course will be canceled and you will be notified of cancellation at least 2 weeks prior to class. Sprint Ahead will not be responsible for any canceled airline or hotel reservations.

For group rates, on-site intact training or any questions contact darcy.kruse@gosprintahead.com.
See our other SAFe certification and training offerings.