Leading Ladies of Legacy Inc. Teen Book Club Meeting

Monday, April 25, 2011 from 5:00 PM to 6:00 PM (EDT)
Event Details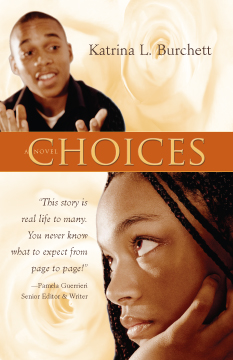 Join us for a discussion on our book of the month for April titled. As a teenage girl at some point you will have to make a choice whether or not to engange in sex or sexual behaviors. This book will take you into the mind of 5 teens faced with difficult but real decisions. Read the book and let's get ready to chat about these girls! When faced with diffiult decisions what choices will you make??
Monday April 25, 2011
5:00 pm to 6:00 pm
Vinings Library
4290 Paces Ferry Road Southeast
Atlanta, GA 30339-3782
Book Reviews
Meet Shauntice Johnston, Angel Nichols, LaKeeta Wilson, Bridgette Anderson and Hope Patterson--five teenage girls from the city of York, Pennsylvania. These girls know each other well. They are real. The issue with them is sex. Four of these girls are Christians, but all five handle the sex issue differently: Shauntice Johnston has a strong faith in God even in the midst of domestic abuse. Will she flee fornication when the pressure is heightened? Angel Nichols doesn't care about God and she is hurting because she feels neglected by her workaholic mother. Her father is nowhere in the picture. Will she continue engaging in regular sex in an attempt to fill that void within her? Would she become a Christian? LaKeeta Wilson, although a Christian, made the choice to get pregnant before marriage. Will her Christian testimony still stand firm? Hope Patterson lives a very protected life because of her strict mother. Things began to turn around in her life after her father dies. Would sex, which was not even in her vocabulary, become a part of her? Bridgette Anderson, because of her faith in God, refuses to compromise her beliefs and practice sex outside of marriage. Will she be able to hold out? This is real drama. Each page will pull you to the next! --The Black Christian Book Review

What is life like as a teen in today's world? Choices gives a candid glimpse of the battles kids face today within their peer groups, school, families, and relationships. As Burchett sheds light on several unique lives, each with their own insecurities and issues, readers are swept away by the inevitable, heart-to-heart connection with the characters. Each girl has a story to tell and a choice to make. Choices is as real as it gets, but as life's decisions weigh us down, Burchett offers a message of hope to take home with us. If you're looking for an inspirational yet life-changing look at reality as youth today face it, you've found what you're looking for. --Pamela Guerreri, Senior Editor & Writer
When & Where

Vinings Library
4290 Paces Ferry Road SE
Atlanta, GA 30339-3782


Monday, April 25, 2011 from 5:00 PM to 6:00 PM (EDT)
Add to my calendar
Organizer
Leading Ladies of Legacy, Inc.
Leading Ladies of Legacy produces young women who have strong academic backgrounds, understand and build resilience, fight and overcome poverty, exude self-worth and confidence, give back to the community and display leadership. Through membership meetings, programs, events, and community service we will identify and challenge young women to develop compassion, confidence, and a commitment to service and leadership within their communities.
Leading Ladies of Legacy Inc. Teen Book Club Meeting