"Leading into the NExT Century" NExT Philadelphia 2017 Leadership Conferenc...
Description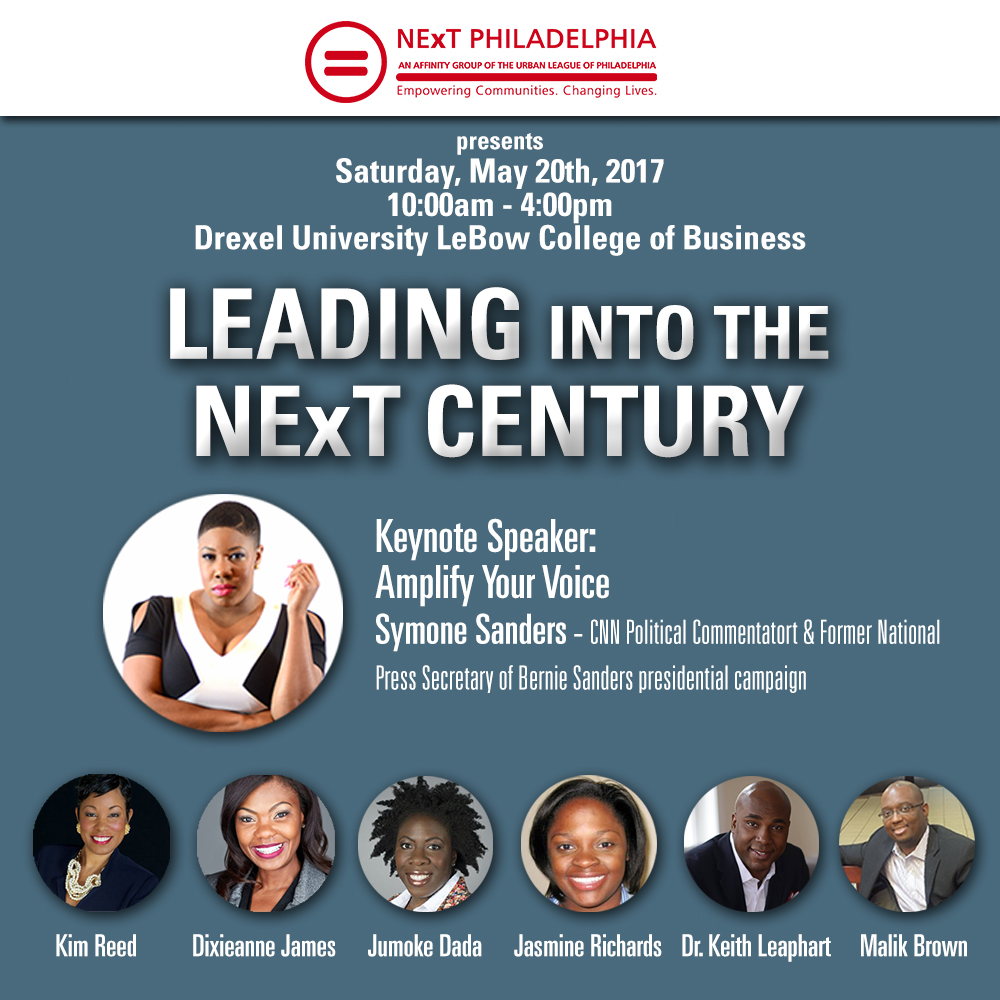 Conference Agenda
9:30am Registration
10:00am Welcome Address, Jasmin Senior, President of NExT Philadelphia
10:05am Host Welcome, Morris Davis, Drexel Lebow College of Business
10:15am Keynote Address: Amplify Your Voice Symone D. Sanders, CNN Political Commentator & Former National Press Secretary, Bernie Sanders Presidential Campaign
11:15am Netowrking Lunch: "Our Element of Power: All You Have is 30 Seconds" Kimberly S. Reed, CEO of Reed Development Group LLC

12:55pm Workshop Session 1
"What Got You Here Won't Get You There": Dr. Keith Leaphart, CEO & President of Replica Creative and Board Chairman of Lenfest Foundation
Leading in Diverse and Inclusive Culture: Malik Brown Assistant Vice President, Employer Relations Office of Institutional Advancement & Strategic Partnerships Peirce College
2:00pm Workshop Session 2
Industry Specific Leadership: Understanding Philadelphia's Future
1. Healthcare and Education - Dixieanne James, Vice President of Strategic Planning and Business Development, Albert Einstein Healthcare Network
2. Technology and Innovation – Jumoke Dada, Founder, Tech Women Network
3. Banking, Finance, and Business Development - Jasmine Richards, Lead International Equity Analyst, FIS Group
3:00pm Your Place in the Urban League Movement: Carla Baptiste, Manager Career Services, Urban League of Philadelphia
3:30pm Closing Remarks & Acknowledgements
We want to thank our sponsors
Drexel University Lebow College of Business, Campus Philly, HiTouch Enterprises, Visit Philadelphia, 6ix 8ight Marketing
Check back for updates!
Organizer of "Leading into the NExT Century" NExT Philadelphia 2017 Leadership Conference
NExT Philadelphia: Network of Extraordinary Talent
NExT Philadelphia is one of over 60 chapters of the National Urban League Young Professionals. As a young professionals (age 21 to 40) affinity group of the Urban League of Philadelphia, a direct service civil rights organization, we are volunteers committed to connecting young professionals to civic engagement, advocacy, and professional development opportunities in the Philadelphia region. The organization trains, develops, and educates young professionals to take leadership roles within the Urban League of Philadelphia, the civil rights movement, and society-at-large. Members of NExT Philadelphia are defining, developing, implementing, and leading the next generation civil rights agenda.
Urban League of Philadelphia
The Urban League of Philadelphia (ULP) has over 100 years of committed experience in advancing the social and economic achievement of African Americans and other underserved residents of Philadelphia. An affiliate of the National Urban League, the oldest and largest community-based movement in the country, ULP focuses on entrepreneurship, housing, career services, youth programs and leadership, health & wellness and advocacy. ULP serves more than 15,000 children and families each year. Learn more at urbanleaguephila.org