From Crisis to Opportunity: Building Resiliency to Drive IT Transformation, Modernization, and Success in 2022
About this event
Join us for our 4th Annual Leading for Impact, Women in Leadership Conference and Award Ceremony on Wednesday, October 27, 2021! This high-energy virtual conference will feature an engaging mix of keynotes, fireside chats, panel discussions and a virtual networking reception. Topics will center around this year's theme: From Crisis to Opportunity: Building Resiliency to Drive Transformation, Modernization, and Success in 2022.
This event will also recognize women creating IMPACT, leading organizations and mission-focused strategic programs across the Federal Civilian, Federal Health, and Military Health, Technology, and Consulting Community. 
FEATURED KEYNOTE SPEAKERS
Jeanne Beard, Director, Office of Information Systems, Office of Environmental Management, Department of Energy
Amy Gilliland, President, General Dynamics Information Technology
Amy Haseltine, Acting Director, Office of Enterprise Technology Solutions, Federal Acquisition Service, General Services Administration
Jeneen Iwugo, Deputy Director, Center for Clinical Standards and Quality, Centers for Medicare and Medicaid Services
Florence Kasule, Director of Procurement, United States Digital Service, Executive Office of the President
Beth Killoran, Deputy Chief Information Officer, General Services Administration
Lauren Knausenberger, Chief Information Officer, United States Air Force
Katherine Lugo, Director, IT Contracting Services Division, Department of State
Elizabeth McNamara, Deputy Director, Technology and Data Services, Food and Drug Administration
Leanna Miller, Digital Service Expert, Office of the Chief Technology Officer, Office of Information and Technology, Department of Veterans Affairs
Kelly Moore, Deputy, Procurement Operations, United States Department of Agriculture
Sandra Oliver Schmidt, Deputy Director, Procurement Innovation Lab, Department of Homeland Security*
Susan Schmitt, Vice President, Service Management Office, SAIC
Maria Roat, Deputy Federal Chief Information Officer, Office of Management & Budget, Executive Office of the President
Lauren Thompson, PhD, President, Principal innovation, LLC: Former Director, Interoperability, FEHRM, DOD Interagency Program Office
AGENDA
Event Kick-off at 12:30PM ET
Welcome & Introductions
Innovation & Transformation in Times of Change
The New IT Landscape
Emerging Tech & Innovation: Navigating Acquisition & Procurement at the Speed of Innovation
The Power of Conviction: Moments of Impact
Tech Talk: Building the Robust Workforce of Tomorrow
Virtual Recognition of 2021 Leading for Impact Award Winners
Networking Reception to Honor and Celebrate Women Leading for Impact in Federal IT and Consulting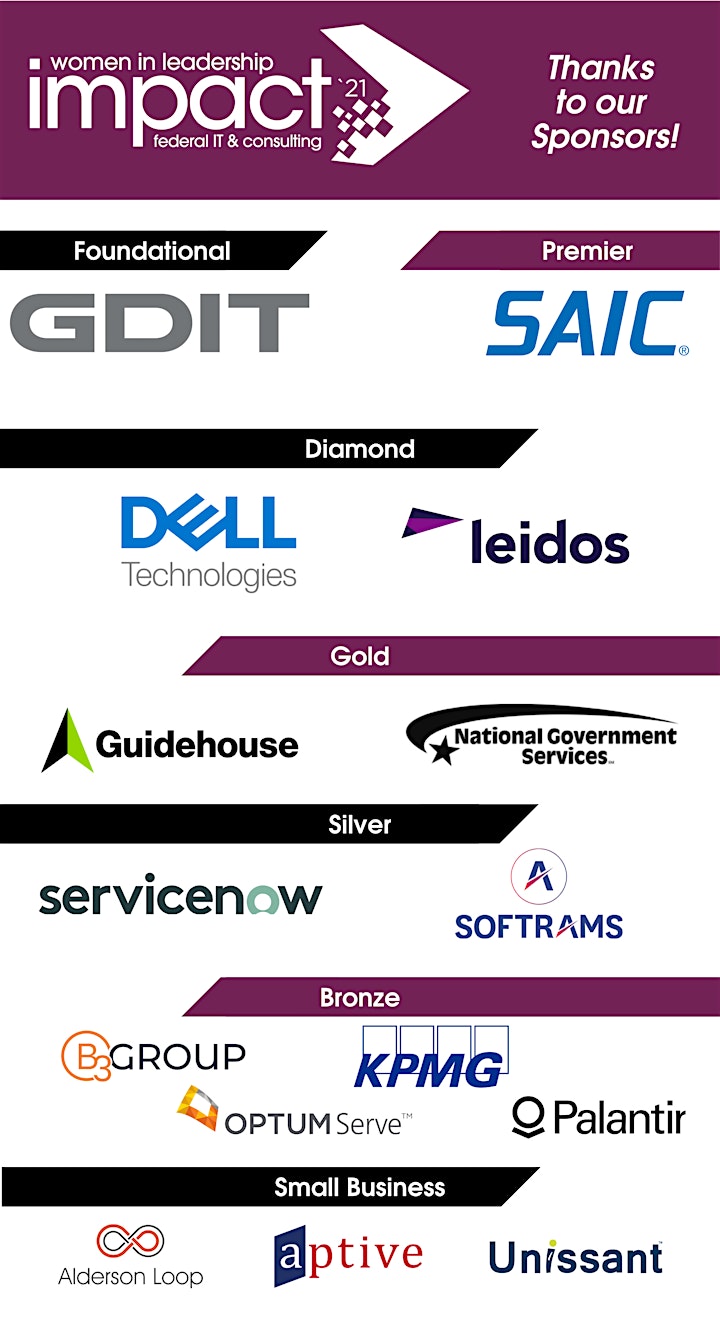 G2Xchange, a service of MileMarker10, delivers community driven solutions and insight intended to meet the needs of the busy Federal executive charged with growth. G2X platforms provide comprehensive and timely news and intelligence, organized by agencies and capabilities. Click here to learn more about G2Xchange and become a member.