Leading for High Impact (Part 1): The Critical Role of Diversity, Equity,...
Description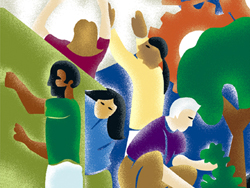 Facilitated by LaDonna Redmond and Beth Zemksy
As the policy-making entity at the highest level of organizational leadership, boards play a critical role in creating an organization's values-driven culture. Whether hiring the executive director or determining the allocation of resources, the board's leadership on diversity, inclusion, and equity is critical to effective board functioning and serving the diverse communities of New Jersey. This workshop will help attendees understand how diversity, inclusion, and equity issues influence organizational culture and increase mission-impact. Through a highly engaging day of exploration, participants will understand how diversity, equity, and inclusion play out at both interpersonal and organizational levels, study and reflect on models to develop more competency to interact across differences, explore actionable next steps, and gain practical tools to bring this important conversation back to their larger board and staff. This workshop is suitable for beginners and more experienced learners alike.
This workshop series is limited to about 30 participants and will fill up quickly. Registration does not guarantee participation in the series; your team will receive a final confirmation email if accepted.
Breakfast and lunch are provided at these workshops, which are held in locations which are ADA accessible. If you have any dietary restrictions or any other questions, please contact our Technical Assistance and Office Manager, Judy Ha Kim, at jkim@grdodge.org or 973-695-1171.
Organizer of Leading for High Impact (Part 1): The Critical Role of Diversity, Equity, and Inclusion