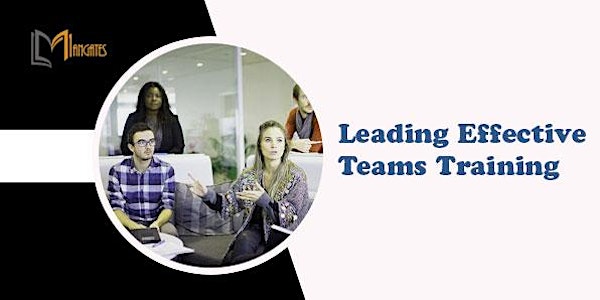 Leading Effective Teams 1 Day Training in Columbia, MD
Our classroom training provides you the opportunity to interact with instructors and benefit from face-to-face instruction.
When and where
Location
Regus - Maryland, Columbia - Columbia Town Center, 10320 Little Patuxent Parkway Town Center, Suite 200, Columbia, MD, 21044 10320 Little Patuxent Parkway Town Center, Suite 200 Columbia, IN 21044
Refund Policy
Refunds up to 7 days before event
About this event
Course Description:
These training based on leading teams will help you to develop anyone that leads a team or is involved in a leadership role. It is also useful for those that are about to embark on a position of leadership or need to develop their leadership skills.
Course Contents:
Having an effective team around you is crucial. However, it is an area that is often left to chance, which can lead to de-motivated individuals that do not feel part of the business and consequently do not perform. This course looks at what it takes to lead an effective team and how you can get the best out of the people in it by understanding the role of leader, both personally and from the point of view of the team.
Course Topics:
Qualities of an Effective Leader – Identifying the key characteristics of effective leaders, rating themselves against them and establishing key actions to develop the skills.
Leader or Manager? – Establishing the difference between the two and comparing themselves to those qualities.
That Vision Thing – Making the business vision 'live' for the team by answering key questions.
Developing Your Team Goals – Reviewing an action plan that develops clear goals for their team based on the business vision.
Motivation – Determining the 'Why' for their staff and developing an understanding of emotions in a business context.
What Motivates? – Looking at specific motivators for individuals and understanding that everyone is motivated by different things.
Being Consistently Different – Going against popular leadership theory and identifying that each staff member needs to be treated differently.
Dealing With Difficult Team Members – Understanding why team members are difficult. Looking at different behaviour types and strategies for responding to them. Also, realising that 'difficult' behaviour sometimes has its benefits.
Coaching – Using a simple method of coaching, including action plans.
Three Key Skills of Coaching – Looking at the skills required to be an effective coach.
Instant Results Coaching – Coaching in a hurry!
Can Do Coaching Practice – Putting the learning into practice
Course Features:
By the end of this training you will be able to:
Explain the qualities of an effective leader
Benchmark themselves against those qualities and develop actions to improve
Explain the difference between leading and managing
Explain the value of sharing the business vision with the team
Develop team goals based on the business vision
Motivate their staff by understanding their drivers and developing actions to support them
Deal with difficult staff members
Challenge staff in a meaningful and effective way
Coach staff effectively using a simple process
Certification:
Once after the training you receive course completion certificate from Mangates
Who can Attend?
Anybody who is interested in learning Effective Skills to Lead a Team.