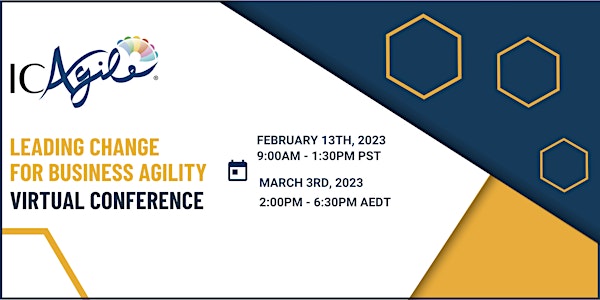 Leading Change For Business Agility
Learn from some of the most experienced agilists in the world, including keynote speaker Ahmed Sidky, at ICAgile's virtual conference.
Refund Policy
Contact the organizer to request a refund.
Eventbrite's fee is nonrefundable.
About this event
Conference Details:
You're invited to Leading Change for Business Agility, ICAgile's virtual conference for agile coaches, Scrum Masters, product owners, agile leaders and anyone else with agile experience.
Join us to hear unique perspectives from advanced agilists with boundary-breaking stories. Learn how experienced coaches who hold the ICAgile Expert designation advance business agility at their organizations.
To reach as many time zones as possible, we will hold the conference twice.
Dates:
Feb 13, 2023- 9:00am-1:30pm PST
March 3, 2023- 2:00pm- 6:30pm AEDT
Prices:
General Admission- $95
Group Tickets (minimum 5 tickets required) - $75 Each Ticket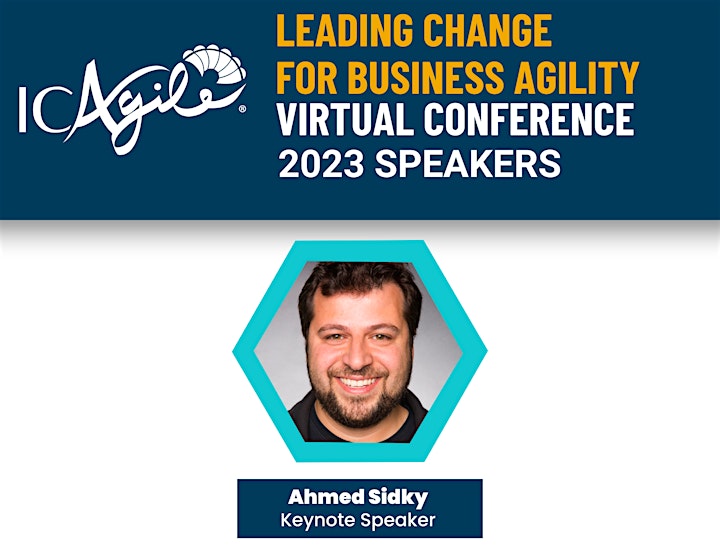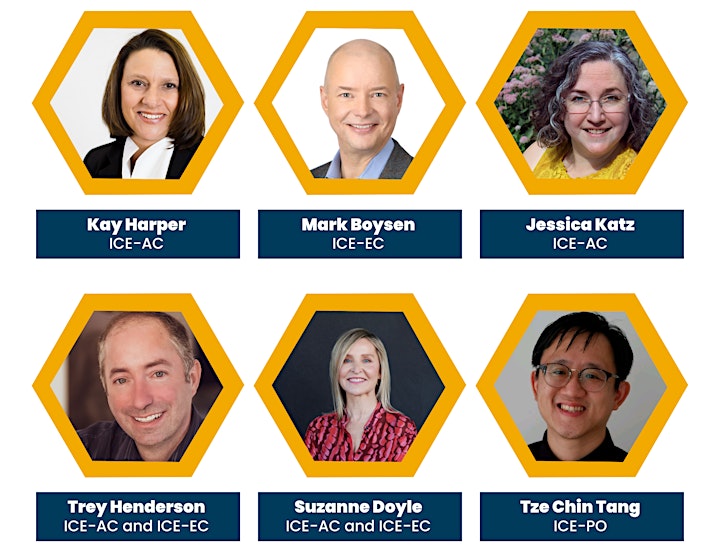 Program
Speakers for both conferences:
Ahmed Sidky
Shannon Ewan
Trey Henderson
Kay Harpe
Jessica Katz
Speakers on February 13th:
Danielle Kellogg
Kimmo Hakonen
Suzanne Doyle
Speakers on March 3rd:
Tze Chin Tang
Mark Boysen
Prashant Shinde
Talk Summaries
Ahmed Sidky- Keynote Speaker
Coaching for high impact: Stories of Challenging Convention to create change: Ready to take your coaching to the next level? Come hear stories of bold interventions that spark lasting change.
Trey Henderson
Shut up and Listen! Help Clients Tap into their Still Small Voice : Attendees will experience the power of using a guided immersive experience that takes clients deeper than the surface level. Additionally, they will get a gift of their own immersive journey they can listen to after the conference.
Suzanne Doyle
Being Janus, the 2-faced god: Attendees will learn how to leverage self-as-instrument in systems work in the dance with change.
Kimmo Hakonen
Stance Dance: Attendees will learn how to change and design different coaching stances in advance to bring more value to a facilitation.
Jessica Katz
Polylabor: Navigating consent and agency in the ways we work: Attendees will hear about what a humanistic-minded, ethical business model could look like and its benefits to the organization.
Kay Harper
Walking your Talk: Our Experiment in Creating Collaboration within our system: Based on our own experience, creating performing teams at any level requires intention, attention, and prioritizing working on "we" just like we would work on a priority 1 commitment to customer.
Tze Chin Tang
Transform Your Coaching: Transcending the Ordinary: Discover how to tap into domains beyond Agile and Professional Coaching to become a more effective agent of change.
Prashant Shinde
Alignment – an excuse for old-style management: Alignment is something we talk about all the time, but is that what we're after, or is it a way to surreptitiously bring in command and control management
Danielle Kellogg
Bridge the Divide: Being the Glue that Makes Change Stick: As Agilist leaders, part of our job is to strengthen the integration points within the system of systems that is the organization.
Mark Boysen
TBD