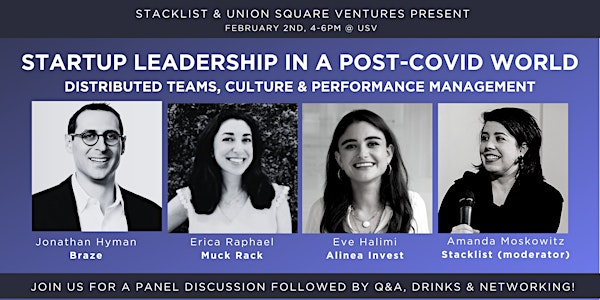 Leading & Building Remote Teams: Startups in a Post-Covid World
A tactical discussion about managing teams in the new post-covid workplace - from culture to performance management.
When and where
Location
Union Square Ventures 817 Broadway New York, NY 10003
About this event
"To win in the marketplace you must first win in the workplace." - Douglas Conant
TL:DR
Join us February 2nd, 4-6PM, at Union Square Ventures for a panel discussion for early-stage entrepreneurs: "Startup Leadership in a Post-Covid World: Distributed Teams, Culture & Performance Management" We'll have cocktails & networking after the panel! 🍷🍺
Our speakers!
Eve Halimi // Co-Founder & Co-CEO at Alinea Invest, a community-driven money app with financial education, news, stock & crypto investing. Alinea launched in December 2020 and has 20+ employees.
Jonathan Hyman // Co-Founder & CTO at Braze, a leading comprehensive customer engagement platform that powers interactions between consumers and brands they love. Braze has more than 500 employees.
Erica Raphael // VP of People at Muck Rack. With a team of more than 250 people, Muck Rack helps organizations find the right journalists to pitch, report on media coverage and prove the value of their work.
What We'll Discuss.
The pandemic was a sea change for the workplace. It has changed everything about how we work, our relationships with our teammates, the role of management and what it means to lead. For entrepreneurs, there are challenges - but also massive opportunity. While later stage companies adapt, startups can lay an advantageous foundation for this new terrain. Here are some of the topics we'll cover!
Identifying the characteristics that make an employee successful now vs. in 2019. How have different roles been affected?
Defining leadership - what's needed from a founder now? What qualities make for a strong founder and people leader? And what is different about leaderships in a primarily remote environment.
Pperformance management - what are the best practices for managing for performance with distributed teams? We'll talk OKRs, check-ins and comp.
Culture. What does good culture look like at an early-stage startup? How do you create culture among remote works? How do you know it's working?
Recruiting and hiring processes for remote teams. What changes about the job description and expectations of new hires?
Routines and processes for communication including in-person vs. virtual check-ins, chat tools.
People-planning for disasters. Whether or not it's rational, the possibility of the world shutting down health natural or financial disaster feels more like than it once did. It's affected how many businesses have to plan for the future. How does this affect culture and people - and how can founders help ease the team through the threat of these shocks.
Questions? Email us at marketing@stacklist.com! See you soon!!