Description
Leading a Successful Multigenerational Organization
Tuesday, October 16, 2018
In today's complex healthcare environment, a multigenerational workforce presents unfamiliar terrain for healthcare leaders. As a result, conflicts may develop in healthcare organizations due to the generational differences in core values and work-related issues. Other factors include economic and political differences, size of each generation's populations, the transition of younger generations to leadership roles and social influences of the generational periods. This combination of factors results in further conflict among healthcare employees. Healthcare executives must take proactive steps to create cohesion across generational segments.
Agenda
5:30 - 6:30 p.m.: Registration, Networking & Dinner
6:30 - 8:00 p.m.: Panel Discussion
8:00 p.m.: Adjourn
1.5 Face-to-Face Credit Hours
Panel Members
Sherry Pressner, VP of Human Resources at Blake Medical Center
Sherry Pressner has over 18 years of experience with HCA and has held various Human Resources positions with the West Florida Division. Most recently, Sherry held the position of Vice President of Human Resources at Regional Medical Center Bayonet Point where she demonstrated success increasing employee engagement and retention. Sherry holds a Bachelors of Human Services Administration from Saint Leo University and is currently working on her Masters in Leadership.
Kelly Batista, Director, Cancer Institute at Sarasota Memorial
Kelly Batista has been with Sarasota Memorial for 8 years, currently serving as Director, Cancer Institute. Kelly holds a Bachelors of Health Science from the University of Florida, and Masters in Health Administration for the University of South Florida. Kelly has been very engaged with ACHE, particularly the ACHE-Western Florida Chapter. Some of the key roles she has had include Programs Chair and President. Kelly is a borderline member of the "Generation X" ad "Millennials" generation groups.
Joseph Scotchlas, Supervisory Health Systems Specialist at Bay Pines VA Healthcare
Mr. Joseph M. Scotchlas, FACHE, was appointed Supervisory Health Systems Specialist to the Director of the Bay Pines VA Healthcare System in May of 2017. Mr. Scotchlas is designated as the healthcare system Integrated Ethics Program Officer. Mr. Scotchlas started with VA in 2012 as an Administrative Fellow at the VA Sunshine Healthcare Network.
Jessica Hoge, Director of Ancillary Support Services at St. Petersburg General Hospital
Jessica Hoge joined St. Petersburg General Hospital, an HCA affiliate, as Director of Ancillary Support Services in 2017. She is also the Co-Ethics & Compliance Officer. Ms. Hoge holds a BS Degree in Child, Adult and Family Services and an MBA in Healthcare Administration. She is currently a BLS instructor and Crisis Prevention Intervention Instructor
Moderator - Candace Smith, CNO of Manatee Memorial Hospital
Candace Smith, PhD, BSN, RN, NEA-BC, is Chief Nursing Officer at Manatee Memorial Hospital. She is author of "Chapter Leader's Guide to Provision of Care: Practical Insight on Joint Commission Standards," a guidebook by Healthcare Professional Organization. Dr. Smith holds a board certification in Advanced Nursing Executive from the American Nurses Credentialing Center and has her PhD in Education and Organizational Leadership. She earned a Bachelor's degree in Nursing from D'Youville College, and a Master's in Public Administration from University of Brockport, New York. She is published in ANA and Nursing Management on topics surrounding Exemplary Leadership and Staff Engagement. She currently serves as the Secretary of the Western Florida- America College of Healthcare Executives chapter board and is the President-Elect for Sun Coast Organization of Nurse Executives, a chapter of the Florida Organization of Nurse Executives.
Maps & Directions:
Maps have been provided to guide you to the event space.
Address:
Blake Medical Center - Dolphin/Pelican Room off of Main Lobby
2020 59th Street W | Bradenton, FL 34209
There is parking available near the main entrance of the hospital. Enter through the main hospital entrance, take a left and the meeting will be held in the Dolphin/Pelican Room.
Directions:
From I-275: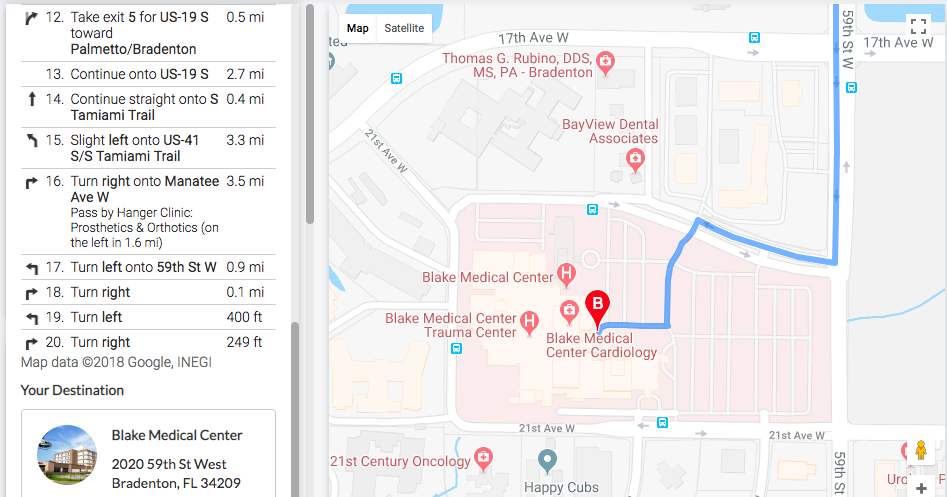 Enter through the main hospital entrance and take a left. The meeting will be held in the Dolphin/Pelican Room.
From Tamiami Trail: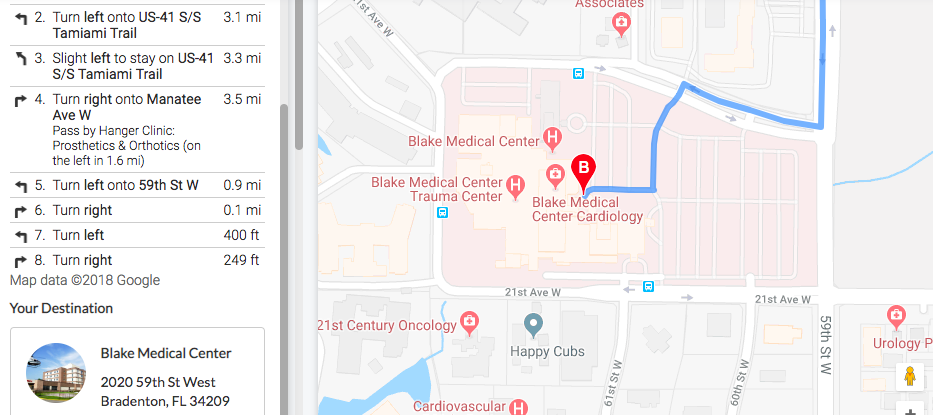 Enter through the main hospital entrance and take a left. The meeting will be held in the Dolphin/Pelican Room.