Join us for this complimentary workshop on creating unforgettable experiences for your donors and student families.
About this event
Your donors and student families deserve an unforgettable experience – one that will deeply and personally connect them to the heart and mission of your school. When you take time to plan intentional interactions that cultivate unique experiences, your donors and families are wowed and ready to engage with your school like never before. Regardless of if you are focused on enrollment, annual giving, or a capital campaign, all can see significant improvement in a coordinated strategy.
This 2-hour workshop, designed specifically for senior administrators and board members, will help you break out of the same old routine and inspire your donors and families to support your school in new and meaningful ways.
Gain practical tips for your staff and board leadership on the following topics:
The importance of recognizing student families and donors alike as valued customers
Why you must identify the personal passions and interests of each donor and student family
What is necessary to design and execute personal experience plans
How you can exceed expectations after a gift is made
Meet the Presenters:
Schuyler Lehman, Founder & Chairman, Mission Advancement
Tim Connor, M.ED, CFRE, Former Advancement Director, Mission Advancement Consultant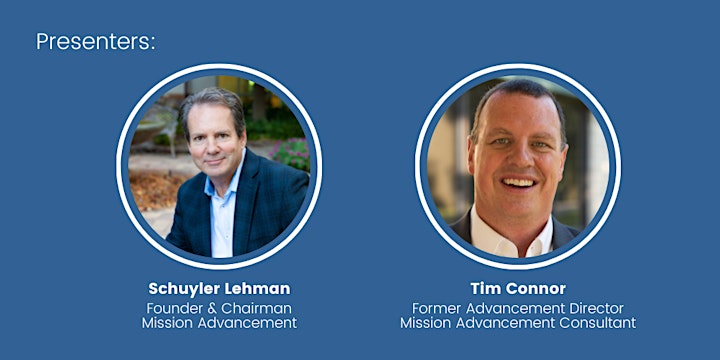 Organizer of Leadership's Role in Creating Unforgettable Donor & Family Experiences
Mission Advancement Professionals (MAP) was founded with the objective of bringing our distinctive, relationship-based fundraising philosophy to nonprofit organizations. MAP counsels organizations through developing and increasing their capacity for capital and endowment campaigns, annual funds, and general development activities.