Description
We are excited to announce a wonderful learning opportunity with Dan Cooper, a Blue Man Group principle performer, on Saturday March 4 between 12:30-2:30pm.
To space is limited for this workshop, please sign up soon before it fills up.
The cost per person is $25.

Age: 10 and up

Spots available: 25
Dan is a Actor/Musician/Vocalist. Born and raised in London, England, Dan has been lucky enough to work all over Europe and North America. He trained at Bird College of Performing Arts in London with theatre credits include Les Miserable, Taboo, We Will Rock You and Blue Man Group.


Dan has always been active in music and arts education. Most recently he helped run a series of very successful workshops for high school and college student in different cites across the United States as part of the Blue Man Group National Tour
What will Dan cover in this workshop?

- Communication and collaboration among students
- Story telling; formulating thoughts and arguments
- Focus: where to apply your focus and where to direct the focus of others.


The workshop is based in performance but each of the ideas Dan talks about about can be applied to any setting that involves working with others in a team.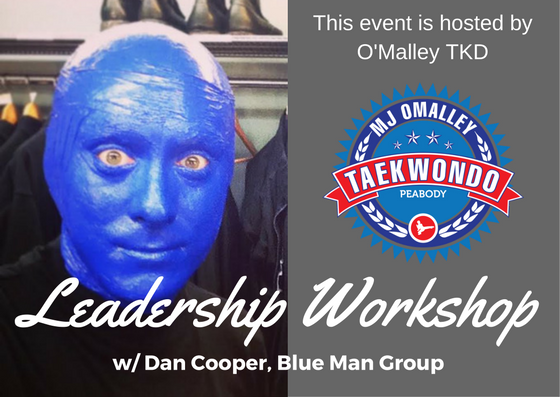 If you have more questions, please email us at staff@omalleytkdcenter.com
We look forward to seeing you there!
O'Malley TKD