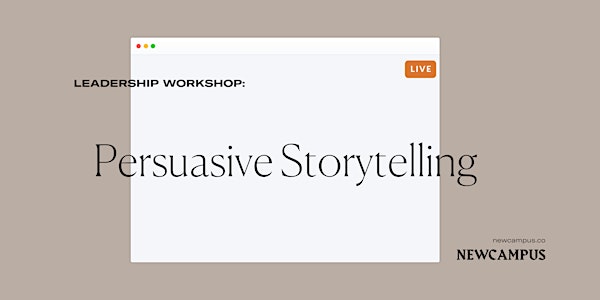 Leadership Workshop | Persuasive Storytelling
Creatively persuade your audience and drive change through storytelling.
Refund Policy
Contact the organizer to request a refund.
Eventbrite's fee is nonrefundable.
About this event
You are invited to join us in an intimate communication workshop by Laura Francois, Co-Founder of The Spaceship and Founding Partner at Open Door Policy.
COVID-19 Update: All NewCampus sessions will be conducted remotely via Zoom. A link will be sent upon confirmation.
This is not a webinar. All NewCampus remote workshops are live, interactive and energising 90 minute sprints dissecting a practical tool, framework or methodology. Small class sizes for an intimate and interactive experience. Always includes hands-on exercises to start applying the new skill immediately.
Community learning: Learn together with other curious professionals from around Asia (or the world), who will become your future collaborators, clients or co-founders, as part of your weekly routine.
Led by an expert: Our workshops are hosted by industry practitioners and thought leaders shaping their fields.
____________________________
TODAY'S WORKSHOP
Stories have been used since the dawn of time to transport an audience and influence them through their imagination. In business, it has the power to manage change and transformation. Great managers and leaders use persuasive storytelling techniques to illustrate the importance of an initiative, explain product value or spell out the reasoning behind critical organisational change decisions.
In this workshop, we explore methods to help you build a compelling narrative to effectively persuade.
You'll gain a greater understanding of:
How to think holistically about storytelling and experiment with creative narratives
How to create a compelling message that speaks to your stakeholders
How to translate data into a narrative that fulfills your purpose
This class is for:
Individual contributors and managers
Today's Speaker:
Learn directly from Laura, a social impact strategist and environmental creative, who has worked on impact projects India, Malaysia, Singapore, Cambodia, Vietnam, Egypt and Canada. At her company, The Spaceship, Laura focuses on collaboratively designing circular economy models that dedicated to exploring new ways of thinking about systemic environmental problems through storytelling, technology and design.
____________________________
ABOUT NEWCAMPUS
NewCampus is a modern leadership school. We help rising execs, entrepreneurs and game-changers around Asia Pacific, take on the challenges of the unprecedented era ahead through skills, resources and community.
We host weekly business, tech and cultural events with industry leaders from companies like Grab, IDEO and Netflix. We also send a regular newsletter with curated business, tech and macro insights collected from our experts.
For more information, visit newcampus.co or follow @newcampushq.